The Okavango is one of the world's largest deltas and often referred to as "the river that never finds this the sea". It is a peaceful and isolated oasis set in Botswana's harsh Kalahari Desert. A visit to Botswana, without visiting the Okavango, in my mind is a sin. But there is an expense involved. So how can you see the Okavango?
The best way to see the Okavango is by mokoro and by air.
See the Okavango by Mekoro
A mokoro is a wooden dugout canoe made from local jackal berry, marula or sausage trees. These trees are used as they invariably grow tall and straight and have strong wood which is favourable for carving. Before tourists visited the area the demand on local resources for mekoro was relatively small. But with the onset of tourism there's been an increase in trips into the Delta. Luckily, a new type of mokoro has emerged which has a limited impact on the forest. These are in the form of fibreglass canoes, modelled on the original mokoro. FYI, one mokoro, lots of mekoro, in case you were wondering…
I remember the first time I settled into a mokoro. The poler pushed our mokoro away from the land and we glided into the clear waters of the Okavango. Two people normally sit in each mokoro with a poler to navigate the channels using a pole to propel through the waters. It is similar to punting. We floated past waterlilies with their bright white flowers opening to the azure blue sky. Past storks elegantly moving through the water and a herd of antelope galloping along the edges of the waterway. Our guide had very good eyes and was able to spot wildlife from far. It was not long before we saw an enormous herd of elephant drinking the cool crystal water. We arrived down wind from them so we had not disturbed the herd. We spent over an hour watching these animals in amazement. It was truly magical.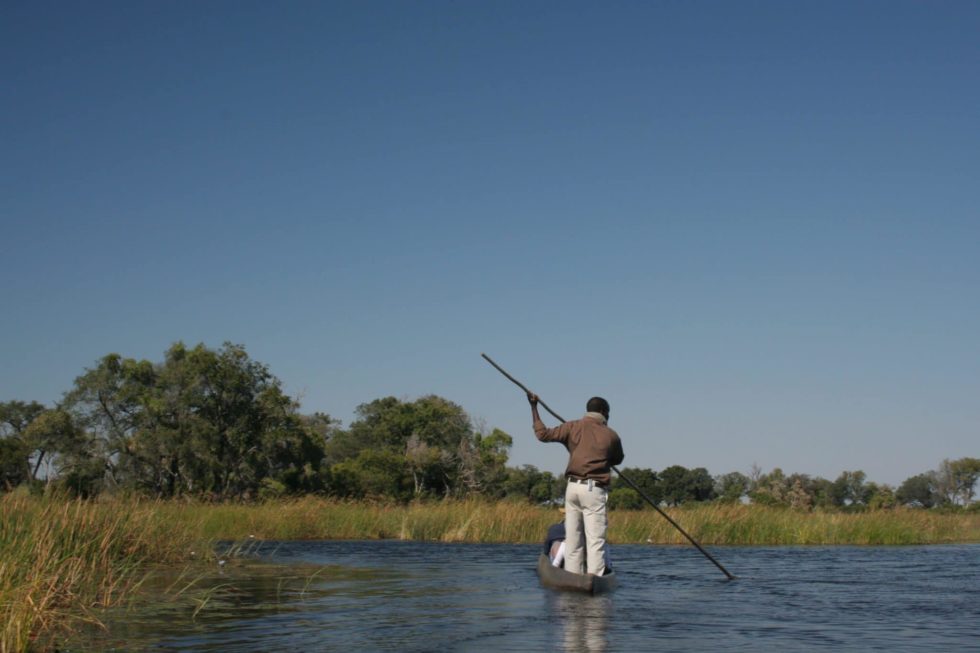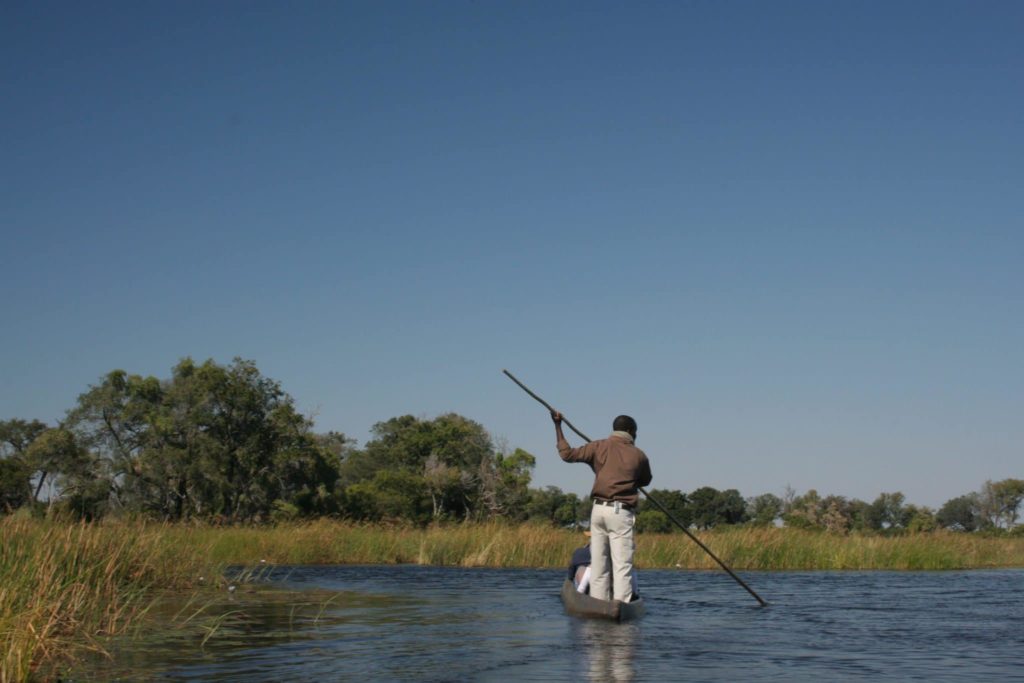 See the Okavango by Plane
The other way of seeing the Okavango is by air. This is a completely different experience and the views are incredible. To get to any of the more exclusive lodges in the Okavango you need to fly in over this watery wilderness. Spot vast herds of buffalo and elephant from the skies on your transfer, watch hippo impersonating rocks and soar above stark white cattle egrets as they skim over the waterways; it is a sight to behold.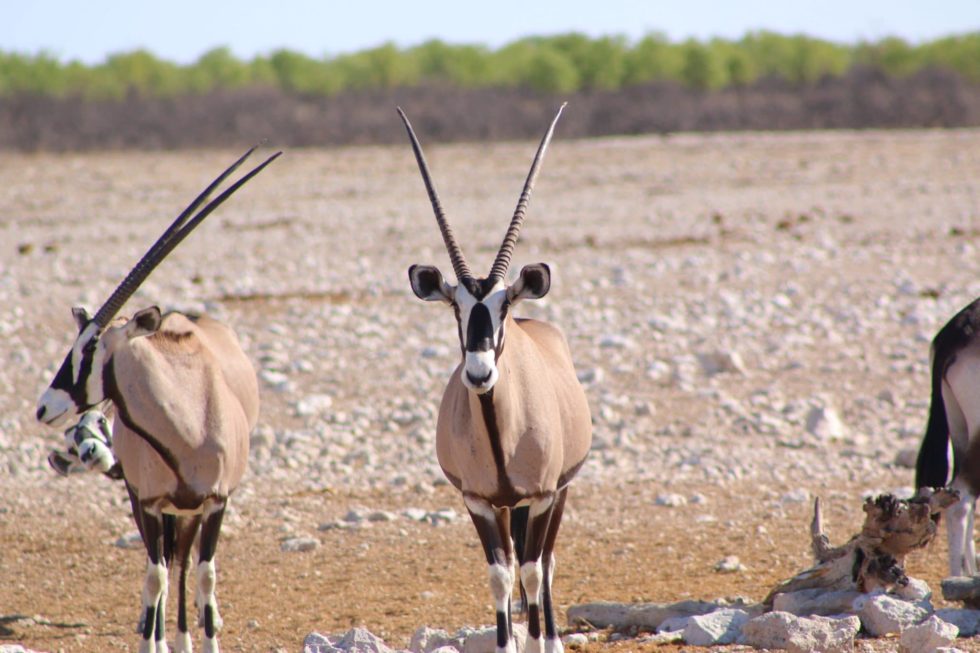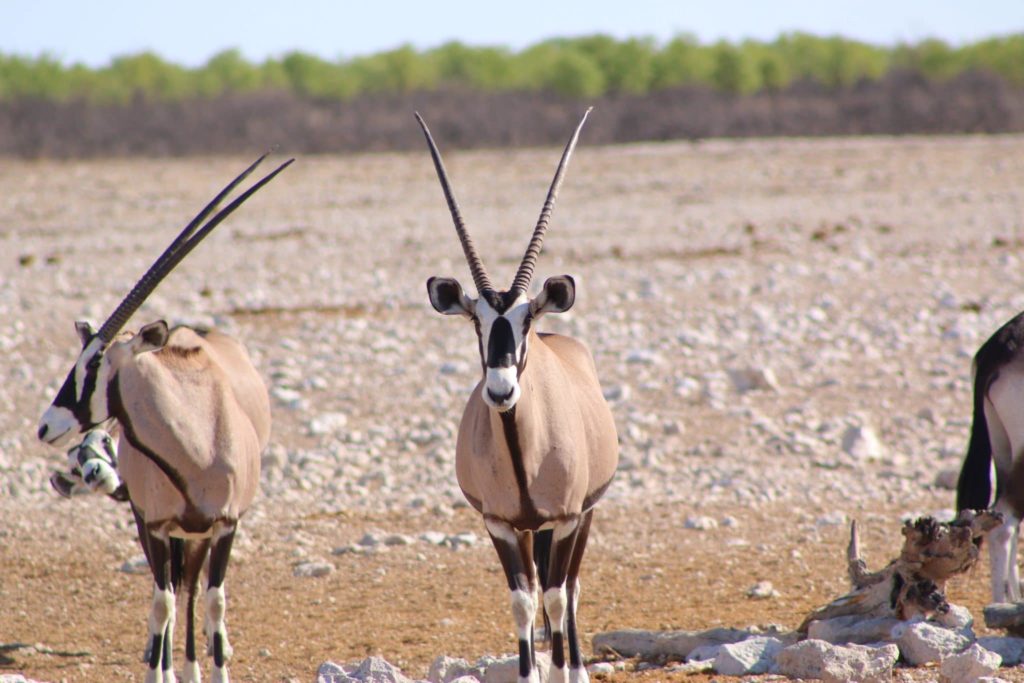 But be prepared, it can get quite bumpy. Sometimes the pilot might give you a choice and asks passengers if you want to fly high or low. High means it is less bumpy with the turbulence but also means that you do not get to see the waterways as clearly, low means wildlife galore but it may also mean that someone might be sick. Depending on your fellow passenger's constitutions as to whether the latter happens is akin to Russian roulette. And when one goes, more will follow.
Preventing air sickness
I suffer a bit from air sickness, a lot of people do in these small planes. There are a variety of 5 to 10 seater planes and I prefer the larger ones as they have more stability and are therefore less bumpy. The smaller ones waft around in the slightest breeze, and in minor turbulence it feels like you are in Dorothy's farmhouse in the Wizard of Oz, the Wicked Witch of the West cackling on her broomstick. Maybe a slight exaggeration there, but it can feel like it.
I remember being told that if you stuck your tongue out, rolled it (bit of a problem if you do not have the genetic capability) and then breath through your tongue it would help with air sicknesses. I felt utterly ridiculous doing this and suspected that it was a ruse to make me look stupid. Which it did, I did feel stupid but I didn't feel as air sick.  And neither did all the other passengers who I convinced to do the same. Maybe I was concentrating so much on breathing that my mind had no chance to think about vomiting. But it worked. And you know you will try it next time you are in this situation.
My advice on your Okavango flight would be to make sure you sit next to the pilot as the views are tremendous. The best way to engineer this is to make sure you're last in the queue to board the plane. This is for only 5 seater planes as there is only one door and you fill in from the back first. This will ensure that you are sitting next to the pilot in the co-pilot's seat. However, if it is a 10 seater plane then there is more scope for manoeuvring around inside the plane and you could fall foul of this and end up with the rear seat, which has more puke potential.
If you have been clever and get to sit beside the pilot then the pilot may even allow you to fly the plane for a bit. I have done this on a scenic flight.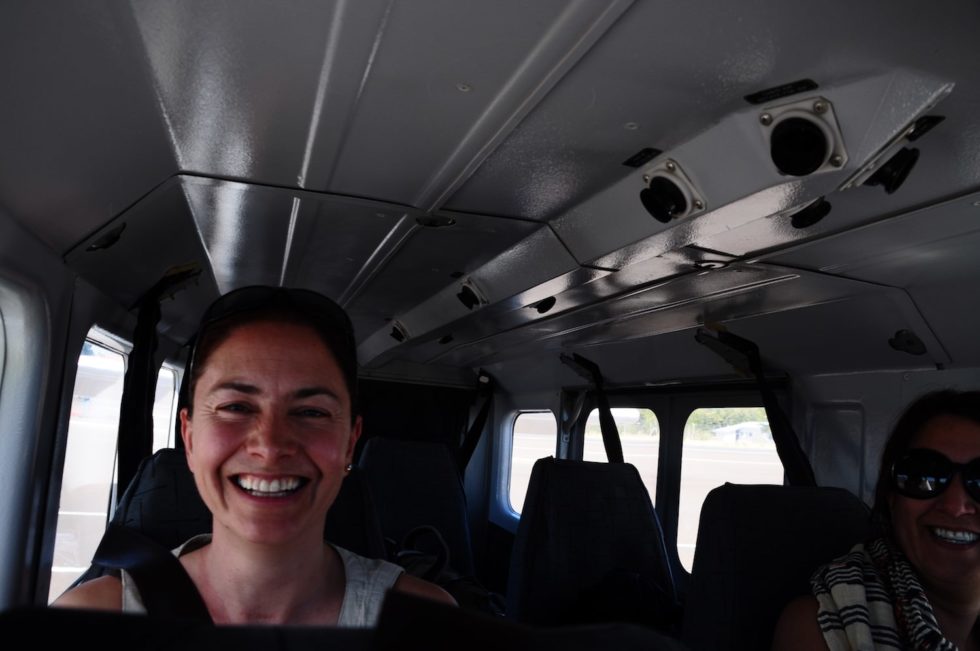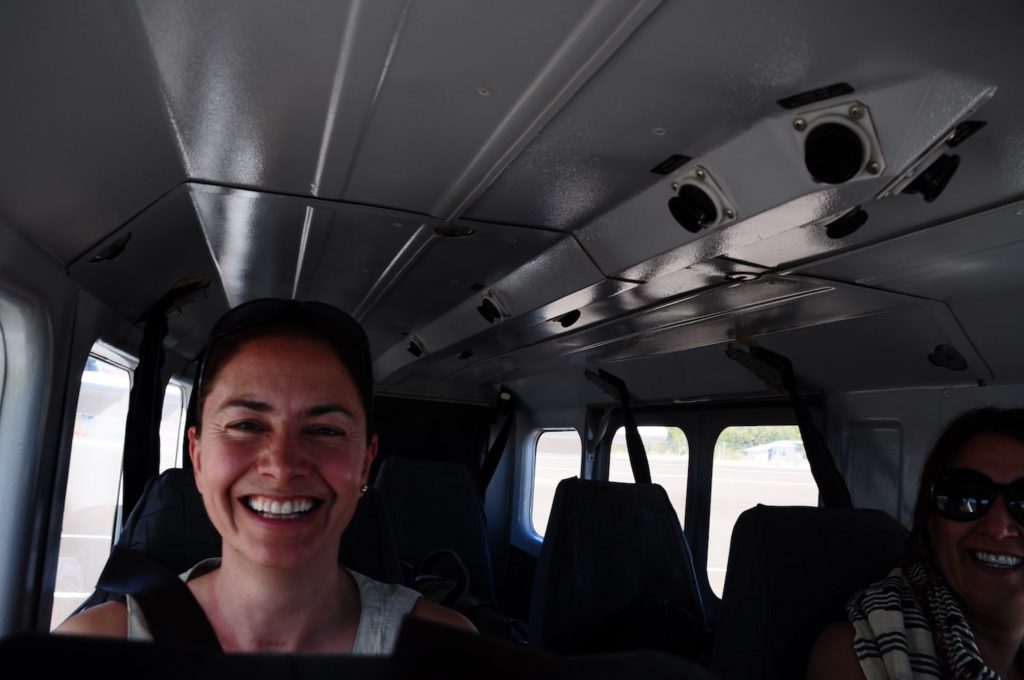 It is quite tricky flying a plane, especially if you are trying to keep the horizon steady and searching for animals at the same time. Small dials help you keep the plane level and when you change course there really should be no jerky movements. I only flew the plane for 10 min, and that was quite exhausting. But by that time Hattie had been sick and the other passengers were begging me to hand over the controls to the real pilot!
So, when you go to Botswana, make sure you visit the Okavango. Take time to spend at least a day in a mokoro and when you get into a plane make sure I am not sitting in the co-pilot seat!