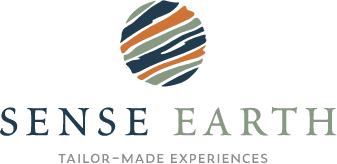 Terms and Conditions
These Booking Conditions, together with our privacy policy and any other written information we brought to your attention before we confirmed your booking, apply to your booking with Sense Earth Ltd, and company registered in England and Wales under company number 08007360 whose registered office is Flat 3 7 Herbert Road, Clevedon, North Somerset, BS21 7ND. Please read them carefully as they set out our respective rights and obligations.
We hold an Air Travel Organiser's Licence (ATOL) number 6323 granted by the Civil Aviation Authority ('CAA').
Definitions and Interpretations
"Contract"
means the booking agreement between you and us to carry out the works of which these terms form a part.
"Force Majeure"
means any circumstances which are unusual and/or unforeseeable which are beyond our control, the consequence of which could not have been avoided even if all due care had been exercised, including (but not limited to) war or threat of war; riot; civil strife; hostilities; political unrest; government action; epidemic: pandemic; industrial dispute; natural or other disaster; nuclear incident; terrorist activity; weather conditions; closure of airports; fire; flood; drought; re-scheduling or cancellation of flights or alteration of the airline or aircraft type by an airline and technical problems with transportation and all similar events outside our control.
"Holiday"
means the Holiday/Expedition/Tour booked by you or any person on your behalf
"Major Change'"

includes the following when made before departure:

·       A change of lodge area for the whole or a major part of your holiday

·       A change of accommodation to that of a lower official classification for the whole or a major part of your holiday,

·       A change of UK departure airport (excluding change of London airports),

·       A change of outward departure time or overall length of your holiday of twelve or more hours.

'Parties'
means you and us, and 'Party' shall mean either one of us
"Price"
means the price payable for the booking
Booking Procedure
We will take time with you to personally discuss the holiday that bests suits you.  You will be asked for a completed Booking Form with a £250.00 per person (or £500 for expeditions) non-refundable booking fee. If anything on the planned itinerary is not available, we will discuss your options and can usually make an equal alternative. Please note that under no circumstances will a booking be accepted from a person under 18 years old.
Booking Form
When you make a booking, you guarantee that you have the authority to accept and do accept on behalf of your party the terms of these booking conditions and agree on behalf of everyone travelling in your party to be bound by them. All bookings must be made by a person aged eighteen years or over. Where your booking is for more than one person, the first-named person in your party aged eighteen years or over will be treated by us as the 'signed name' for your booking. The signed name will be responsible for making all payments due to us in accordance with our contract.
Completion and submission by you of our Booking Form will be treated by us as confirmation that you have read, understood, and accepted these booking conditions.
All accommodation on our holidays is comfortable, attractive, and unique.  Accommodation is based on standard twin rooms unless otherwise stated.  Upgrades can be requested at an additional cost.  If you request rooms with particular views, etc, we will pass on the request to the lodges and camps, although we cannot guarantee the request.  Most accommodation has en-suite facilities, however, some places have separate or shared facilities and these will be identified before departure.
A single supplement is required for those travelling separately.
Your Holiday Contract
A contract will exist between us once you have paid your booking fee (or such other fee as may be appropriate, for example where you are making a 'late booking') and we have issued you with our booking confirmation.
Reservations held by us with no means of guarantee such as a booking fee, may be cancelled by us on notice to you in order to accommodate other bookings.
If you believe that any details on the booking summary (or any other document) are wrong, you must advise us immediately as changes cannot always be made later and it may harm your rights if we are not notified of any inaccuracies in any document immediately.
Please check that all names, dates, and timings are correct on receipt of all documents and advise us of any errors immediately. We will not make any charge for changes to documents, but you will have to pay any charges made by suppliers. Please ensure that the names given are the same as in the passport to be for this holiday.
Unexpected Changes after Booking
We will confirm your holiday price when you book. If a lodge or camp becomes unavailable after we have confirmed your itinerary, we will contact you immediately to discuss alternative arrangements.
Your Financial Protection
Sense Earth Limited, ATOL no 6323, provides you financial protection. When you buy an ATOL protected flight or flight inclusive holiday from us you will receive an ATOL Certificate. This lists what is financially protected, where you can get information on what this means for you and who to contact if things go wrong.
We, or the suppliers identified on your ATOL Certificate, will provide you with the services listed on the ATOL Certificate (or a suitable alternative). In some cases, where neither we nor the supplier are able to do so for reasons of insolvency, an alternative ATOL holder may provide you with the services you have bought or a suitable alternative (at no extra cost to you). You agree to accept that in those circumstances the alternative ATOL holder will perform those obligations and you agree to pay any money outstanding to be paid by you under your contract to that alternative ATOL holder. However, you also agree that in some cases it will not be possible to appoint an alternative ATOL holder, in which case you will be entitled to make a claim under the ATOL scheme.
If we, or the suppliers identified on your ATOL certificate, are unable to provide the services listed (or a suitable alternative, through an alternative ATOL holder or otherwise) for reasons of insolvency, the Trustees of the Air Travel Trust may make a payment to (or confer a benefit on) you under the ATOL scheme. You agree that in return for such a payment or benefit you assign absolutely to those Trustees any claims which you have or may have arising out of or relating to the non-provision of the services, including any claim against us, the tour operator. You also agree that any such claims may be re-assigned to another body, if that other body has paid sums you have claimed under the ATOL scheme.
Price and Payment
You will be notified at the time of booking of the price of your holiday. What this price includes will be confirmed to you by us at the time of booking and set out in our booking confirmation.
You will be required to pay a booking fee or make full payment for your booking at the time of booking.
Unless otherwise agreed bookings received less than 60 days prior to departure date will need to be paid in full at the time of booking.
Your holiday price does not normally include:
Visa fees, overseas airport departure charges payable locally, porterage, personal expenditure, hotel extras, fuel and extras for car hire.
Taxes or compulsory charges introduced by governments, regulatory bodies or airlines after you have booked.
Security charges introduced or increased after you have booked relating to transportation costs.
Holiday insurance
Where you only pay a booking fee, you must pay the full balance no later than 60 days prior to departure date.
If full payment is not received by 45 days prior to departure date, we will cancel your book and levy the cancellation charges.
Group bookings payments, including expeditions, will be paid over several instalment payments, as directed by us. This ensures that flights can be held earlier to prevent disappointment.
We accept payment by BACS / Faster payment and our bank details are:
Sense Earth Ltd
Bank: Barclays Bank
Sort Code: 20-94-74
Account no: 53090647
Changes by You
If, after our confirmation invoice has been issued, and prior to final balance payment, you wish to change your travel arrangements in any way, we will do our utmost to make these changes, but it may not always be possible.
Any request for changes to be made must be from the 'signed name' on the Booking Form.
You should be aware that these costs could increase the closer to the departure date that changes are made.
For an alteration within 60 days of departure, we will treat the alteration as a cancellation of the original holiday (attracting cancellation charges) and regard it as a new holiday booking. However, we will do all it can to make arrangements that suit you best, at the minimum possible cost.
Certain arrangements may not be amended after they have been confirmed and any alteration could incur a cancellation charge of up to 100% of that part of the arrangements. In some cases, any changes made may mean you having to pay for the cancelled arrangements and purchasing new ones at full cost.
You may transfer your booking to any other person satisfying all the requirements relating to your holiday notified to us by you in writing at least seven days prior to your due date of departure. Both you and the new traveller are responsible for paying all costs we incur in making the transfer. We will charge an administration fee of £50 per booking for arranging the transfer and other costs or additional fees may also arise, which you will have to agree to pay before the transfer can be made. For example, many of our suppliers, particularly airlines, cruise companies and safari operators, do not permit us to change names or travel dates and impose full cancellation charges of up to 100%.
Cancellation by You
If you wish, following the issue to you by us of our booking confirmation, to cancel your booking or any part of it relating to any person (in the case of a group booking), we will require the authority of the signed name in writing to do so.
Our cancellation charges below will apply. These are calculated with reference to the date on which we receive your authority in writing. We will not refund to you any booking fees, administration charges, or any other fees or charges made by us and paid by you relating to your holiday in the event of cancellation by you.
We incur costs from the time you make your booking, and you agree that if you cancel your booking you will compensate us for our losses and expenses, as per the table below. Our cancellation charges increase the nearer the cancellation is made to your departure date as we may not be able to resell your holiday without making significant price reductions, or at all.
We strongly recommend that you take out insurance cover for cancellation adequate to cover the value of your holiday. If the reason for your cancellation is covered under the terms of your insurance policy, you may be able to reclaim these charges.
Booking fees are non-refundable and any payments for flights are non-refundable.
If the reason for your cancellation is covered under the terms of your insurance policy, you may be able to reclaim these charges from your insurance company.
If a Guest should fail to join a trip, join it after departure or leave it prior to its completion, no refund can be made.
After the Departure Date, no refund for any unused portion or part of the holiday or services to be provided will be given. If the Guest of their own volition makes any alteration to or departs from, any portion of part of the holiday, such alteration or departure will be entirely at the Guest's expense and liability and the Guest will forthwith communicate in writing the reason for leaving to the guide.
Cancellation by You as in Individual
If you cancel your booking, cancellation charges will be imposed as shown below:
61 days or more prior to departure – we will retain the booking fee.
60 – 46 days before departure – we will retain 30% of the total holiday cost.
45 – 31 days before departure – we will retain 60% of the total holiday cost.
Less than 30 days – we will retain 100% of holiday cost.
Cancellation by You as Part of a Group
If you cancel your group booking, cancellation charges will be imposed as shown below:
61 days or more prior to departure – we will retain the booking fee.
60 – 46 days before departure – we will retain 30% of the total holiday cost.
45 – 31 days before departure – we will retain 60% of the total holiday cost.
Less than 30 days – we will retain 100% of holiday cost.
Please note, if only some members of your party cancel, in addition to incurring the applicable cancellation charges, we will recalculate the holiday cost for the remaining travellers. You may have to pay the extra room charges such as single room supplements and group transport. In cases where cancellation charges made by our suppliers are higher than the cost of the booking fee, we may pass the charge on to you.
Cancellation by You as Part of a School Expedition
If you cancel your expedition booking, cancellation charges will be imposed as shown below:
12 months prior to departure – Sense Earth will retain the booking fee.
6 months of more before departure – Sense Earth will retain 25% of expedition cost.
4 months or more – Sense Earth will retain 50% of expedition cost.
2 months or more – Sense Earth will retain 75% of expedition cost.
Less than 2 months – Sense Earth will retain 100% of expedition cost.
Please note, if only some members of your school expedition cancel, in addition to incurring the applicable cancellation charges, we will recalculate the expedition cost for the remaining travellers. In cases where cancellation charges made by our suppliers are higher than the cost of the booking fee, we may pass the charge on to you.
Trip Changes or Cancellation by Sense Earth Ltd
It is unlikely that we will change trips significantly.  If we make a major change (for example a change of airport, accommodation, or transport) or cancel the holiday after it has been confirmed but before departure you will have the choice of:
accepting the cancellation or changed arrangements; or
taking another available holiday with Sense Earth Ltd (if it is more expensive you must pay the difference, but if it is cheaper, we will make an appropriate refund); or
(in the case of a major change) cancelling the holiday and receiving a refund.
We cannot be held responsible should airlines discontinue flights on certain routings or change scheduled timetables resulting in missed connections etc. Should an amendment in a routing or itinerary be necessary, we will re-quote you accordingly.
If there is a minor change, we are not obliged to notify you, although we will try to do so, nor are we liable to pay compensation.
We may cancel a holiday because of Low Bookings or a Force Majeure event (see definitions).
Low Bookings are deemed to be where an insufficient number of people have booked the arrangements to make their operation financially viable in the advertised form. In these circumstances, we shall provide you with a full refund of the monies you have paid but we will not be liable to pay you any additional compensation.
In a Force Majeure event we shall provide you with a full refund of the monies you have paid but we will not be liable to pay you any additional compensation.
We regret we cannot pay any expenses, costs or losses incurred by you as a result of any change or cancellation. We will not pay you compensation where we make a Major Change or cancel more than 12 weeks before departure or in the event of Force Majeure. Very rarely, we may be forced by Force Majeure to change or terminate your arrangements after departure. If this situation does occur, we regret we will be unable to make any refunds (unless we obtain any from our suppliers), pay you compensation or meet any costs or expenses you incur as a result.
Cost Increases
We reserve the right to correct errors in both advertised and confirmed prices (both before and after your confirmation has been issued). Please note, changes and errors sometimes occur.
We reserve the right to increase the price of travel arrangements to allow for variations in transportation costs (including the cost of fuel); dues, taxes or fees chargeable for services such as landing taxes or embarkation/ disembarkation fees at ports/airports and the exchange rate applicable to your travel arrangements.
We will absorb an amount equivalent to 2% of the holiday price (excluding insurance premiums and any other amendment charges) before passing on any surcharge to you.
Should surcharges exceed 10% of the holiday price shown on the original Confirmation Invoice you can decide to cancel the holiday and receive a full refund. This option must be exercised within fourteen (14) days of the issue date shown on the surcharge invoice.
The airfare and airport tax quoted are current and subject to change without prior warning should the airline impose an increase in rates for any reason. The airfare quoted is based on the lowest class of fare available at the time of quoting and is subject to seats being available in that class at the time of booking. Should the class not be available at the time of booking, the next applicable fare will be booked, and amended costs advised accordingly. Please note that fares may increase between the time of booking, time of payment, and the ticket being issued.
Your Responsibilities (Passport, Medical and Conduct)
It is your responsibility to ensure that you and everyone travelling with you have valid passports, appropriate visas, and vaccinations. Your specific passport and visa requirements, and other immigration requirements are your responsibility, and you should confirm these with the relevant Embassies and/or Consulates. We do not accept any responsibility if you cannot travel because you have not complied with any passport, visa or immigration requirements. Some countries (particularly in Southern Africa) require your passport to have two blank pages for a visa stamp. As a result, if you are travelling in more than one country that requires this you will need to have more blank pages – for example, if you visit South Africa and Namibia, both of which require two free pages, and re-enter South Africa to fly home, you will need six blank pages. If you have any doubts about the number of pages required, we advise erring on the side of caution, even if this means applying for a new passport.
The name on your airline tickets must be the same that appears on your full passport. We take this information from the booking form so it's important you ensure these details are correct.
You are responsible for ensuring that any existing medical conditions or disabilities which may require assistance are declared to us before you book your holiday or, if newly diagnosed, before your due date of departure so that we can pass these details on to our suppliers in good time. We reserve the right to cancel any application because of any such disclosure.
We are not in any circumstances liable if any carrier refuses you or any member of your party as a passenger because of any medical condition or disability.
Women 28 weeks or more into pregnancy at the time of return travel must have a doctor's certificate confirming that they are fit to travel (note airlines normally require certification at 32 weeks).
We are not liable for any costs, delays or illness resulting from your failure to meet any requirements.
You should be aware that general standards of health, safety and hygiene in the countries to be visited will not be up to UK standards, and of the risk of injury, fatigue and disease inherent in visiting such countries.
Your booking is accepted on the understanding that you realise the potential risks and hazards that can be involved in holidays of this kind including injury, loss or damage to property, discomfort and inconvenience. You also realise that you may travel to remote areas where possible problems may include forces of nature; terrorism; civil unrest; war and accidents. Additionally, you assume any associated risks with altitude, illness, disease, and physical exertion knowing that access to evacuation and/or suitable medical supplies and support may not always be available.
We cannot be held responsible or liable for any disease, illness or medical condition contracted during the holiday.
You are responsible for your behaviour and that of your party.
We and our suppliers reserve the right to refuse your booking or the right to board or the right to travel and to remove you and/or any member of your party from any transport, accommodation or any part of your holiday if you or any member of your party is drunk or under the influence of drink or drugs; if you are or we reasonably believe that you are in unlawful possession of drugs; or are behaving violently, disruptively, dangerously or irresponsibly or in any manner whatsoever which presents a risk to you or others or is causing a nuisance or annoyance to others.
No refund will be given, or compensation paid, and no costs or expenses for which you become liable or which are incurred by you will be made by us or be recoverable by you from us in such circumstances.
You may also become the subject of police inquiry or security measures or investigation and liable if any offence is committed to criminal prosecution and penalties whether in the UK or in any other country having jurisdiction in respect of the alleged activity.
You must fully cooperate with and follow any safety procedures and instructions given by any organisation which is running the activities which you do while on holiday. It is possible that such organisations will require you to sign a waiver form in respect of the activity being carried out.
Insurance
Guests are required to take out travel insurance at the time of booking as cover will commence for pre-departure cancellation from the policy issue date. This will, therefore, provide cover should you have to cancel your trip for an insured reason such as illness or serious accident.
Cover should also include medical expenses and repatriation in the event of accident or illness, for personal belongings, delay at your outward or homeward point of departure, personal liability, overseas legal expenses, cancellation and if appropriate any sports, volunteer work or adventurous activities, including trekking, on your trip. Please also ensure you read the policy conditions and exclusions.
We highly recommend that guests take out comprehensive travel insurance; including "cancel for any reason" (where still available) to ensure any funds lost can be recovered.
Please check your policy document before you travel for precise exclusions and the maximum limits on claims for stolen items.  If you wish to take valuables overseas, then it is often easier to get cover for them under your household insurance.
You are required to notify us within 30 days of booking that an appropriate policy is in place and to notify us of your insurers and of the policy number.
Flights
Flight times are provided by Airlines and are subject to change due to air traffic control restrictions, weather conditions and technical problems.  Flight timings are estimates only and cannot be guaranteed. We will not be liable if a flight is delayed. The Airline's standard conditions of carriage will apply which may limit or exclude liability in accordance with relevant international Conventions.
You may have rights in some circumstances to refunds and/or compensation from the airline in cases of denied boarding, cancellation or delay to flights. Full details of these rights will be publicised at relevant airports and will also be available from airlines. Reimbursement in such cases is the responsibility of the airline and will not automatically entitle you to a refund of your holiday price from us.
All flights from the UK are on scheduled carriers.  Flight upgrades can be arranged with prior notice where the Guest must pay the difference in cost.  We have no control over how much leg room (seat pitch) airlines allow on their aircraft. No guarantee can be given as to a particular seat configuration on board as aircrafts vary. However, these seat pitches are standard throughout the airline industry and comply with current civil aviation authority guidelines.
We will do all we can to try to reserve a specific seat for you, if you have a preference. However, whilst airlines may allow us to request seats, they will not guarantee any specific seat reservation. If this is important to you, it is always best to arrive for your flight early, regardless of having made this request in advance. Please make it clear on your booking form if you have a specific request.
We generally use special "inclusive tour" fares when we purchase your air tickets from the airlines. While these fares are very good value, they are inflexible in terms of changes and offer no refunds once the tickets are issued. Once your flight is confirmed the airlines will charge an amendment fee or insist on the purchase of a completely new ticket if you make changes.
Smaller local airlines are often more likely to change their schedule at short notice. We will endeavour to inform you of any changes in advance of travelling but this may not always be possible.
Advance Passenger Information
A number of Governments are introducing new requirements for air carriers to provide personal information about all travellers on their aircraft to the Authorities before the aircraft leaves the UK. The data will be collected either at the airport when you check in or in some circumstances when, or after you make your booking. Accordingly, you are advised to allow extra time to check in for your flight. Where we collect this data, we will treat it in accordance with our privacy policy.
Whilst we will do our best to inform Guests of relevant changes to the FCO Travel Advice (www.fco.gov.uk), it is up to the Guest, and not us, to know what the FCO travel advice to a certain country, or region of a country, is and to be adequately insured to travel there. We accept no liability if the Guest a) chooses to cancel a booking because of FCO advice or b) is not adequately insured to travel. We will not normally cancel a holiday simply because the FCO advise against travel.
Sense Earth Ltd Leader
If your Sense Earth representative is unable to accompany a safari due to illness or loss of family member, we reserve the right to substitute another recommended leader.
Liability
Mode of Transport: For each holiday, we will use locally arranged transport including minibuses, coaches, trains, buses, or river craft as shown in the specific holiday itinerary. You agree that our obligation to you is to select competent, independent sub-contractors to provide reasonable transport given local conditions and any other services related to the holiday and to exercise reasonable care in selecting such suppliers. Your booking is accepted only on the understanding that safety standards in the developing world are not the same as in the UK and things like safety belts are often not available.
Accommodation: We do our best to provide interesting and safe accommodation, however your booking is again only accepted on the understanding that safety standards in the developing world are not the same as in the UK and things like fire escapes are often not available. Accommodation, which forms part of your booking, may only be used by the persons named on the booking form.  You will be responsible for the cost of repairing or replacing any lost, broken or damaged items, including lost keys.
You must inform us without undue delay of any failure to perform or improper performance of the travel services included in this package. If any of the travel services included in your package are not performed in accordance with the contract, or are improperly performed, by us or the travel service suppliers, and this has affected the enjoyment of your travel arrangements, you may be entitled to an appropriate price reduction or compensation or both.
We will not be liable where any failure to perform or improper performance of the travel services is due to:
you or another member of your party; or
a third party unconnected with the provision of the travel services in the package and is unforeseeable or unavoidable; or
unavoidable and extraordinary circumstances, which means a situation beyond our control, the consequences of which could not have been avoided even if all reasonable measures had been taken.
The limitations set out in this clause do not limit and / or exclude our liability for death or personal injury due to our negligence, liability of our fraud and /or any other liability of ours which it is not permitted to limit and/or exclude as a matter of applicable law.
Our liability, except in cases involving death, injury or illness, shall be limited to a maximum of three times the cost of your travel arrangements. Our liability will also be limited in accordance with and/or in an identical manner to:
The contractual terms of the companies that provide the travel services that make up your package. These terms are incorporated into this booking; and
Any relevant international convention, for example the Montreal Convention in respect of travel by air, the Athens Convention in respect of travel by sea, the Berne Convention in respect of travel by rail and the Paris Convention in respect of the provision of accommodation, which limit the amount of and conditions under which compensation can be claimed for death, injury, delay to passengers and loss, damage and delay to luggage. We are to be regarded as having the benefit of any limitation of the extent of or the conditions under which compensation is to be paid under these or any conventions.
Our responsibility does not start until you meet the group at the designated start point overseas, usually the airport in the city at the start of the trip. We are not responsible for any additional expenses incurred by you in getting to the meeting point.
Additional Activities or Excursions
Please note that we do not provide or arrange excursions other than those listed in your itinerary and forming part of the arrangements booked and paid for in the UK. Our local representatives or guides may put you in touch with local organisers of excursions if you request but we can have no liability for such excursions, as your contract for such excursions will be with a local company providing the services and not with us.
Special Requests
Special requests should be indicated in writing. We will try to arrange special requests to be met but cannot guarantee that they will be unless a supplement is charged. Adding requests after booking may incur a charge.;
Complaints
In the unlikely event that you have any reason to complain or experience any problems with your holiday arrangements whilst away, you must immediately inform us at the time of occurrence thereby giving us giving the opportunity to rectify the cause of the complaint. Most problems or complaints can be resolved while you are away, however if you remain dissatisfied, please write to us within 28 days of your return to the UK giving your booking reference and full details of your complaint.
Data Protection Act
'Data Protection Legislation' refers to The Data Protection Act 2018 and any secondary legislation in England and Wales relating to the processing of personal data and the privacy of electronic communications, as amended, replaced, or updated from time to time.
All personal information that we may collect (including, but not limited to, your name, postal address, email address and telephone number) will be collected, used, and held in accordance with the provisions of data protection legislation as defined above.
How we collect, use, and store your personal information is set out in our privacy policy.
In order to make your travel arrangements we will need to pass your details to companies and individuals outside the EC where less stringent data protection controls may be in place.
We will not pass on your details to third parties for any other purposes.
Other Important Terms
If any part of this Agreement is found to be void or un-enforceable by any Court of competent jurisdiction, such part shall be severed from this Agreement, which will otherwise remain in full force and effect.
You may not assign this Agreement or any rights or obligations under it without our prior written consent.
The failure or delay by us at any time or for any period to enforce any one or more of these Terms and Conditions shall not be a waiver of them or a waiver of the right to enforce such Terms and Conditions on a future occasion.
A person who is not a party to the contract shall not have any rights to enforce its terms.
Governing Law and Jurisdiction
This Contract shall be governed by and construed in accordance with English Law and the parties agree to submit to the exclusive jurisdiction of the courts of England & Wales.

Other Useful Information;
Safety and Theft
Theft is a problem in many countries.  It is advisable to take the same precautions as you would anywhere else world.  Never leave valuables unattended, do not wander around the streets at dark and do not wear expensive jewellery when out walking.  Never leave anything in the car (especially not on the back seat), as theft from cars is rising.  Unfortunately mugging is also on the increase in many areas.  It is your responsibility to take sensible precautions.
For further information please look at the Foreign and Commonwealth Travel Advice Unit at http://www.fco.gov.uk/
Safety Standards and Regulations
Each country has its own regulations and enforcement levels relating to health and safety standards.  These do not always match the very high standards we are used to in the UK, standards and regulations in developing countries are very different from the UK.  The monitoring and enforcement of local regulations is a matter for those country's authorities.  Sense Earth Ltd makes every effort to only use services or products, which meet the standards expected in the UK.  Similarly, liability requirements vary from country to country, as does the responsibility placed on an organisation by local law.
Your booking is accepted on the understanding that you realise that the tourism infrastructure in relation to both travel and accommodation may be substantially lower than you would expect in the UK and you should not have unreasonable expectations of the facilities that will be provided. We will endeavour to make sure connections and transfers go smoothly but this may not always be possible due to flight cancellations, local political situations, weather, mechanical breakdown, or other unforeseen circumstances. Timings of air, sea, road and rail departures are therefore estimates only due to the above possible situations occurring.
Please take all precautions to protect yourself and your party whilst on holiday. In particular, you should familiarise yourself with fire escape routes and regulations in national parks that you visit. Do not enter a swimming pool before checking the water depth first.
A Final Word
Many of our destinations are in the developing world where attitudes, infrastructure, priorities, lifestyles, and cultures are very different from our own. This is often the very reason to visit the destination, but certain aspects may be frustrating. We always advise that the first thing you should pack is your sense of humour. This can prove invaluable when travelling over rougher roads, waiting for a delayed aircraft, and communicating with hotel staff whose first language is not English.
Travelling in the Developing World: Arrangements in the developing world are rarely 'set in concrete'.  We will try to ensure that your holiday runs as smoothly as possible.  However, arrangements can go slightly askew due to local circumstances of we are unaware and have no control over and you may have to adapt your plans.  Please try to be patient and understanding and kindly accept that life in other countries is not quite the same as the UK.
Wild Animals: In taking a holiday anywhere overseas, you acknowledge that it involves risk and wild animals can present threats to your safety and health.  These risks are your responsibility.  We will do everything it can to ensure that you know of the risks.  You can minimise the risks by following the guidelines and advice of your guide, and never walking out on your own.  In camps where animals wander freely, make sure that you are escorted when you walk around the camp.  Do not touch any plants, animals, or insects, however harmless they appear to be.  Please note that safari lodges may require you to sign personal indemnity forms and some indemnities are incorporated into the guest register.
Responsible Travel: Travelling is a privilege, there are so many extraordinary things to experience. Whilst on holiday, we can have a positive impact on the economy, local communities, and the environment. This could be in the form of exchanging ideas between cultures, visiting conservation areas, which not only protect endangered species but also benefit local communities, and supporting the local economy in buying local produce. In doing so, you are a responsible tourist travelling with respect and sensitivity to your local environment.  Please listen to your Sense Earth Ltd representative and use their advice to reduce the impact that you have on the countries that we visit.
We do have an impact on where we go and what we do, let's just make it a positive one.
Privacy & Cookie Policy
This Privacy Policy explains how Sense Earth Limited ("company" "us" or "we") collects and uses the personal data that you provide us from an enquiry or for booking and provision of our Tailor-made Safaris and Holiday services and to receive our newsletter.
Sense Earth Limited is registered with the UK Information Commissioners Office: Registration Number Z858705X. Our company registration number is 08007360.
For the personal data we collect from you we are the 'data controller'. If you provide us with personal data for another person then you must do so with their permission and understanding of how Sense Earth will be using their data. If personal data you provide relates to anyone with a reading age of under 14 then it must be with the permission and understanding of their parent or legal guardian.
Should you have any questions about this Privacy Policy do contact us. Contact details are included at the bottom of this Policy.
What information do we collect and why?
You provide us with your name, email address, and telephone number via telephone, email or social media or via the contract form on our website when you enquire about our services.  When you enquire or buy services from us, you are looking entering into a contract with us and this is the reason why we collect and process this personal data.
When you book a Safari or Holiday with us you also provide us with a copy of your passport. When you buy services from us, you are entering into a contract with us and this is the reason why we collect and process this personal data.
If you subscribe to receive our newsletter you are providing your consent for us to email you accordingly. If you are a guest, we will send you the newsletter on the basis of legitimate interest. You may unsubscribe at any time by using the link included at the bottom of each of these emails.
Where we are required by law, we will process your data on the basis of a legal obligation.
Cookies
We do not collect any personal data from Cookies used on this website. We use Google Analytics on our website but do not capture any personal data via the Google Analytics cookies. You can disable cookies via your browser should you so wish.
Please visit www.aboutcookies.org for comprehensive information about cookies and cookie settings in a wide variety of different web browsers.
Retention of your data
We retain your information for no longer than is required for the purpose it was collected for, including for the purposes of satisfying any legal, accounting or reporting requirements.
Whom do we share your information with?
We share your information with third parties as required to provide our service to you.
We do not sell nor trade personal data with any third party.
How we protect your data
We use cloud based third party providers for our business operations such as emails, storage of documents and our customer relationship management system. These are selected for, and monitored on, how they meet the requirements of current UK data protection legislation and the requirements of the EU General Data Protection Regulation. Where this means that your data is transferred outside of the UK or the EEA we ensure that the appropriate measures are in place for such international transfer.
Your Rights
Under Data Protection Legislation you have the right to:
Withdraw your consent where that is the legal basis of our processing
Access your personal data that we process
Rectify inaccuracies in personal data that we hold about you
Be erased, that is your details to be removed from systems that we use to process your personal data
Restrict the processing in certain ways
Obtain a copy of your data in a commonly used electronic form; and
Object to certain processing of your personal data
Full details of the above rights are on the ICO website.  Some rights are dependent on the lawful basis for processing your information. If we have legitimate grounds to not carry out your wishes, these will be explained to you in response to your request.
If you would like to exercise any of your rights in relation to your personal data, contact us as detailed below.
Should you think that we have not addressed your requests or have concerns about how we handle your information, you also have the right to lodge a complaint with the Information Commissioner's Office as detailed on their website.
Contact Details
Sense Earth Limited can be contacted via
Updates to this Privacy Policy
This Privacy Policy is regularly reviewed and might change from time to time. Do please check it regularly. If there is any significant change, we will let you know.
This Privacy Policy was last updated February 2021.
Disclaimer
The information contained in this website is for general information purposes only. Although we endeavour to keep the information up to date and correct, we make no representations or warranties of any kind, express or implied, about the completeness, accuracy, reliability, suitability or availability with respect to the website or the information, products, services, or related graphics contained on the website for any purpose. Any reliance you place on such information is therefore strictly at your own risk.
In no event will we be liable for any loss or damage including without limitation, indirect or consequential loss or damage, or any loss or damage whatsoever arising from loss of data or profits arising out of, or in connection with, the use of this website.
Through this website you are able to link to other websites which are not under our control. We have no control over the nature, content and availability of those sites. The inclusion of any links does not necessarily imply a recommendation or endorse the views expressed within them.
Every effort is made to keep the website up and running smoothly. However, we take no responsibility for, and will not be liable for, the website being temporarily unavailable due to technical issues beyond our control.
Copyright
This website and its content is copyright the website owner. All rights reserved.
Any redistribution or reproduction of part or all of the contents in any form is prohibited other than the following:
You may print or download to a local hard disk extracts for your personal and non-commercial use only
You may copy the content to individual third parties for their personal use, but only if you acknowledge the website as the source of the material
You may not, except with our express written permission, distribute or commercially exploit the content. Nor may you transmit it or store it in any other website or other form of electronic retrieval system.