I'd had a nightmare of a journey to get to Maputo Marina. Travelling by public transport from Eswatini to Mozambique is as stressful as it sounds. Having taken 7 1/2 hours for a 3 hour journey, I was glad to get there in one piece and with all the luggage that I had started my journey with. There wasn't even time to spend at Maputo's Fish Market. I was so looking forward to getting to Machangulo Beach Lodge.
The marina was not what I was expecting it to be; I had expected large, shiny, white boats and colourful restaurants lining the seafront front. Instead I was standing amongst a rusty stripped down boat in an area closed off by a grimy, grey seawall with some random person telling me that he didn't know where the boat from Machangulo Beach Lodge was. In fact I'm sure he didn't know what I was talking about. I was so disheartened.
Luckily I had walked round a corner where a guy was loading blue drums onto a shiny, sparkly boat.
"Are you Ms Bowen? Going to Machangulo?" called out the guy on the boat, who I later found out was called Isaac. It was music to my ears, the relief that crossed my face was obvious. "Don't worry, I wasn't going to leave without you! Do you mind waiting whilst I load the last things onto the boat?" I was happy to wait, more than happy to wait.
Machangulo Boat Transfer
And then we were off. My luggage was securely stored in the front locker and we left the dreary marina behind us. It probably hadn't helped that a recent storm had passed over southern Africa and the sky was overcast. There was also a lot of flotsam and jetsam in the harbour helping to paint a dismal picture of the area.
"I hope that you don't get seasick," commented Isaac, "the journey to Machangulo might get unusually bumpy. It is the after effect of the storm we've just had."
Apparently my travelling trauma had not ended. I do get seasick, not often, but when I do it can be quite horrific. Isaac saw the concern in my eyes. I bet he was thinking he had got a right one here. I knew that to prevent being seasick was to watch the horizon, so I stood up next to Isaac as we motored away from Maputo.
Isaac opened up the engine as we cleared the harbour sea wall and set our course for Machangulo. In fact, the swell was not half as bad as I had expected and there was not an inkling of seasickness to be had. Isaac was also a delight to be with and the hour and a quarter transfer whizzed by. He is a right character and kept us both laughing throughout the journey. A real tonic for my trauma.
Near to the end of the boat ride a sense of peace and well-being overwhelmed me as we circumnavigated the lagoon near Machangulo. The palm trees along the beaches swayed in the breeze whilst small fishing boats nestled upturned like turtles on the sand and the sea fluctuated between blue and aquamarine depending on how close to the reef we were.
I was welcomed in style by the managers Greg and Racquel, who were waiting for me on the beach. The whole lodge had an air of peace and serenity about it and all the stress of my journey to get there seemed to be washed away by the sea in that instance. And I hadn't even set foot on the golden sandy beach.
I was accompanied across the beach and up the wooden steps, of which there are many(!), past the swimming pool and into the main Lodge area on top of the sand dunes. The scenery from the decking was stunning, a clear view overlooking the Indian Ocean.
Machangulo Beach Lodge – the tour
Everything had an ecological and simplistic slant to it yet all your needs were well catered for. The Lodge had been cleverly incorporated into the ecosystem with minimal impact on its surroundings. Comfortable looking chairs and hammocks were in a small seating area overlooking the sea and the spacious dining and bar area was tranquil, even the bubbling of the fish tank in the background was soporific.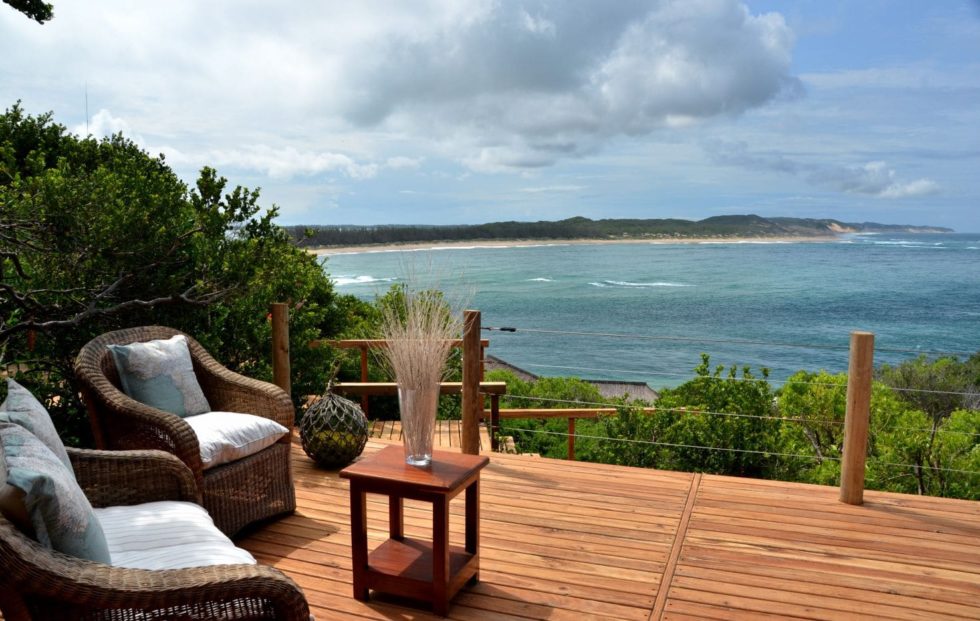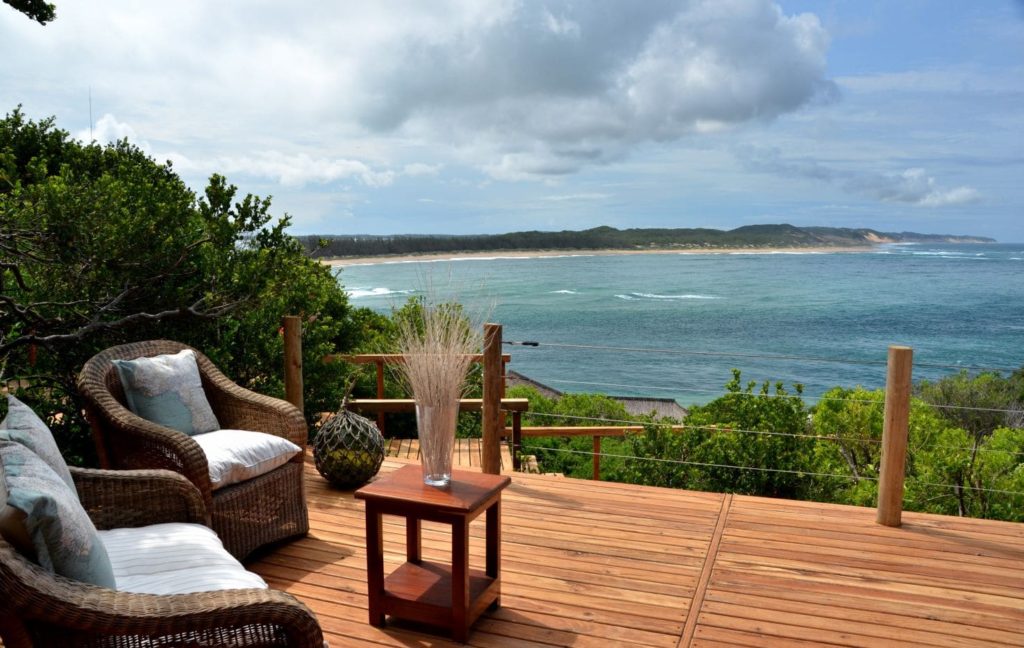 I was told that they would be steak tonight (my heart fell as I had been looking forward to a seafood extravaganza), "our other guests have been here for a while and wanted to have something different," explained Racquel. "But not to worry, we can cook something different for you. Would you like prawns?" Of course I would – prawns are my absolute favourite. Yum!
After being shown around the communal area and explained about meal times I was taken to my room. I nearly cried – please bear in mind I was very tired and had been working for 4 weeks on the trot. I was in desperate need of time out for myself.
The room was more than I could ever have wished for. It was tastefully decorated with a beach feel to it yet it was 4* in rating. There was a beautiful bed, which was enormous, with a mosquito canopy around it, and indoor and outdoor showers with piping hot water. I also had my own seating area on decking overlooking the Indian Ocean – the way it was positioned ensured its own privacy. I couldn't have asked for more.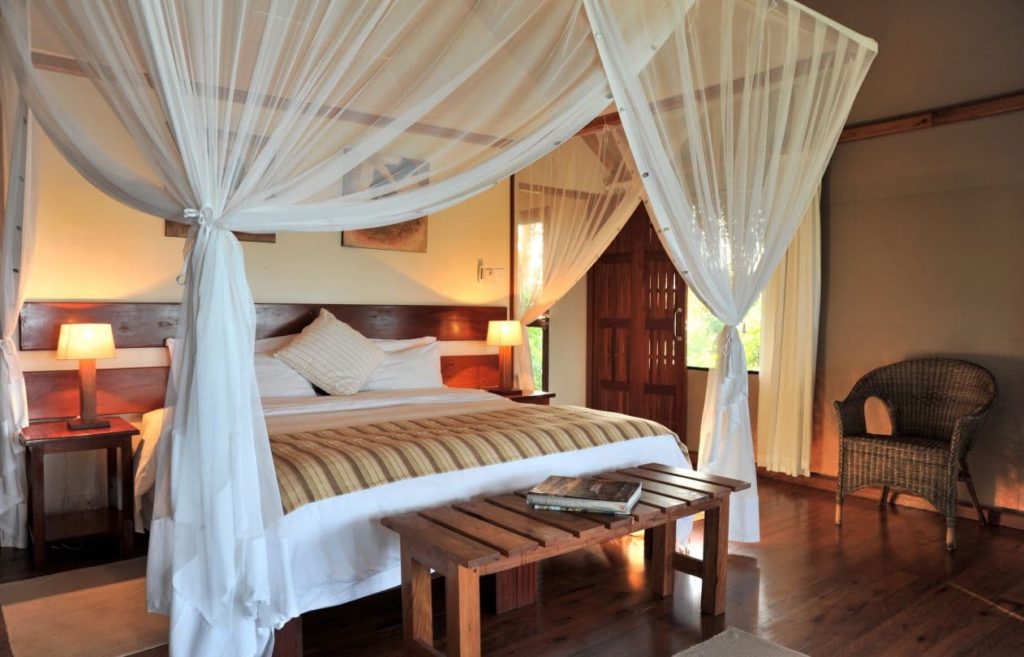 That evening I had a well deserved gin with homemade nibbles, followed by delicious gigantic prawns and fresh vegetables. I fell into my bed, exhausted yet very very happy, and went to sleep to the sound of waves lapping on the beach.
Activities
Here there is a very relaxed approach to what you do during the day, the variety is astounding. There are visits to the nearby village where quite a lot of the staff are employed from. There are also snorkelling trips to the nearby Marine reserve, SCUBA diving to a plethora of dive sites and visits to historical Inhaca Island. Alternatively, you can be left on your own deserted beach with a picnic and your own pagoda for shelter from the sun. Spend time sunbathing and fishing.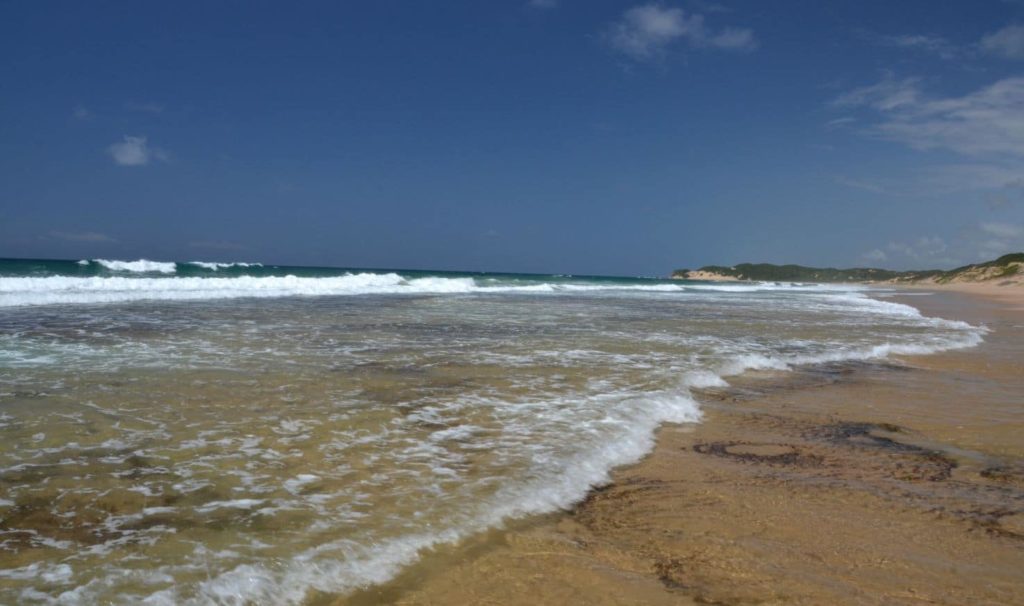 The great thing about guests fishing is that more often than not their catches are served up to eat. Whilst I was there one of the guests had caught a large tuna so we had fresh seared tuna steak for lunch. Last night I had eaten prawns that had been hauled out of the sea that very day. You certainly can't fault the freshness of the food, and the variety is spectacular.
Two nights were far too short a stay, I didn't have the time to appreciate switching off and just being. It is an ideal place for rest and to enjoy the natural beauty of the surrounding. The ultimate beach destination that is accessible from Maputo. Building a lodge on this peninsular was an inspired idea.
All too quickly it was time for me to leave and to catch my plane home. I waved to the staff on the beach, watched the dhows in the lagoon and gasped at the flock of flamingoes nestling near the shore. I vowed that I would come back and spend longer at Machangulo Beach Lodge. Thoroughly recommended.
It is pure heaven.