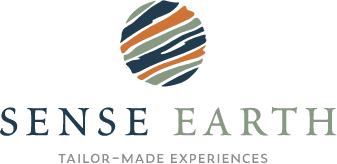 What type of holiday is for me?
The choice of holiday can be a bit overwhelming. We are here to help you make the right holiday decision for you and your companions. Whether you are single, a couple or a group of friends, we can create or find your ideal holiday. Why not look through our
Holiday Types
to give you a bit of direction?
Planning your dream holiday
If you're looking for a truly bespoke holiday, we can take you on a unique journey through the earth. If you're not quite sure what you want yet, we are here to support you. Here are some key questions to help us design your ideal wildlife holiday…
Can I join a group?
Of course you can. We have a number of small groups for like-minded travellers. With maximums of 12 in a group we genuinely have small groups so your holiday can be personalised and combined with safety and security. We often find solo travellers join our small group holidays.
How can I stay safe on my holiday?
With Sense Earth's vast knowledge and experience you can be assured that you will be given good advice. Your
safety
is paramount.
When do I get all the information about my holiday?
We send you a personalised travel folder six weeks before your holiday. This has your itinerary, detailed information about your holiday, your flight tickets and other material to make your holiday easy and enjoyable. We are more than happy to talk though your holiday in detail.
What should I do before you go?
Please make copies of your passports and other travel documents in case they got lost. Make sure you have all the correct vaccinations and enough of any prescription drugs that you may need when you are away.
What should I take on holiday?
We have a recommended packing list which will be in your travel folder as well.
Are flights included in my holiday?
Flights are included in most of our holidays and these are ATOL protected.
Do I need travel Insurance?
It is very important that you have travel insurance. If you do not have appropriate insurance before you travel with Sense Earth, you could be liable for emergency costs including medical treatment. Please double check with your insurance company that you are covered for the holiday you are going on.
We recommend Campbell Irvine for the best comprehensive insurance.
https://www.campbellirvinedirect.com/CIDirect
or call them on 0207 938 1734.
Will I need a visa?
Some countries require you to have a visa. Please check your passport and if in doubt contact us. We will also let you know if you need a visa or if there is any other essential documentation needed prior to travel.
Which inoculations should I have?
We are not medically trained so cannot give advice on which vaccinations you should have. Please consult your GP or a travel clinic to get up to date and professional advice. Do look at the NHS website
www.fitfortravel.nhs.uk
for more information.
Am I financially protected?
We are 
ATOL protected
(6323), so can book with us with total peace of mind.
All the flights and flight-inclusive holidays on this website are financially protected by the ATOL scheme. When you pay you will be supplied with an ATOL Certificate. Please ask for it and check to ensure that everything you booked (flights, hotels and other services) is listed on it. Please see our booking conditions for further information or for more information about financial protection and the ATOL Certificate go to: www.atol.org.uk/ATOLCertificate.
When you book a holiday package with Sense Earth, we are responsible for all aspects of your holiday under the European Package Regulations, meaning your holiday and the monies paid for that holiday are fully protected.
Why should I follow the Foreign, Commonwealth & Development Office?
This is where you can get advice about travelling abroad, including the latest information on coronavirus, safety and security, entry requirements and travel warnings. It is always good to keep up to date with current information.
How much should I tip?
Every country is different. We will give you specific advice on tipping in your information folder.
Is there emergency support when I am away?
We are contactable every step of the way. In your travel folder there will be in-country numbers for you to call in an emergency as well as the UK office which is manned 24hrs.
I have a special diet, can this be catered for?
Please let us know on booking and we will organise this for you. All the lodges we work with are very amenable and understanding and can take into account most diets.
"Once a year, go someplace you have never been before."
Dalai lama
"To witness that calm rhythm of life revives our worn souls and recaptures a feeling of belonging to the natural world."
GEORGE SCHALLER