Have you ever gone walking with giraffes? At the Mbuluzi game reserve in Eswatini, you don't have to walk far to do just that.
My Experiences in Friendly Eswatini
I had consumed 4 litres of water and I was still thirsty. It was a rather hot day and I had covered kilometres in Mbuluzi Game Reserve, hiking some of the new trails there. I had been in Eswatini for under 24 hrs and was not very well acclimatised.
Having said this, I did feel as if I had come back home. On arriving at King Mswati III airport in Eswatini I was told to have a nice stay and was waved at by police as I left the airport. I had only been in the Kingdom for 30 mins and had been reminded how friendly the EmaSwatis are.
I drove to Mbuluzi, where I had my first meeting of the day. After 26 hrs of travelling maybe this was not a wise choice but I like to cram things in, I grinned from ear to ear. Africa is restoration for my soul. I drove through communities and waved at children as I passed by, whilst keeping an eye out for goats and cattle as that often wandered onto the road. Two overladen buses overtook me on their way to Mozambique and I watched a bateleur eagle soaring in the sky. I was home.
I then entered into Hlane Royal National Park which has a road running through the middle of it. There is a sign that says "Cyclists and Pedestrians, Beware Of Lion and Elephant", which makes me smile every time as I imagine some poor man cycling incredibly quickly in fear of his life from lion.
The reality is that there were no "Big Game" in this area, but it still tickles me when I see the sign. As of 2020 there are a few black rhinos, but I have as yet to see one. The vegetation changed from basic farming plots for a subsistence lifestyle to open savanna dotted with acacia trees. I was in the African bush, so I kept my eyes peeled. I did not have to look for long, there on the side of the road was a giraffe. She was nonchalantly eating away, oblivious to my screech of tyres as I came to an abrupt stop to watch her. I had been in Eswatini for 54 mins and I had already seen a giraffe. This is the beauty of Eswatini, you do not have to travel far to see the African bush and its wildlife.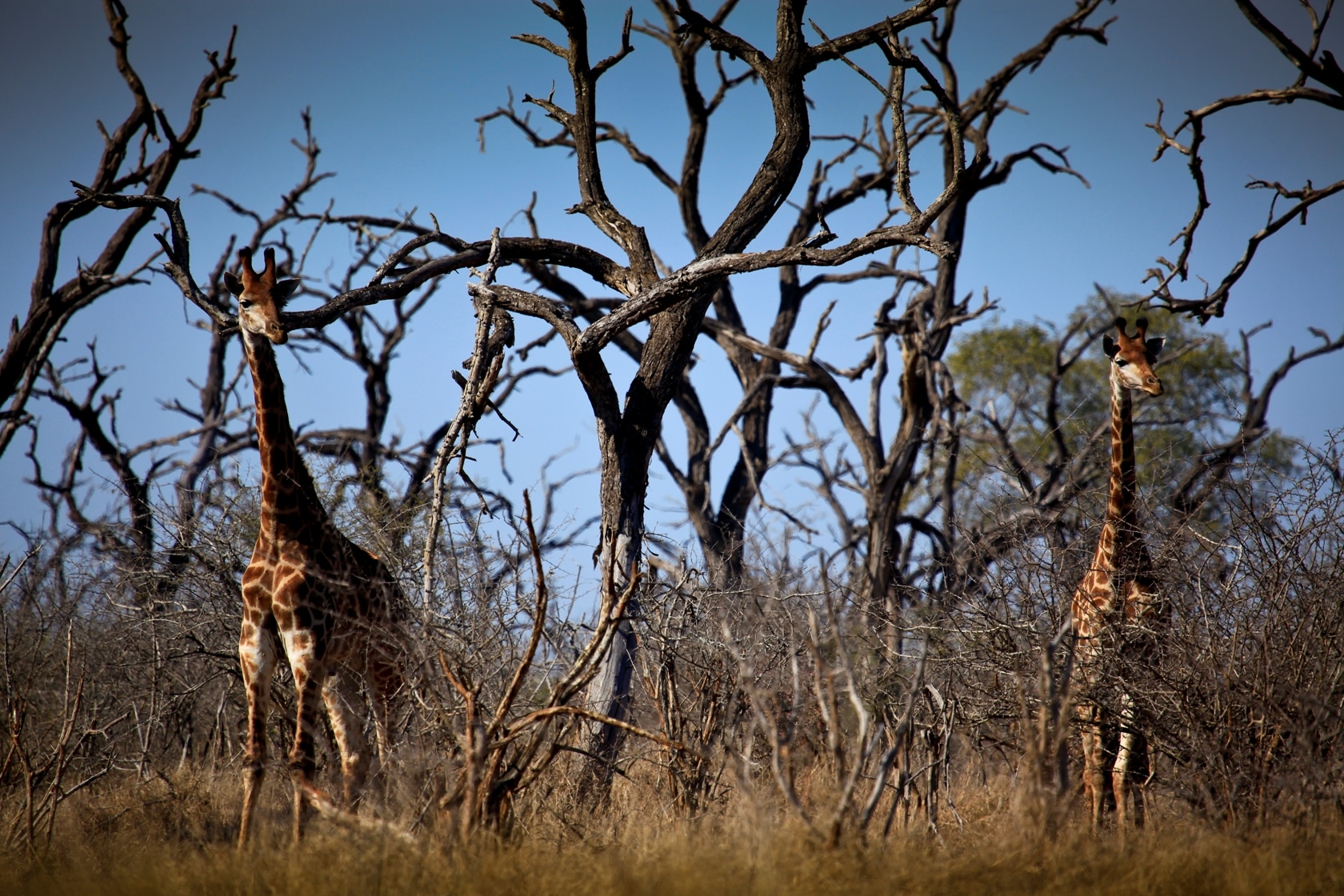 Walking trails of Mbuluzi
The next morning I started my hike in Mbuluzi at around 7.30, the sun was up and it was very humid. Clouds hurried across the sky and the shade from some scrawny trees was most welcome. Mbuluzi is divided into 2 sections, northern and southern, both are equally inspiring, in different ways.
I decided to check out the hiking trails of Mbuluzi in the northern section first, wildlife is not as great there but the scenery is lovely. This section is less managed in bush clearing so there are more thickets for birds and smaller mammals. Smart, the guy on reception, showed me where the new trail started.
"It is only a bit further up from junction 11," he said. I should have remembered how far 'a bit far' was in EmaSwati terms. I did eventually find it although anyone tracking me would have wondered what on earth I was up to as I kept retracing my steps up and down the road.
The trail meandered through the bush, I smiled. I was back in my element, hiking in the bush in Mbuluzi. I walked quietly, so much so that I spooked a herd of waterbuck. They leapt across the path in front of me, their white rings on their rumps flashing as they disappeared into the bush. As I rested at Mohlo bird hide I watched dragonflies flit across the water. Two woodland kingfishers had a bit of a shock as they swerved away from the hide when they saw me at the last minute. They had been using the hide railings as a perch, finding me there was unexpected!
Back off to finish the northern section where I also spotted a 'tower' of giraffe as well as some nyala antelope. That walk of 2.5 hrs I had drunk 2.5 litres of water and it was only 11.00am. I then, rather stupidly, decided to check out the southern section which added another 2 hours of walking. I filled up my water from reception and set off for the southern section.
To begin with all is was fine and I felt good, although it was heating up nicely. I saw more giraffe as they galloped through the bush. I froze on the road, they were running towards me, not away, what on earth had spooked them? Seven giraffe crashed by and then abruptly stopped. They looked at me, their eyelashes fluttering. Woman and giraffe were locked in a staring match, which the giraffe won. I did try to outdo them but a young calf caught my attention with his big dark brown eyes. I am a sucker for young giraffe, and so I easily lost the contest with his mum.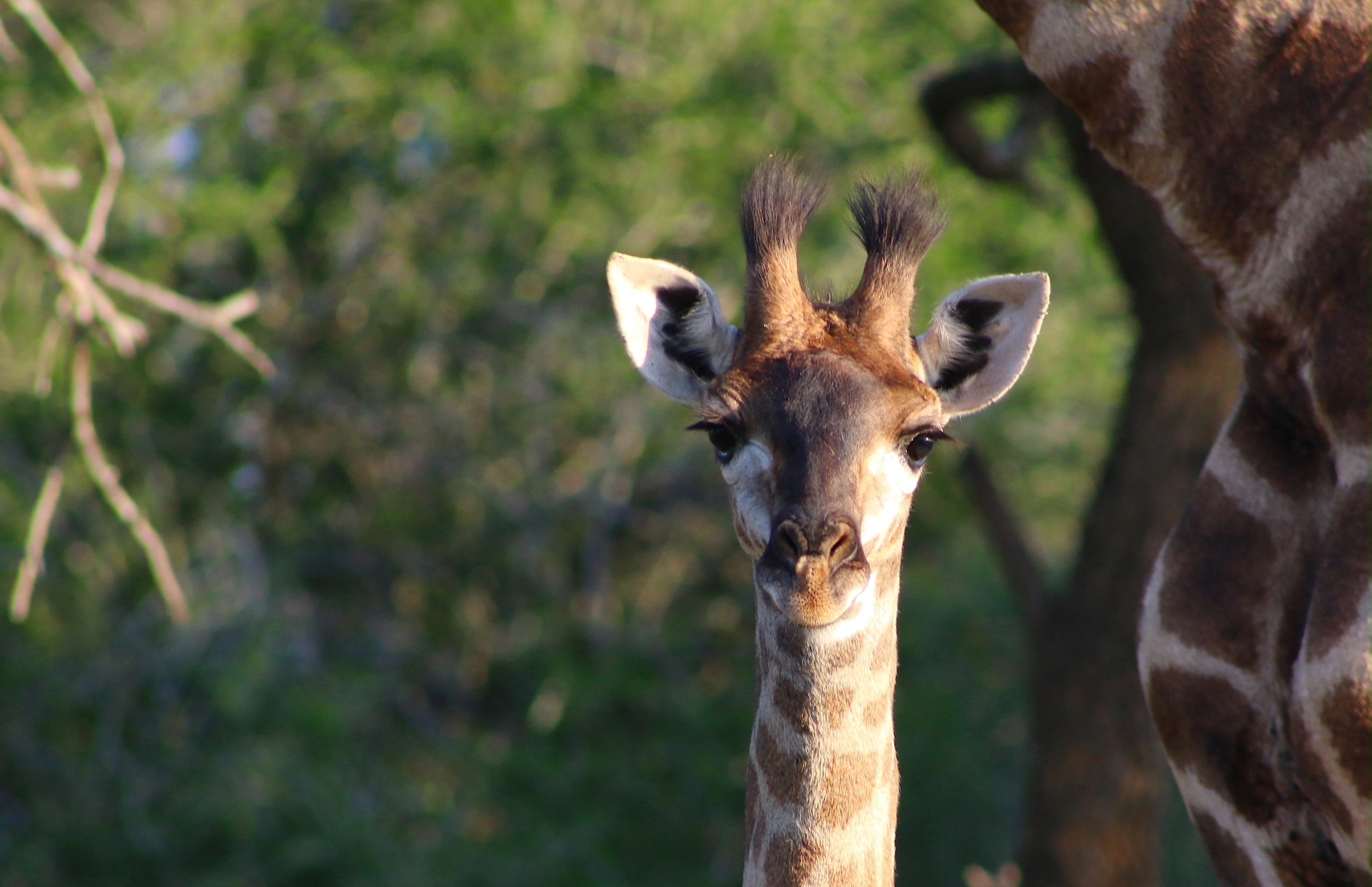 An hour later of walking, having seen even more giraffe, I was feeling rather hot. The sun beat down on me and I took a short cut back to reception. This route was shorter but there was little shade to hide under. I was looking rather hot, I had a very red face and pink arms.
As I got to reception, I saw Tal arrive on his quad bike. He waved at me, stopped his bike and shouted "Jenny, mad dog is an Englishman, out in the midday sun."
I thoroughly agreed and was happy with it.