I have spent a lot of time in Namibia and I always look forward to my next visit. I was recently asked what it was that I loved about the country and I found it hard to put my finger on what it actually was, there are so many. Here are the five reasons that I came up with.
1. Endless Space and Solitude in Namibia
Don't go to Namibia if you're agoraphobic, with its wide-open spaces and endless horizons, there is an incredible sense of space. At times you may feel a little insignificant. As soon as I'm out into the wilds of Namibia, wherever it may be, I feel the shackles of everyday living released from my soul. I love this feeling. This was particularly true after COVID. I remember getting out of my 4×4 vehicle, standing in the middle of a dirt road (there were no other vehicles for miles around), and simply raising my arms to the air. I could turn for 360 degrees and not see a single sign that indicated a human presence, it was a pure stark middle of nowhere experience.
There is nowhere else really that I get that ultimate sense of freedom and the opportunity to have real solitude amongst incredible scenery. The stars also reflect this big sky at night; it seems to be larger, the Milky Way brighter, the stars like 1,000 pinpricks in an inky blue backdrop. With the big wide-open spaces at night the sky simply looks even larger than it actually is, the sunsets are spectacular and at times it can be hard to get the surroundings into perspective. It's really not advisable for agoraphobes to visit Namibia.
2. Quirky Lodges
As there is so much space in Namibia lodges are set back away from the dusty roads and created harmoniously with the local surroundings. You could potentially see your accommodation from a distance, instead your lodge blends superbly with the environment, nestling in rocky outcrops, perfectly positioned along escarpments or is sensitively situated to give you the best view in the morning and evening. Each lodge is thoughtfully positioned in the wilderness to showcase its location and the interior decoration is always in keeping with the environment.
The lodges that stand out for me are Ship Wreck Lodge on the Skeleton coast which is one of the remotest lodges that I have visited and the rooms resemble actual ship wrecks, perched on top of sand dunes overlooking the sea. Mowani Lodge certainly earns its status under quirky lodges, rooms that are merged with rocky outcrops, even the outdoor bathroom is part of the environment. And lastly there is Grootberg Lodge which is a community run venture with individual chalets overlooking the most mind-blowing escarpment and a swimming pool with one of the best views I know of in Namibia.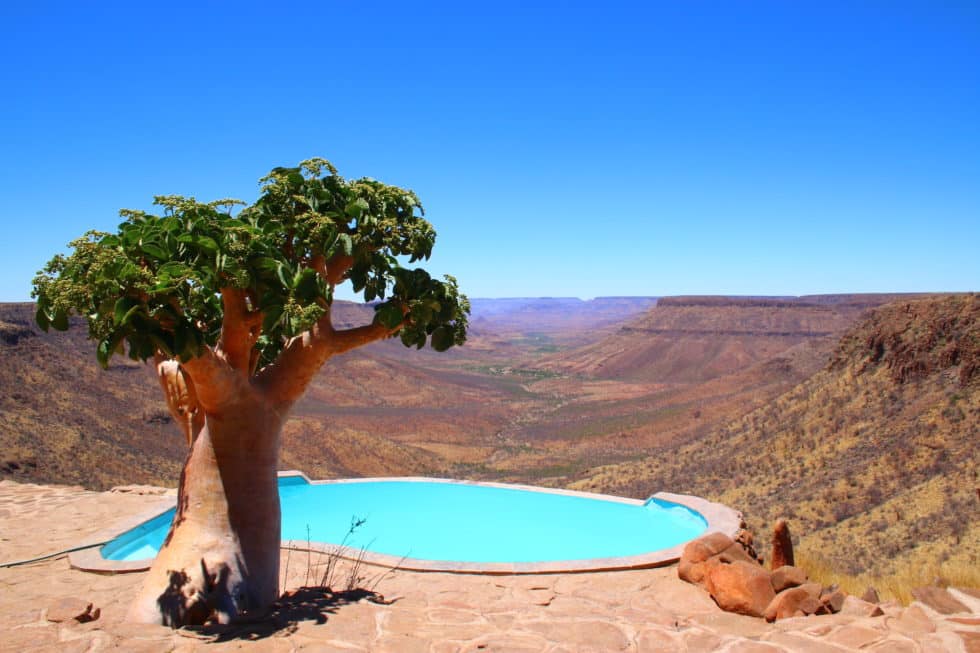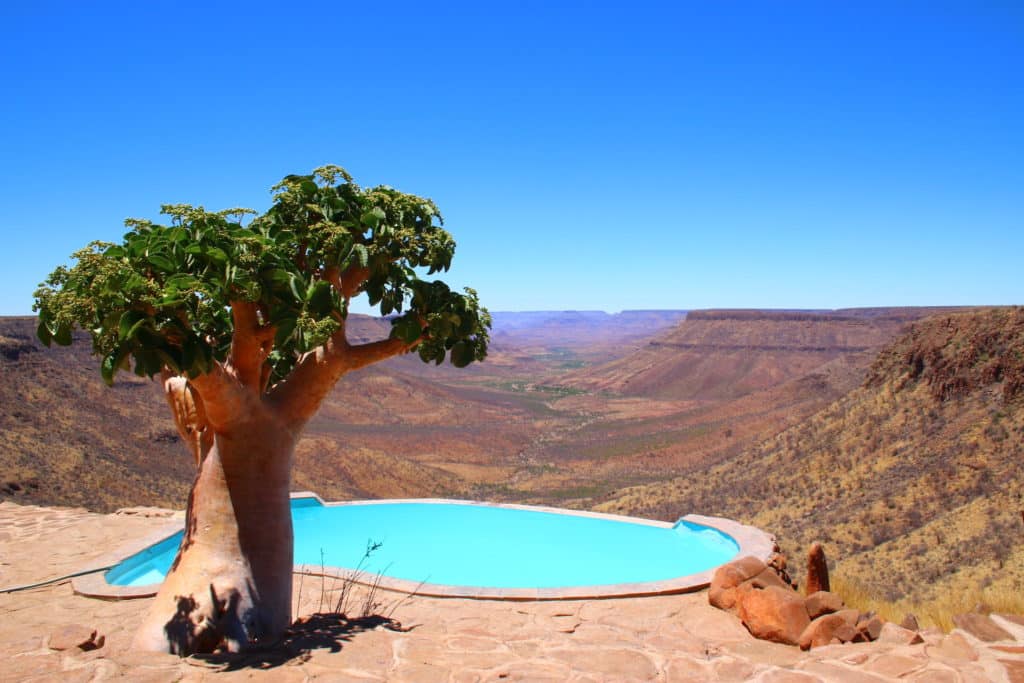 Lodges in Namibia utilise their space and environment to enhance their accommodation and living areas and completely encourages spending as much time outside. I'm looking forward to my next adventure in Namibia.
3. The Scenery – Africa TV whilst Driving
The driving distances in the Namibia are vast, so expect long and glorious days of driving. The wonderful thing about driving through Namibia is that the scenery constantly changes; from wind swept beaches to inhospitable deserts to vast rocky formations and lush riverside vegetation in the Caprivi strip. In my mind, seeing Namibia whilst on a self-drive, is one of the best ways to explore this dynamic country: you can stop when you want to so you can admire the views, you can travel at your own pace, and the driving is also part of your mini adventure too. I enjoy the longer driving days because of the changing scenery, you never know what is going to be around the corner, it is that anticipation, just like TV, that makes the driving memorable.
Then driving across Etosha National Park, that is an experience in itself. The wonderful thing is that you can take your own route, travelling independently from everyone else and you can stop and sit for however long you want at the different water holes dotted across the park. If you can see elephant in the distance, shimmering against the heat, you can decide whether you stay to see these lumbering giants approach or you could follow the lions that may have just left.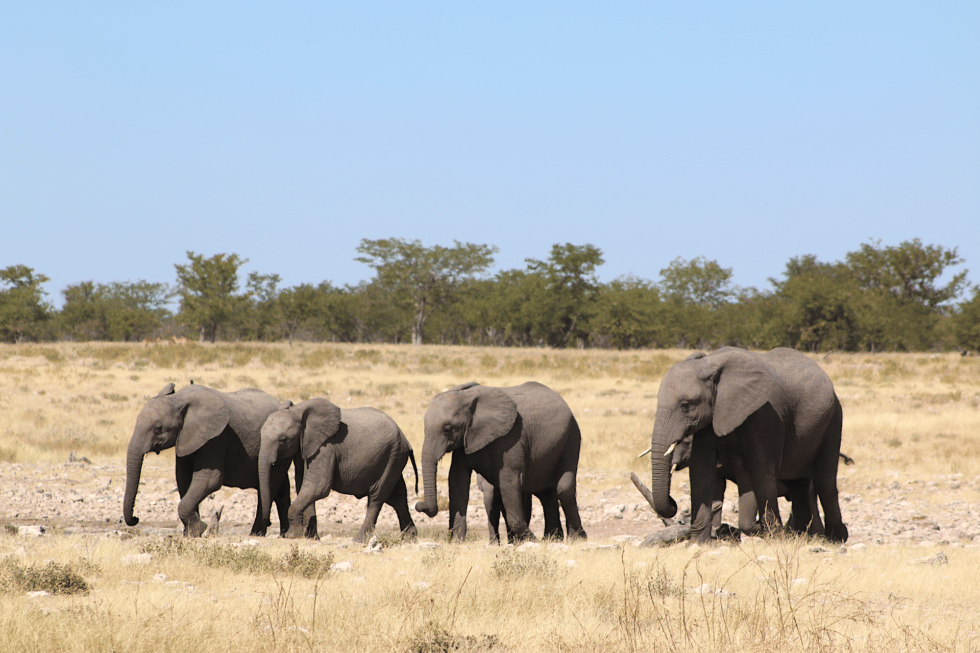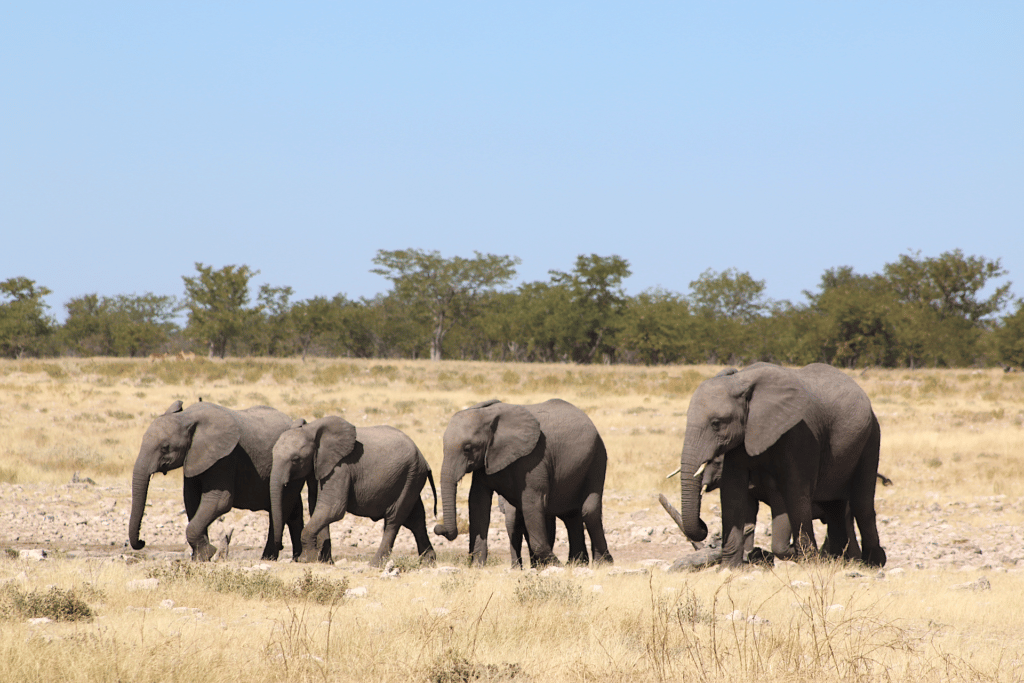 You can simply switch the channel. Namibia is like that, Africa's TV at its best.
4. The Wildlife
Namibia's wildlife is very eclectic and diverse due to its varied scenery. It has got the large, big game found in Etosha, and often outside the park too. This is an adventure being on safari in Etosha. Namibia also has a large population of desert adapted black rhino, many cheetahs, elephants that roam around the arid regions and a lot of giraffes that you may see wondering through the wilderness. They are not necessarily confined to park areas. Wild horses can be spotted in the southwest of Namibia. There are so many animals to spy, and with the wide-open spaces they can be easier to spot.
There also the smaller animals that seem to get overlooked elsewhere and in Namibia they are celebrated here too. Take the time to explore the Namib desert and after a while you'll find yourself spending most the time looking at the ground identifying the small tracks of lizards and chameleons.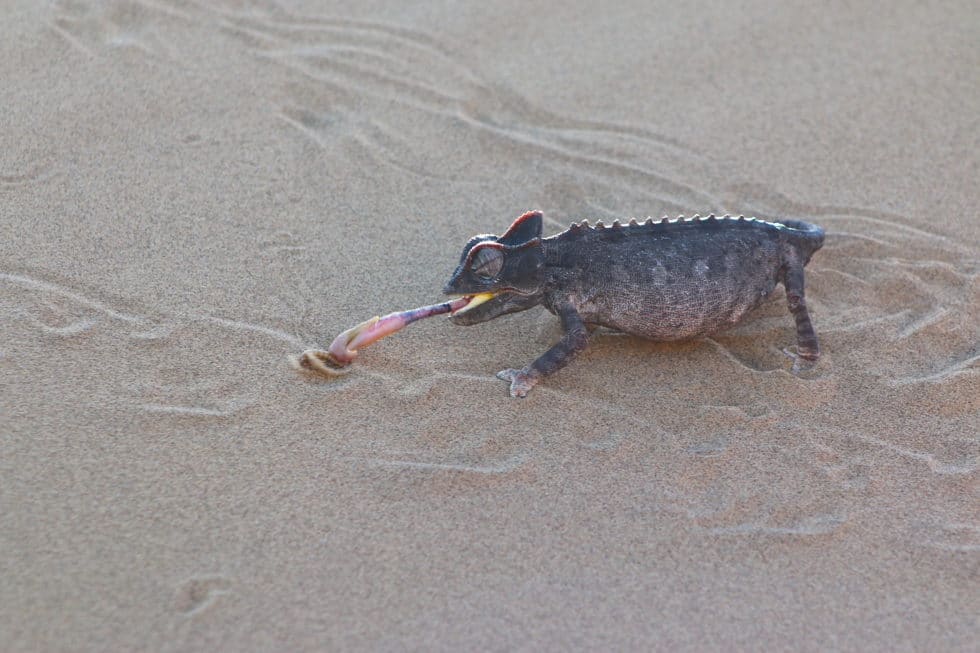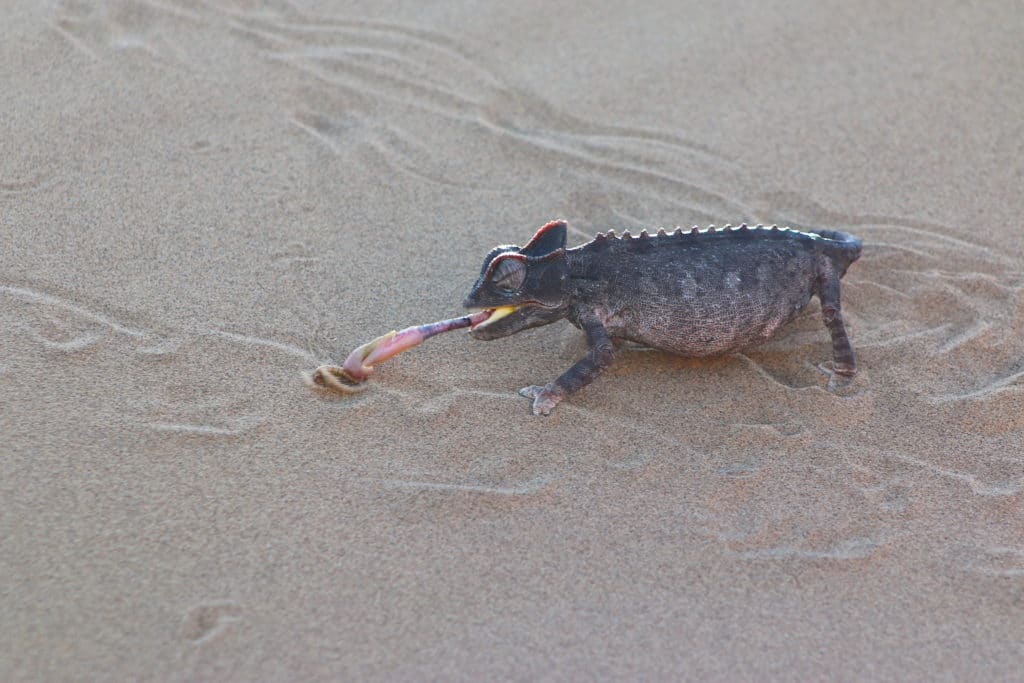 As Namibia has got an exceptionally long coastline, the associated wildlife comes with it. There are three large breeding colonies of Cape Fur Seals, there's shallow inland waterways which are popular with flamingos, opportunities to go and see dolphins and maybe even whales off the coast as well as other sea birds such as pelicans, cormorants and a plethora of sandpipers. It is a completely different environment and provides variety to any holiday to Namibia.
To top it all off Namibia also has wetter region in the northeast along the Caprivi strip, a section of land that is nestled amongst the rivers Okavango and Kwando which snake across the strip giving rise to waterfalls, rapids and swamps. This area receives high rainfall, so has lush vegetation and rich and diverse wildlife, which is especially good for birding all year round but also popular with vast herds of elephants and other plains game. This area is a good contrast to the high percentage of arid regions in Namibia.
5. The Adventure
There is always an adventure to be had in Namibia and it's very easy to tailor make it to your own capabilities and how much adrenalin you want to experience. Travelling in Namibia is an adventure in itself and there many activities that you can do along the way. Because of the different environments within this vast country, there are the associated activities.
There are quite a few opportunities for hiking from a small bimble near your lodge to a full blown 5-day trek through the Fish River Canyon, and everything in between. Other the land-based activities which include quad biking, sand boarding, dune bugging, 4×4 driving, horse riding and mountain biking whilst in the air you can participate in skydiving, scenic flights and ballooning. Of course, there are the water based activities such as catamaran trips, sea kayaking among seals, boat cruises as the sun gets swallowed up by the river, there is so much choice it is difficult to decide on what to do.
If I had to pick five specific favourite things about Namibia it would be 1) on a solo self-drive having 2) kayaked with seals in Walvis Bay, and I was driving up the 3) Skeleton Coast on my way to Damaraland to 4) track the desert adapted black rhinos before spending a few days 5) on safari in Etosha. Maybe I would throw in the hike through the Fish River Canyon, 'the hottest walk on earth', but I had given people permission to shoot me if I even considered doing it again, so maybe not. I will just keep that one a secret.