The pelicans serenely glided by sat at the waterfront at Walvis Bay. It was magical. I hadn't realised how large pelicans were, and the colours in their faces were striking.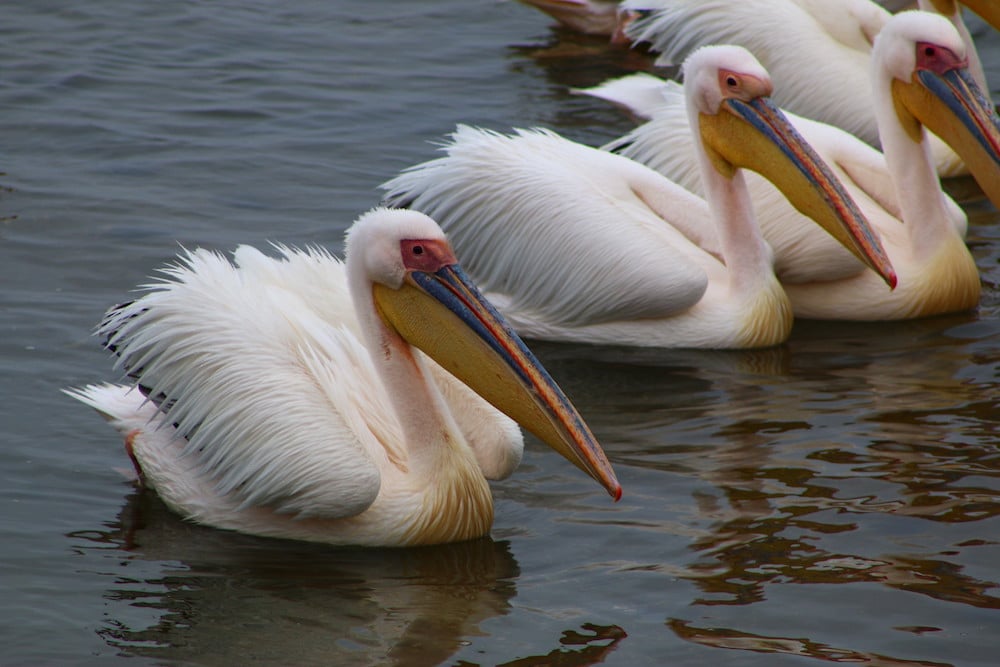 Walvis Bay
I'd arrived a little bit earlier than arranged partly because I was worried I was going to miss the catamaran excursion, and partly because I wanted to explore the harbour area. Walvis Bay is about halfway down the western coast of Namibia. It means "Whale" Bay and is the second largest city in Namibia and the largest coastal town. It is a natural deepwater harbour, protected by a sand spit called Pelican spit. The water is rich in plankton and marine life and draws in southern right whales as well as a diverse birdlife and other sea mammals. I was hoping to see dolphins and seals as well as lots of birds.
All too soon it was time to start the morning excursion – I had been mesmerised by pelicans cutting a swathe through the harbour waters or flying overhead in formation. I had spent many hours in my car driving through the arid regions of Namibia, with endless views of golden and crimson deserts. I now had the opportunity to change my colour palette to ultramarine and turquoise, in the form of a very large expanse of sea. The contrast was vivid.
There were 22 of us on this particular trip, so plenty of room to manoeuvre around the catamaran and get the best views. We slowly made our way out of the harbour and into Walvis Bay Lagoon, with pelicans escorting us on our way. Then the wind was in our hair and we were off. On the agenda were shipwrecks, the lighthouse, oyster platforms, birds including flamingos and more pelicans, three species of dolphin, seals, and if we were lucky the occasional turtle or whale.
To begin with it was simply wonderful to breathe in the sea air and skim across the water. A welcome change to driving along corrugated dirt roads.
Oyster beds of Walvis Bay
First stop were the oyster beds. I could see a sea of barrels marking where baskets filled with succulent oysters could be found just below the water surface. A single oyster can filter 30 litres of water an hour in order to feast on plankton. So it is essential that the seawater circulates freely. Baskets are raised and thoroughly washed every six weeks to remove algae, barnacles and limpets which can prevent the oysters feeding.
Originally, oysters were all bred in the warm waters of Chile and then imported to Namibia to mature. Recently, a heated aquarium in Swakopmund means that they are now bred locally, before being transferred to the ocean baskets. So why go to all this effort? Well, Namibia's cold Benguella current contains an incredible amount of oxygen and plankton. While a classic French oyster takes three years to grow, Namibian oysters can be harvested after eight months.
Pelican Point by catamaran
We then glided over to Pelican Point to get a closer look at the lighthouse. The old supply railway tracks can still be seen from the years when the lighthouse was occupied by the coast guards.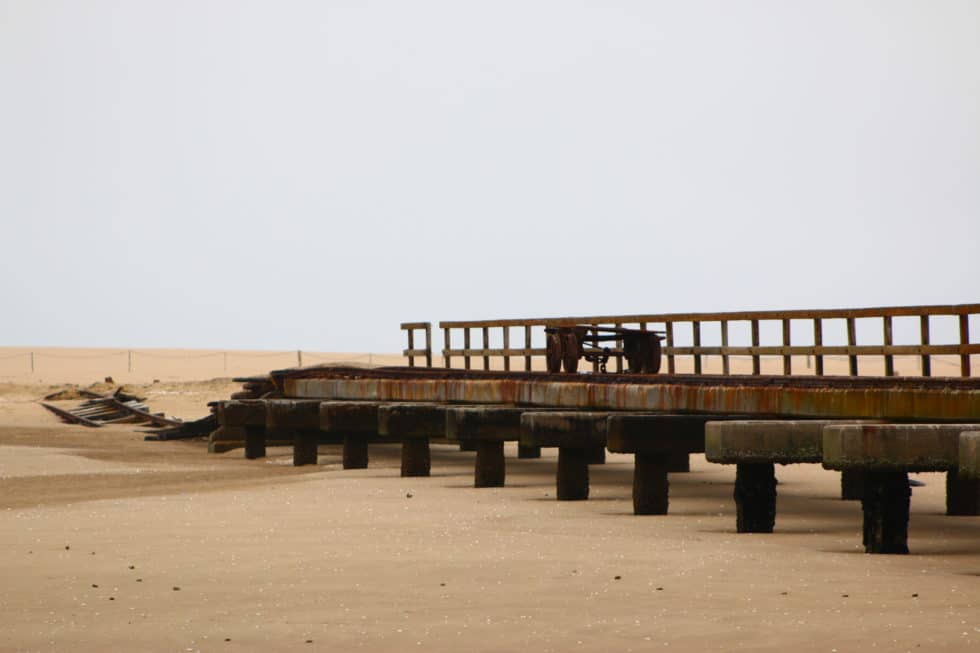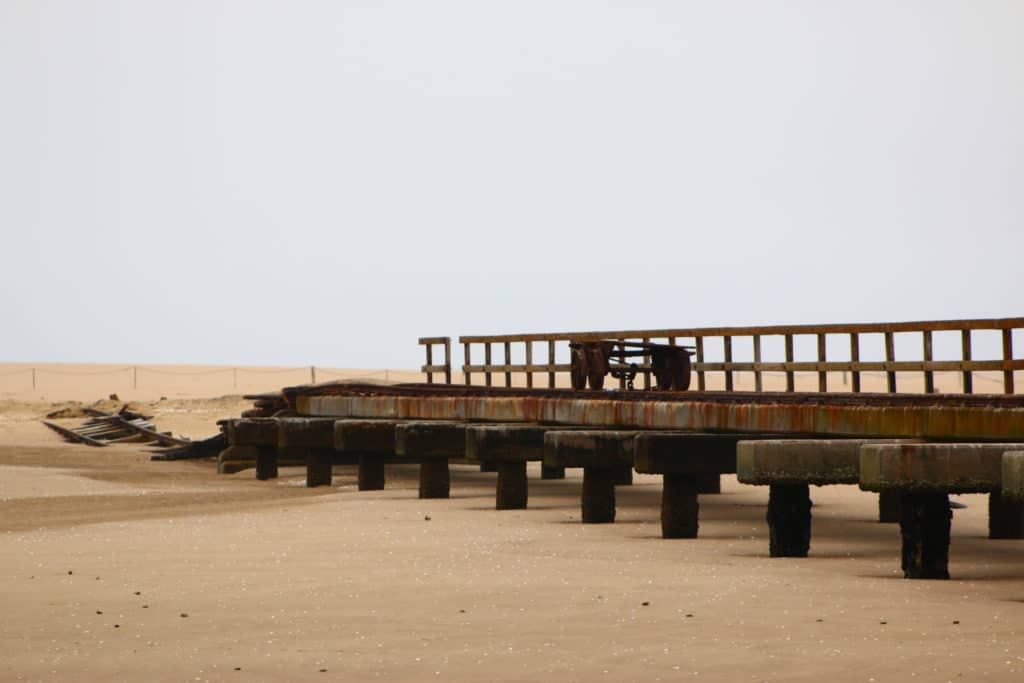 It was rather eerie. Now the lighthouse simply pierces the horizon, surrounded by seals and flamingos.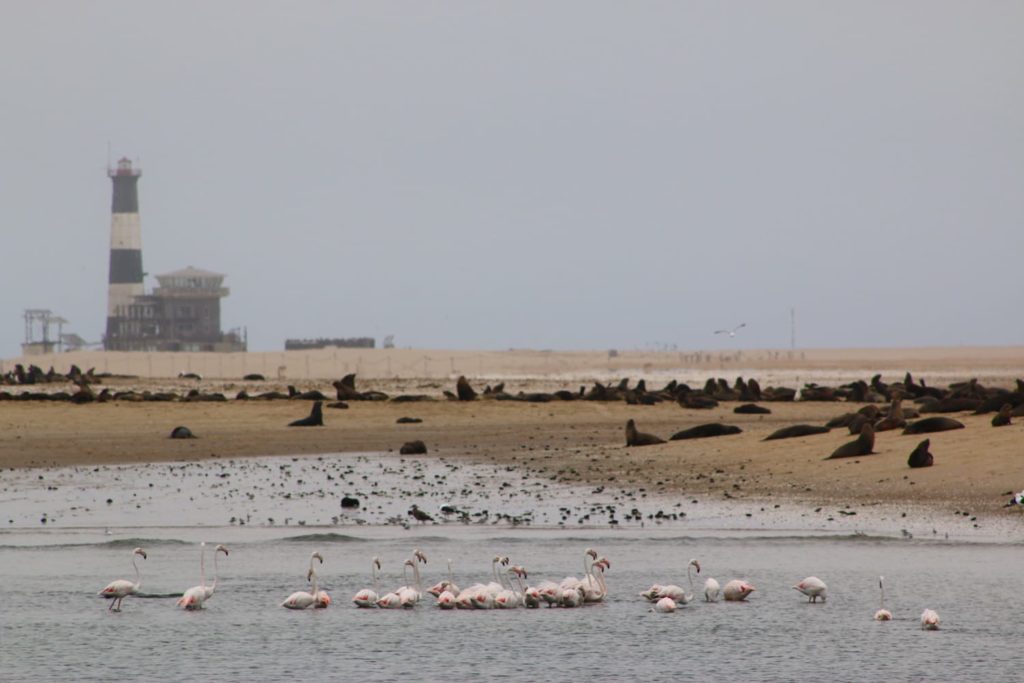 We spotted Atlantic Bottlenose dolphins leaping through the waves alongside us, playfully ride the bow waves. It was wonderful to watch the seals cavort in the sea alongside the catamaran and to follow the flamingos as they nimbly tip toed through the sea, heads gracefully sweeping back and forth.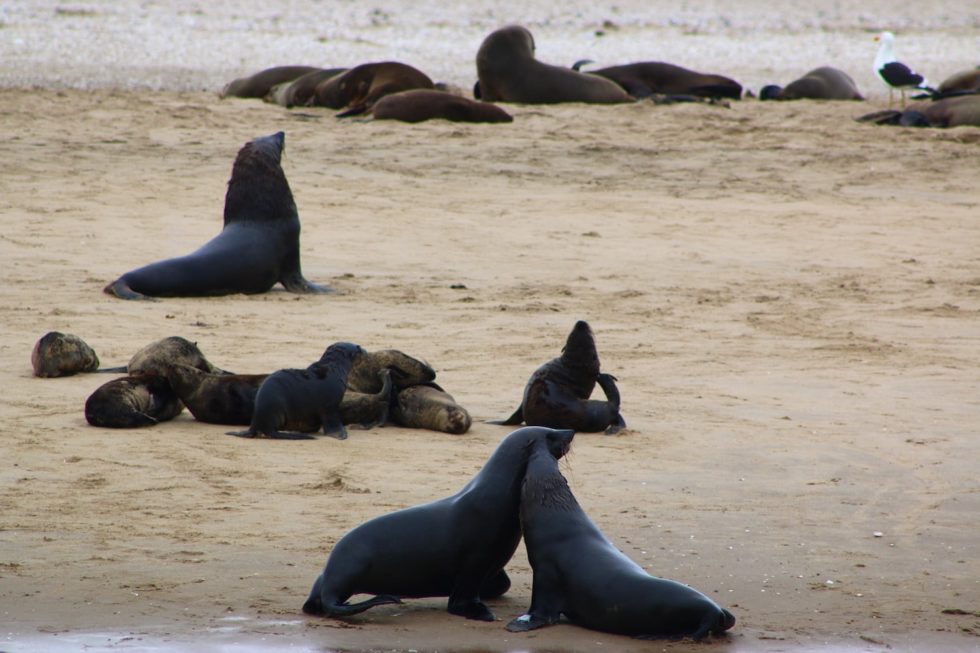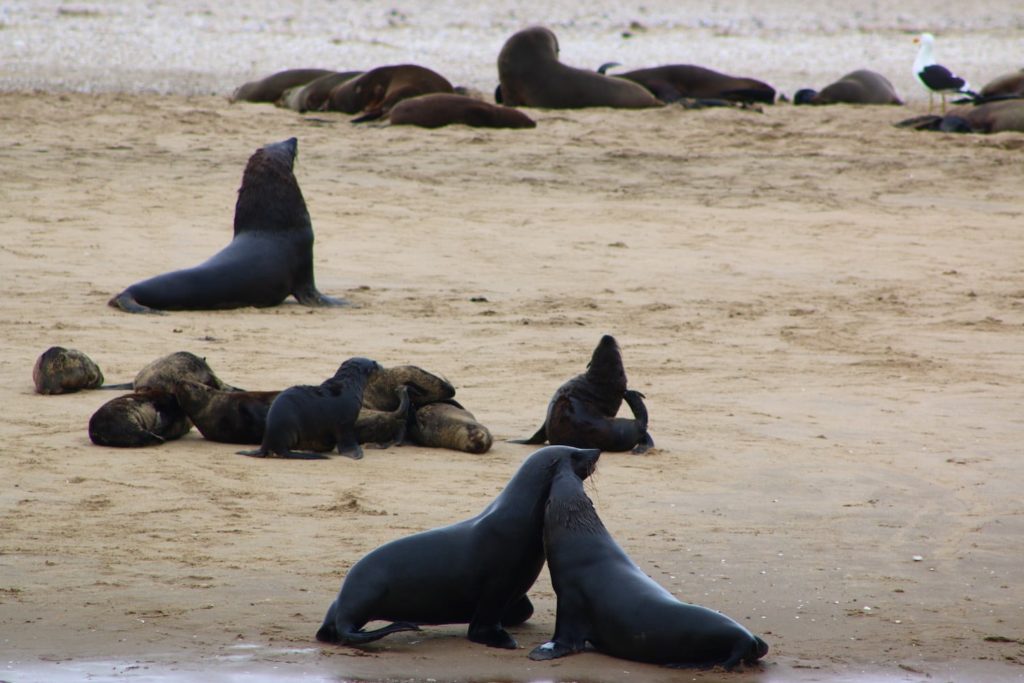 It was relaxing and yet exhilarating.  But there was more to come. Our captain came to the front with a bucket of fish. The pelicans knew and came flocking around us. They adroitly caught fish from the air as their food was thrown up high. A couple even perched on the bow of the catamaran water to be hand feed.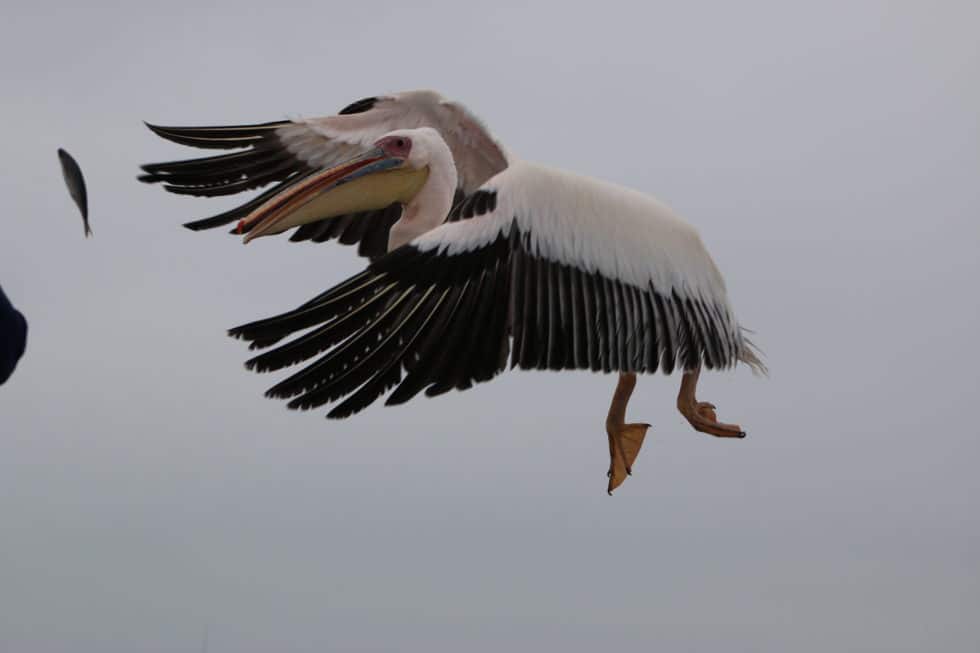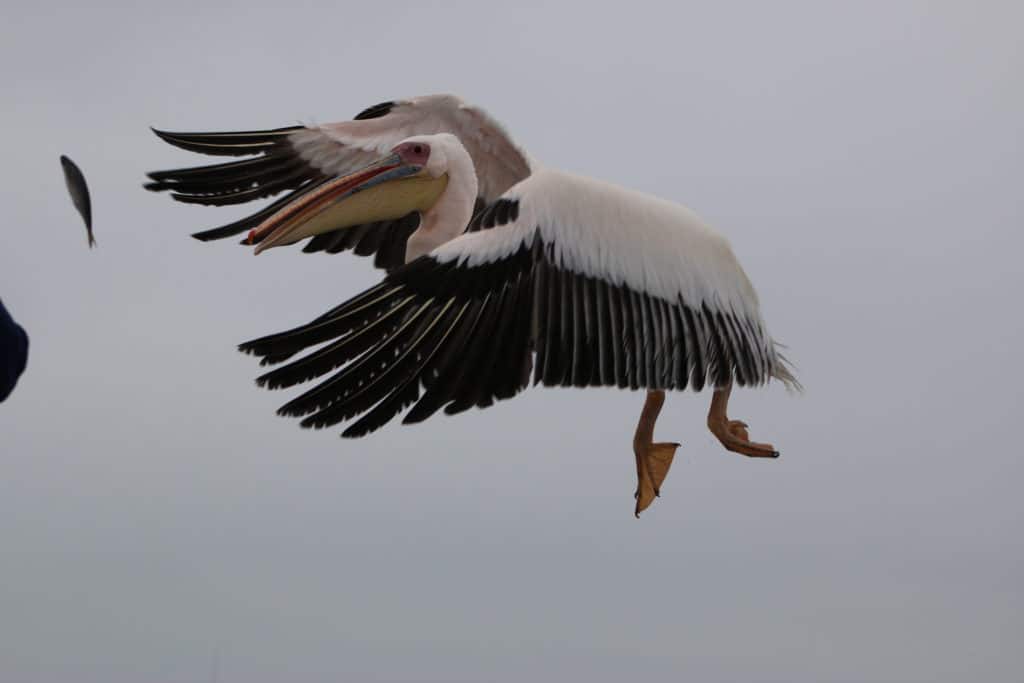 The main man on a catamaran
And then they flew off. The main man had arrived. He walked along the deck and up to the bucket, making his way around tourists as they moved quickly aside. A full blown male seal was on deck. He had clambered aboard at the stern and waddled up to the bow for his treats. He sat down next to me, about 3 feet away, swaying in time with the rise and fall of the catamaran. His teeth were large and I made sure to keep my distance.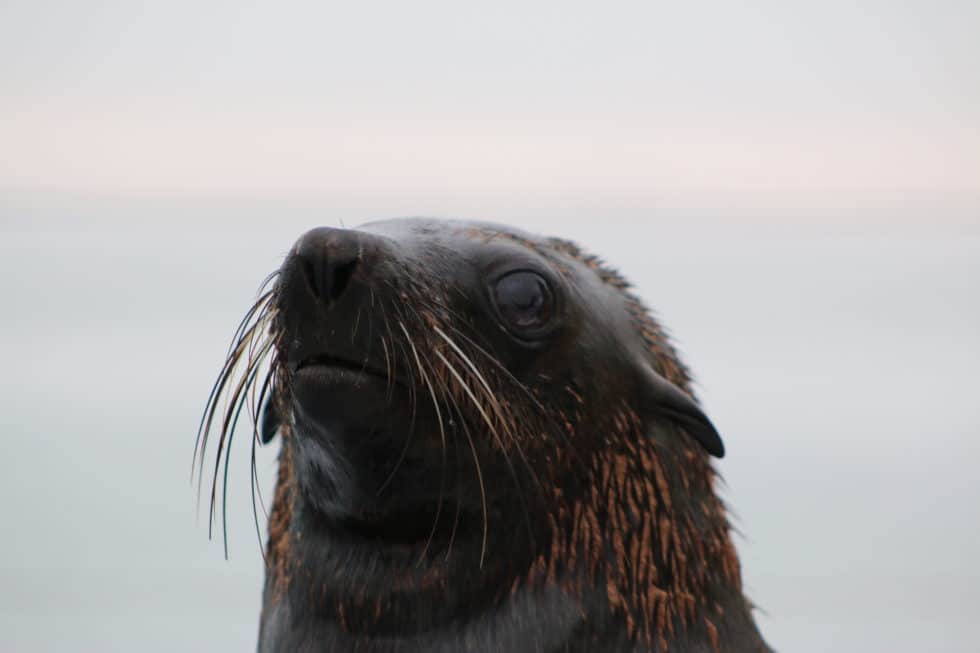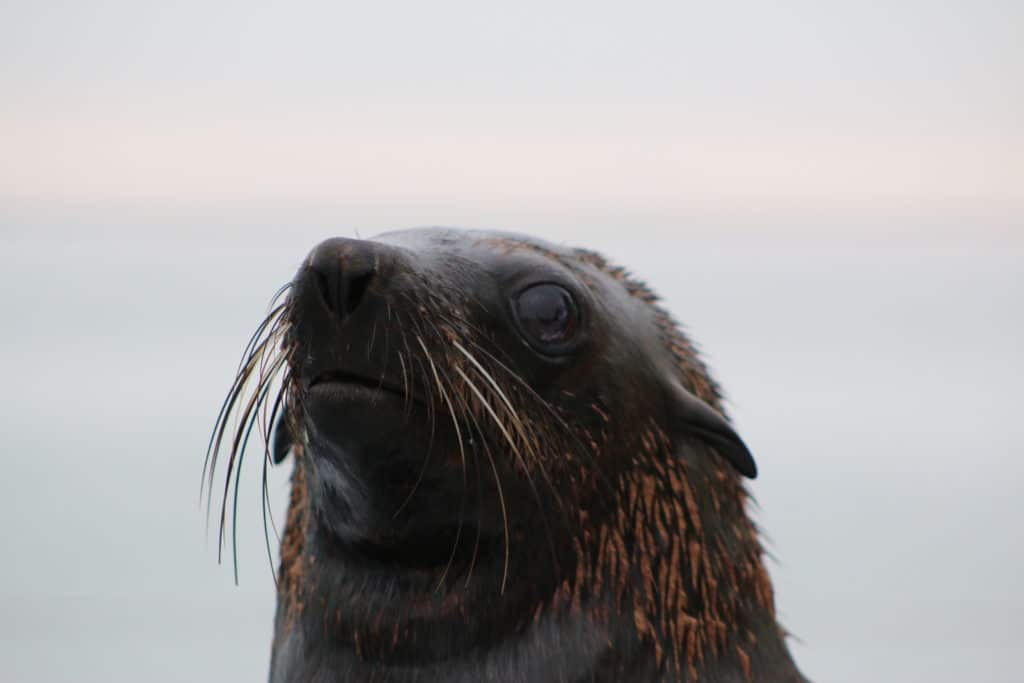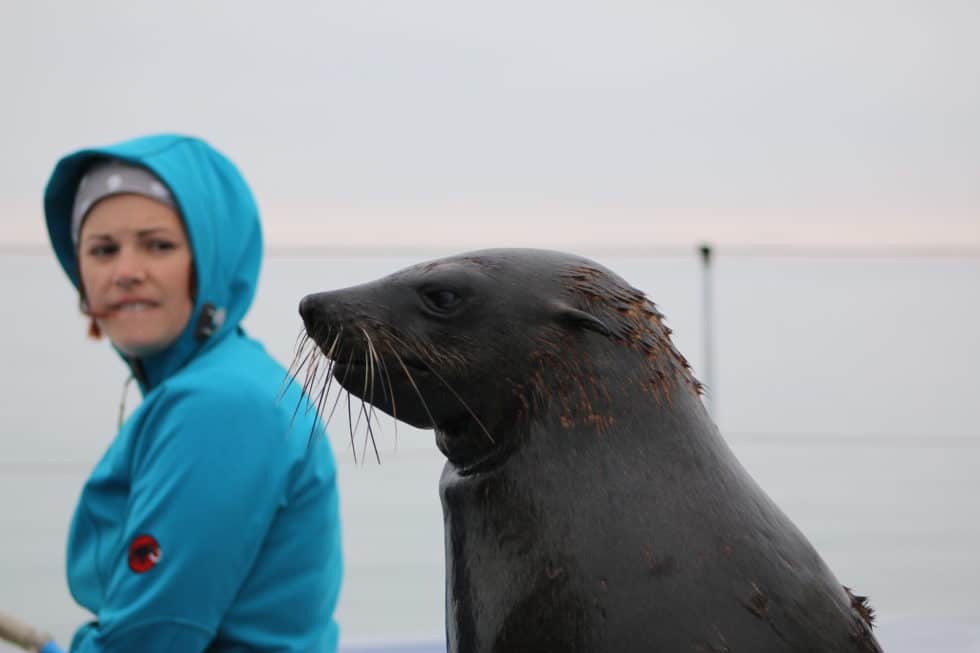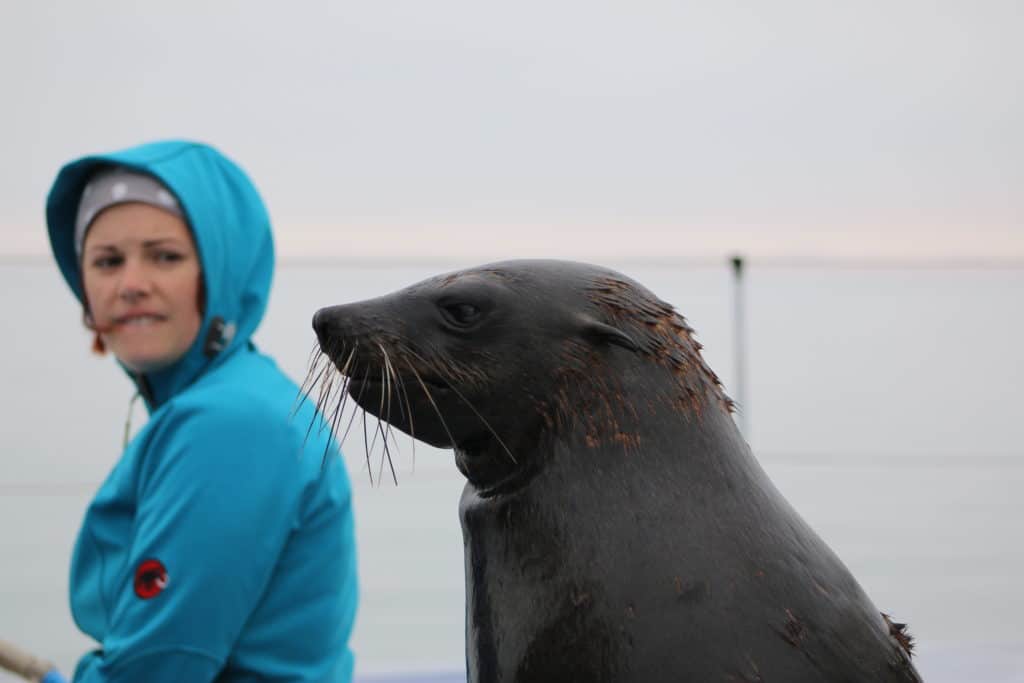 Only one seal does this, and they make sure he does not become reliant on being fed by the boat. He strutted his stuff for a while, called for more fish and when the bucket was empty elegantly plopped back in to the sea. What a wonderful end to the excursion.
The whole trip was completed with trays of fresh oysters with lemon wedges and washed down with glasses of ice-cold sparkling wine. I was delighted to find that not many people liked oysters so I took my fill of them. I have to say I have never tasted oysters so good.
Surrounded by views of the bay and leaping dolphins this made for a wonderfully relaxing morning. Highly recommended.