There is something special about being part of a long-term project and Mhlumeni High School is no exception. When we first started on this journey, I never really realised the impact this would have on the local community, the students in Eswatini, students from a UK school and also myself at Sense Earth. It has been a humbling experience, and we are only just getting started. I've always been a massive fan of the Kingdom of Eswatini, and after 20 years of visiting the Kingdom, it feels like a second home now.
About Eswatini
The Kingdom of Eswatini is a small landlocked country with borders of South Africa and Mozambique. It is a wonderfully friendly destination, and I would seriously recommend it to anyone as a first-time visitor to southern Africa. The people are warm and friendly, there are opportunities for big game safaris as well as walking with wildlife and the accommodation is delightful. Don't expect a polished experience of luxury proportions, instead you'll get a genuine experience off the beaten track of mass tourism packed with many wonderful memories. There are so many experiences to be had, it is the ideal blend between culture and wildlife.
In essence it is Africa in a nutshell.
School Expedition to Eswatini
Sense Earth has been providing tailor made holidays, small group travel and also school expeditions to Eswatini for many years. It is the latter that has been the most impactful for visiting students and also myself. The school expeditions that Sense Earth provide are very project focused. We believe that a project which a group of UK visiting students fundraise and work on, should be decided by the local community, be something that is worthwhile and has meaningful impact and lastly is sustainable into the future. It is well known that there are many projects, with the best intentions, which have been left half-finished due to lack of funds or direction.
Sense Earth works with several UK schools and colleges providing experiential learning expeditions. The ethos and the value of each particular school is woven into the projects that their students undertake. We try and make sure there is a long-term plan for both UK and Eswatini schools and form a partnership which benefits everyone concerned. It really is a win, win, win situation.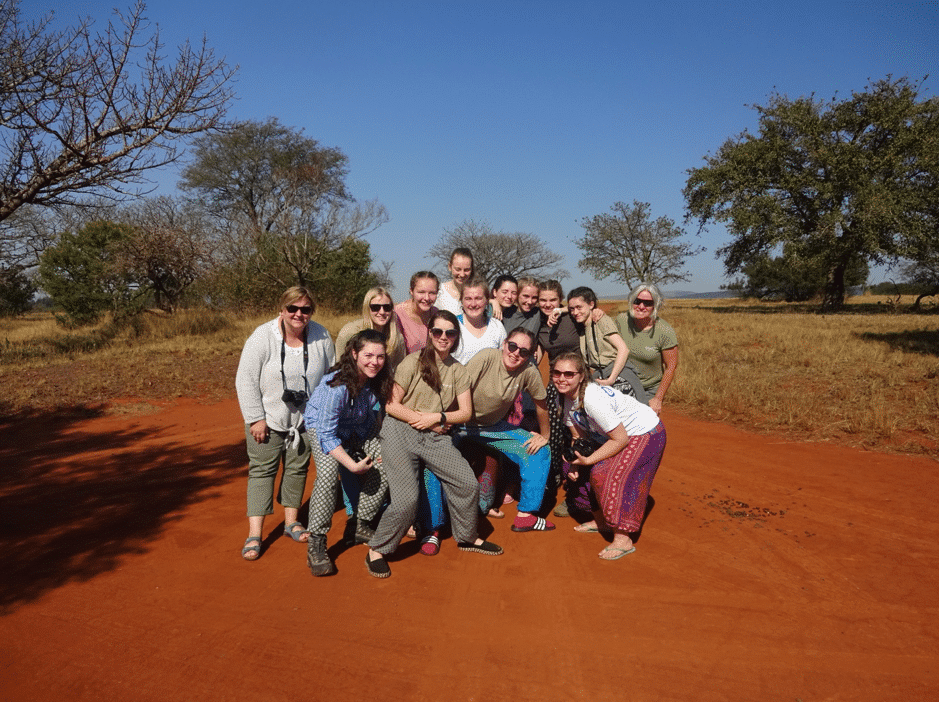 Working with St Helen and St Katharine School, Abingdon
In 2016 I was asked by St Helen and St Katharine School in Abingdon, Oxfordshire to find another project for their next expedition to Eswatini in 2018. We were already working together on a project building an Old People's Home, and I wanted to find something that was long term, where students could visit every two years to support the community's growth and also to forge a strong relationship.
Mhlumeni Community
Back in 2000, when I first visited Eswatini, I worked in a community called Shewula. One of the key people there was Nomsa Mabula, who had been a formidable driving force behind the community development programme, and she now works in several other communities as well. I approached her, and she mentioned Mhlumeni community.
Mhlumeni is near the eastern border of Eswatini with Mozambique, high up on the Lebombo plateau and bordering Mlawula Game Reserve. The community had started with their own Mhlumeni Bush Camp which is open to visitors and all proceeds from here filter back into the community, more often than not into their AIDS orphans and vulnerable children programme.
I visited Bush Camp and had a really worthwhile meeting there, we chatted about the needs of the community, what was critical and if there was any way we could work together to help each other out.
At the time there was no high school in Mhlumeni, just a primary school, and students who wanted to further their education had to travel over 20km to get to Siteki High School. Many students could not afford the local bus, it is too far to walk and so often resorted to hitching. This has led to several mental and health issues. Students who attended Sitkei High School often stayed the week living with extended family, some got themselves into trouble. There was a serious increase in underage pregnancies.
The community wanted to educate their children in Mhlumeni, keep them safe near their family homes and encourage them to stay on after they had completed their studies and help the community grow.
This aligned with Sense Earth's and St Helen and St Katharine's ethos and values for a large-scale project. Now we needed to make it happen.
Planning a High School
Our first meeting comprised of the school committee, members of the chief's kraal, parents and other interested parties such as key people from businesses in the area as well as those with more influence too. I have to admit I was concerned; this was going to be an enormous project and I certainly hadn't got the knowledge to undertake this. However, after the first meeting it was apparent that the community were totally committed to educating their students. They were ready to work hard for this to happen.
I had no idea what starting a high school entailed. Especially as we were going at it the wrong way around. Usually, a high school in Eswatini is suggested by officials, and the school is built up over the years with support from government initiatives as well as parents in the community. This time around the community approached the government, with a lump sum from donations from St Helen and St Katharine School students, asking for permission to build a high school. Probably a first in Eswatini, so there was more paperwork than usual (an understatement there). And a few more hoops to jump through.
At each meeting that I attended, there were many more that I was not in-country for, there were so many different people that had to be involved and have their say; school committee, parents committee, chief representatives who had allocated the land, parents committee, MPs, Mhlumeni Bush Camp staff, land management, government departments, non-governmental organisations such as COSPE, the list went on. I remember being asked to talk to various people in the Ministry of Education, once I even had a phone thrust upon me to chat with an MP, I was asked to write letters showing that I had the money in place for the project, facilitated a land ownership dispute discussion and had to speak with the water supplier for the community, it was relentless.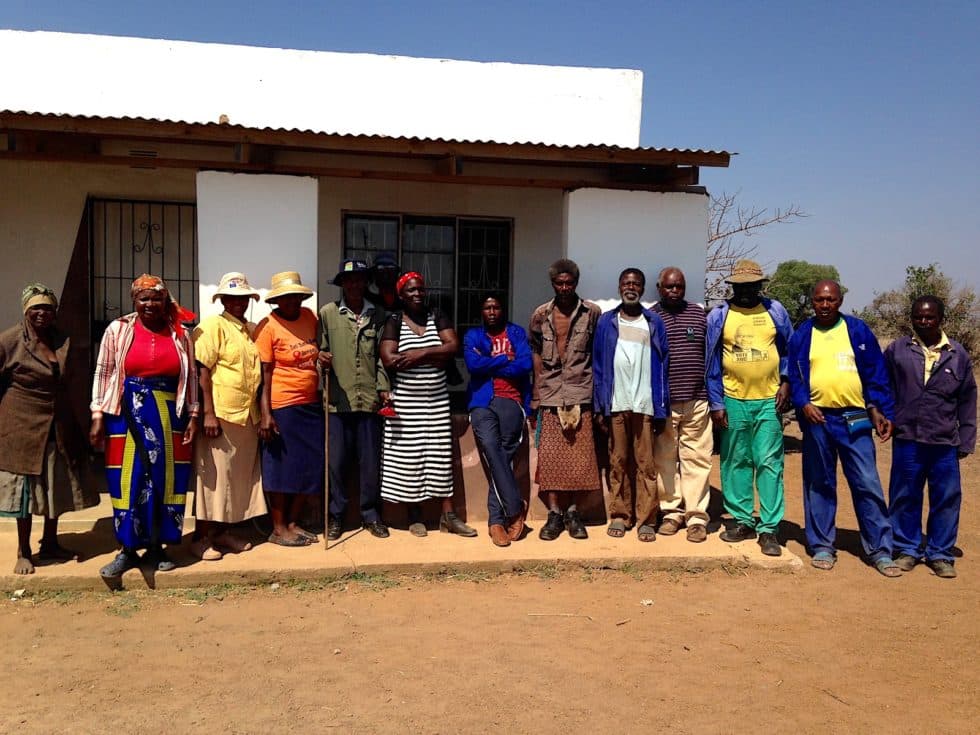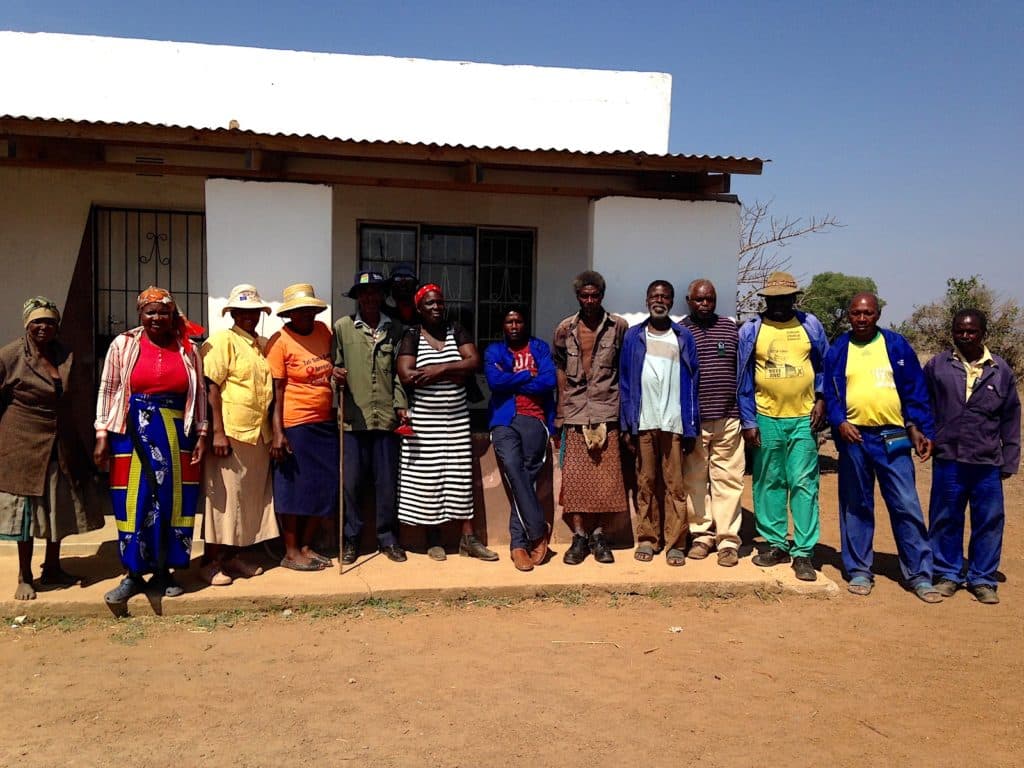 I take my hat off to the community members who drove this project forward. It took a year to get school plans drawn up and agreed by the Ministry of Education, we then had to have the site signed off and the exact location of each classroom agreed on before any construction could start. It was frustrating the pace we were going.
The first team from St Helen and St Katharine School arrived in July 2018, comprising of 18 hard working students. The community decided that classrooms were the priority and that a block of three would be built. This was the first phase for the development of Mhlumeni High School. Unfortunately, the Ministry of Education had not signed off and agreed to the location of the first three classrooms. I had not anticipated how long it took to organise all of this. I have lived in southern Africa before, I know things take time, but this was longer than I thought! So, we had to make a plan for the first student visit.
Mhlumeni Pre- School
Mhlumeni Pre School was not functioning, and a school committee asked for the students to help with this and prepare it for use. Pre-Schools in Eswatini are for 3-5 year olds, Primary School is 6–13 year olds and High School is 13-16 or 18. The hope is that Mhlumeni will have three schools providing education for the local community.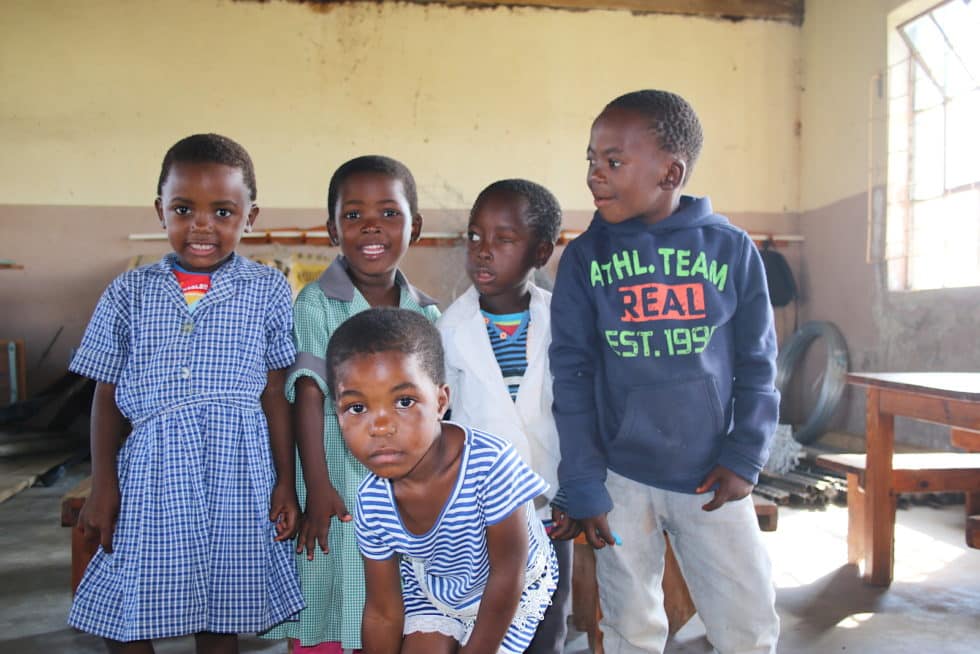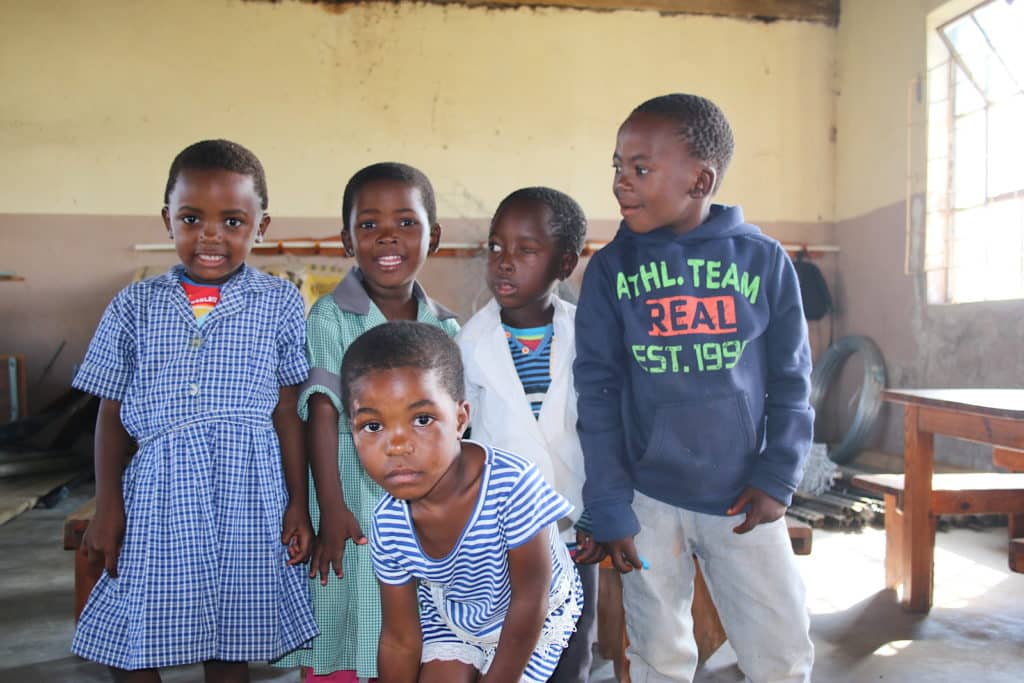 The students set to work. This involved clearing out the two rooms, soon to be classrooms, replastering, building desks and chairs and designing murals. There was also a resident black mamba to rehouse! Over a period of 10 days the building was transformed from a dilapidated dumping ground of random materials to a sparkling primary school consisting of two classrooms filled with desks and learning materials. It was a sight to behold.
We let the Ministry of Education know that the primary school was ready and then we had to wait for a teacher to be allocated. At the beginning of 2019, the start of the school academic year, 27 children enrolled in the pre-school and a full-time government paid teacher was appointed by the Ministry of Education. Things were moving forward, and it was humbling to see.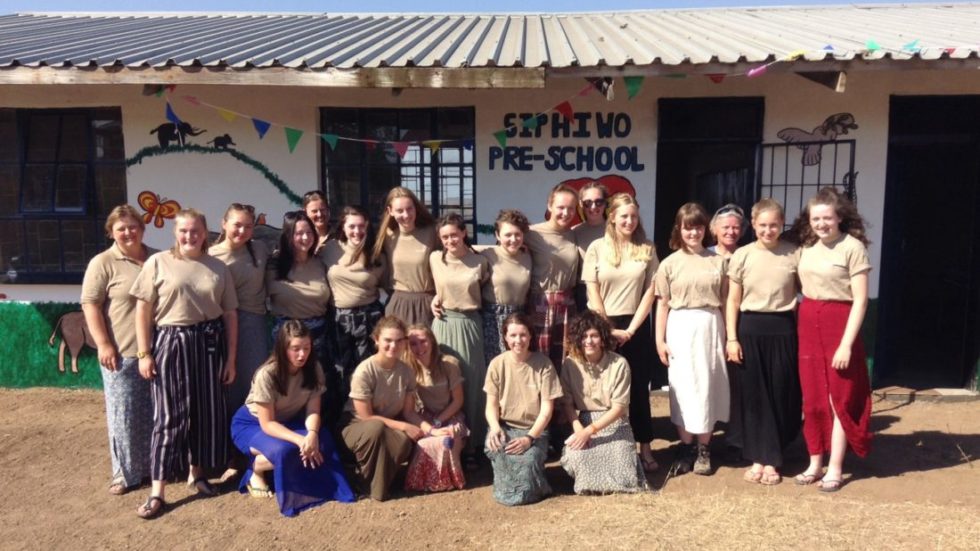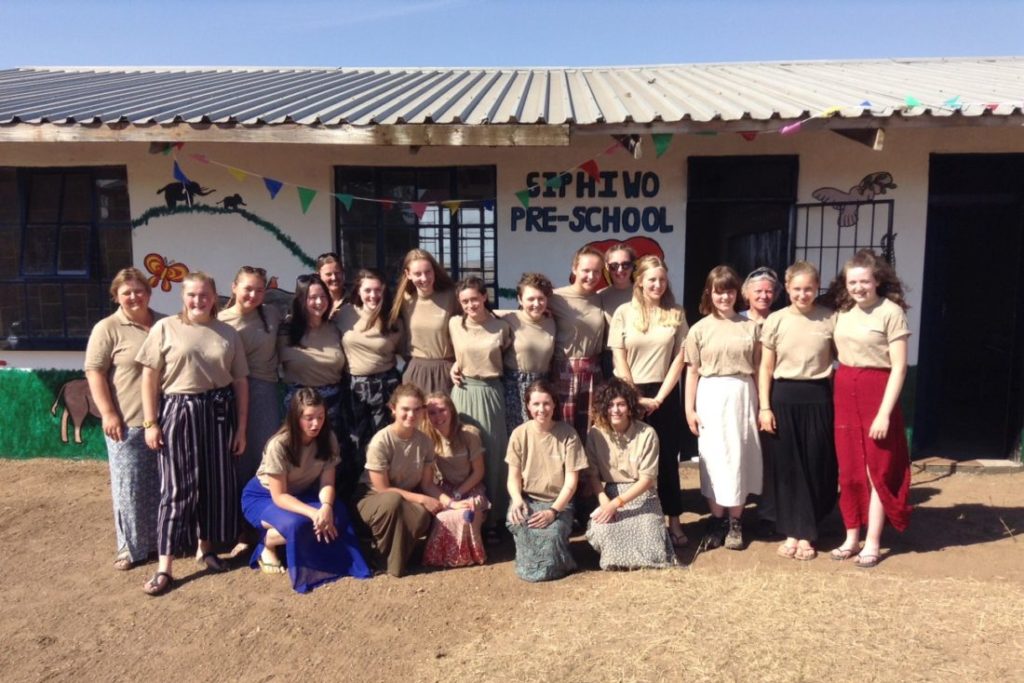 During the time of the pre-school revamp, we got the go ahead for the high school, it was really exciting, we were making progress. Foundations were dug and the whole community came out to help. Breeze blocks were made in preparation for the start of the High School construction. There was a flurry of activity with so many people being involved.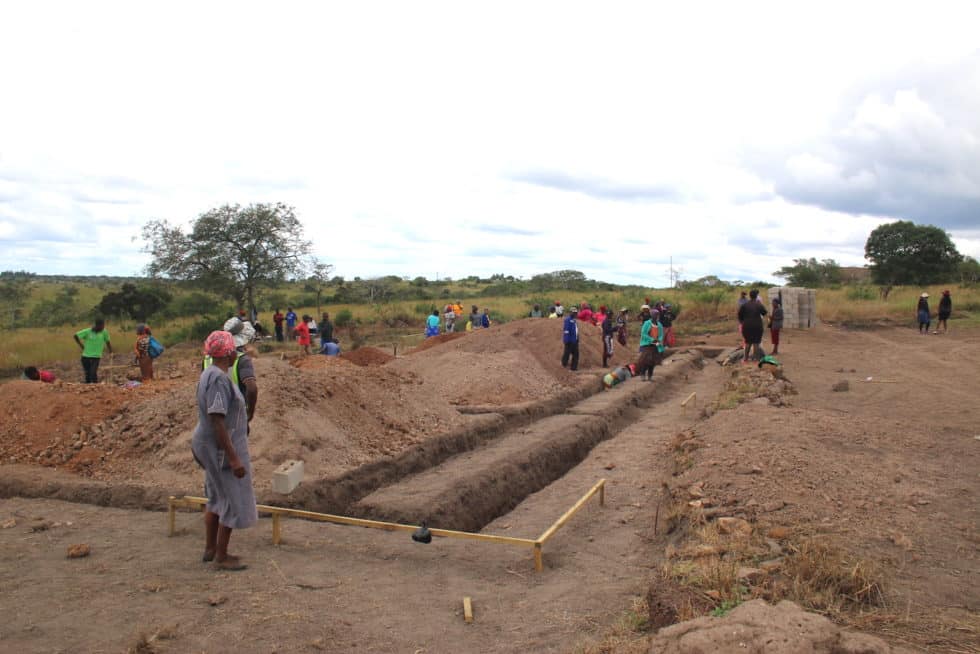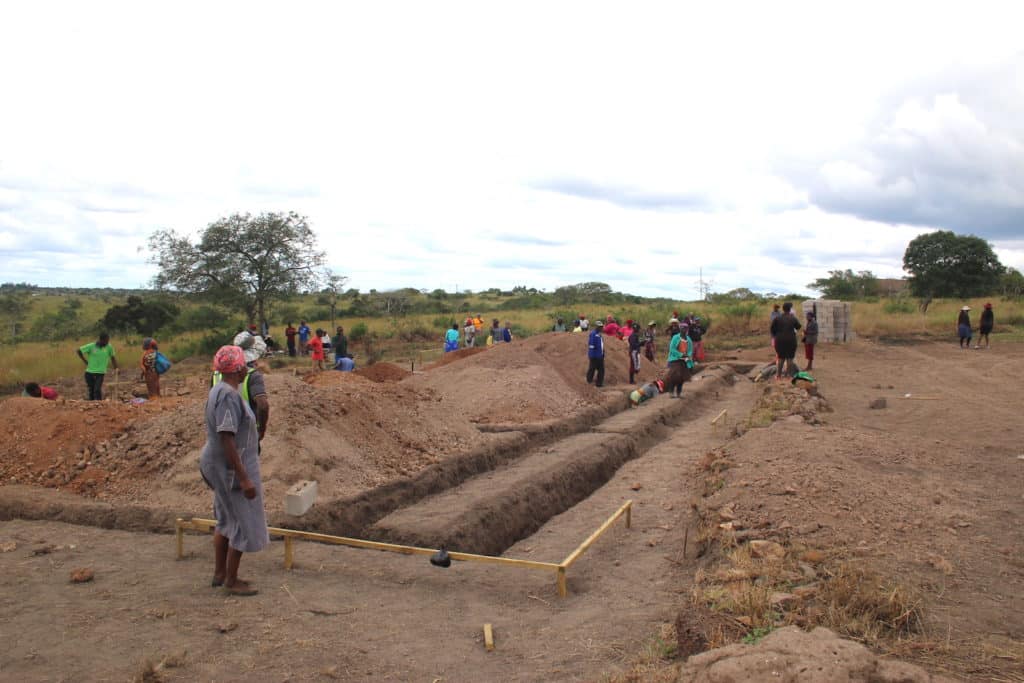 Over the months I've got regular updates from the school with pictures showing the progression of the build of the classrooms, it was so exciting to watch. They were the unexpected/expected hiccups, such as running out of funds for river sand, cement not being accessible in Eswatini for a few months, lack of builders, planning issues and so many other hurdles to get over. But the community persevered.
Covid at Mhlumeni
In 2020 signs of COVID were permeated through the world. My last meeting with the community for that year was in March, and I left the kingdom the day the first person officially tested positive in Eswatini. I was lucky to get home to the UK.
I had a team of students who had signed up to go on expedition to Eswatini and work on Mhlumeni High School in the summer of 2020. The plan was to build a kitchen for the school. Funds had been raised and the team was ready to fly. With the COVID situation this was not possible, and Sense Earth had to cancel the expedition. This was so disappointing for the students who were travelling out there and also to the community. The cash injection was really needed. But help was at hand. Through the kindness of all the parents of St Helen and St Katharine School we managed to retain project donations, and this was wired over to the very grateful school committee.
COVID did not stop the build of the high school, it might have put the brakes on a little bit, but it didn't come to a grinding halt.
Throughout 2021 Mlumeni continued to fundraise, to get support from government, take donations from parents in the community and work tirelessly to continue with the build. The three classrooms were finished, with massive support from Micro Projects, a government arm that deals with the development of schools in the Kingdom.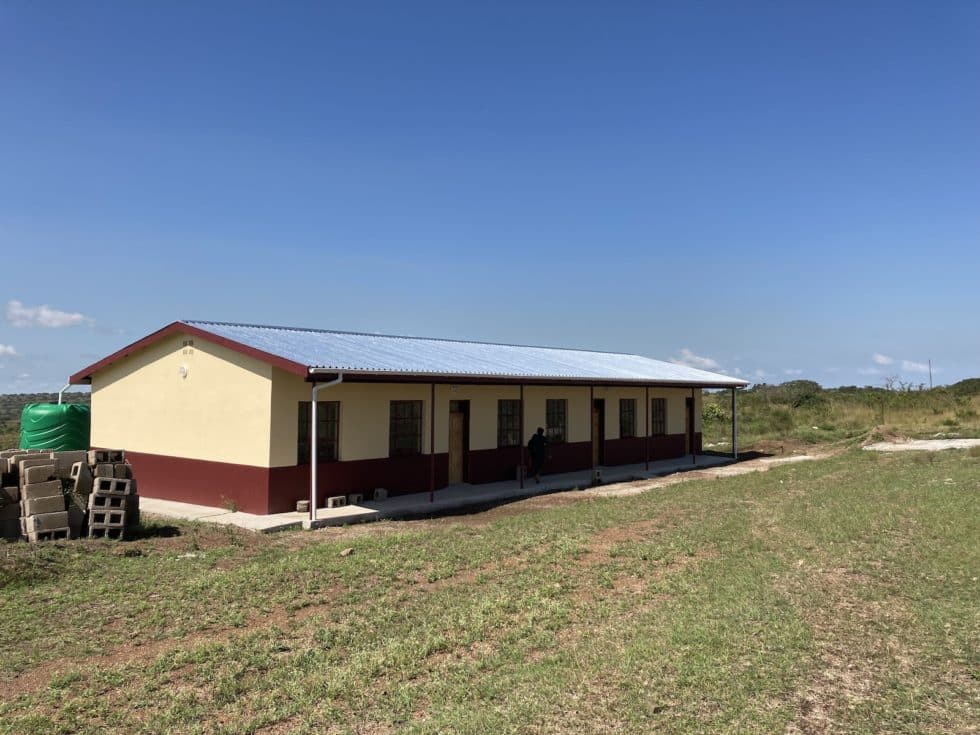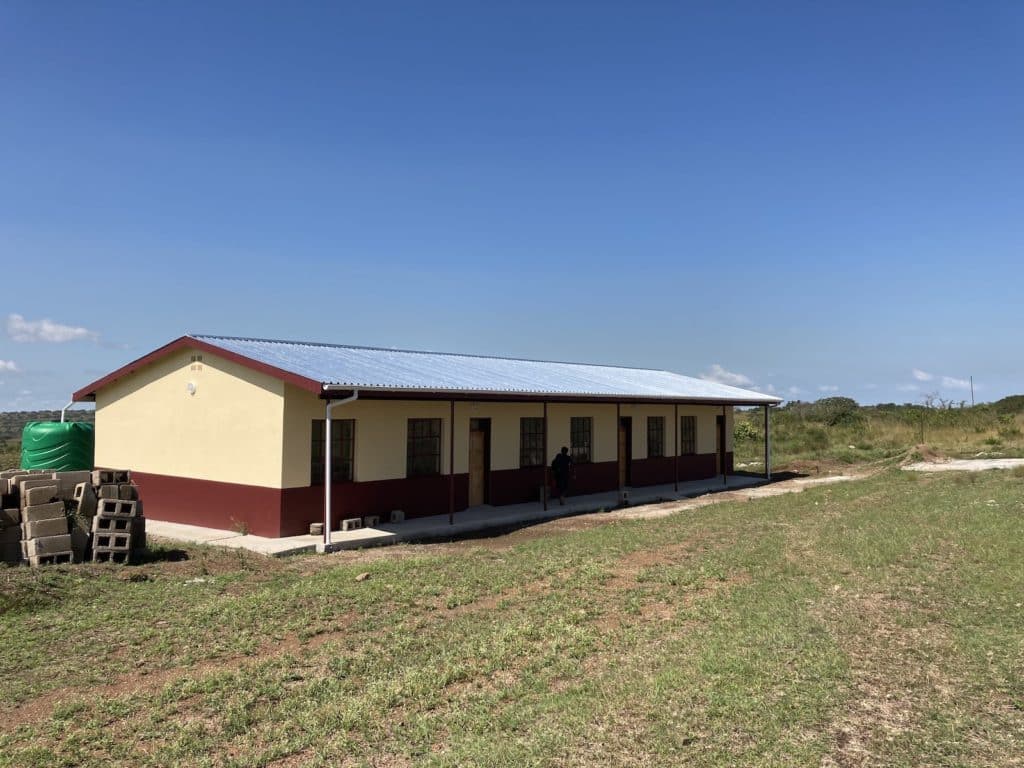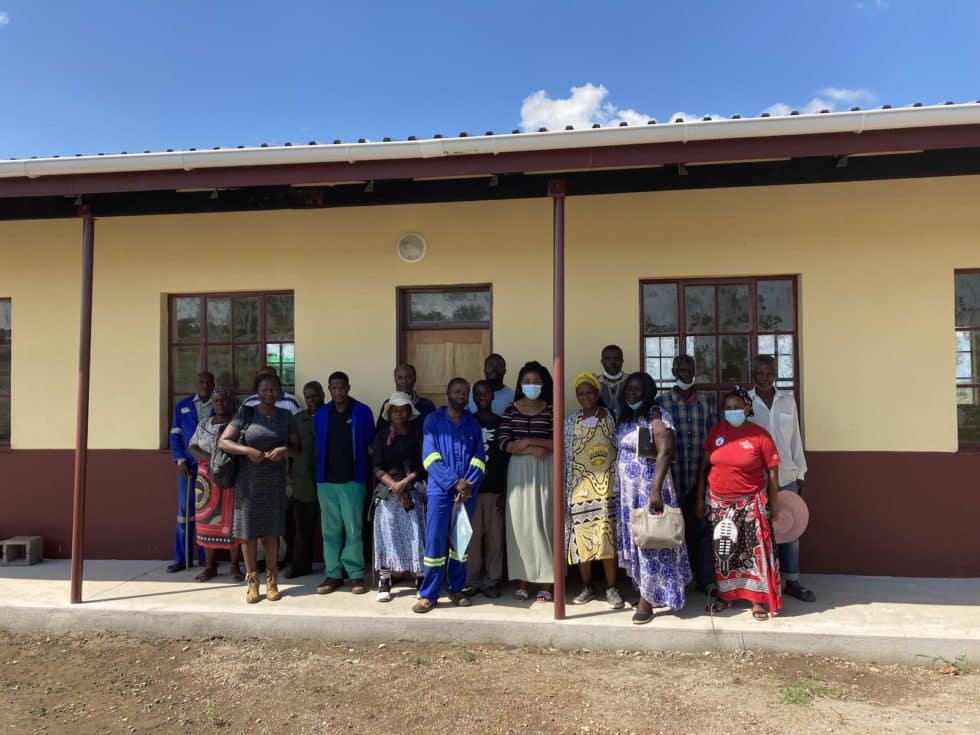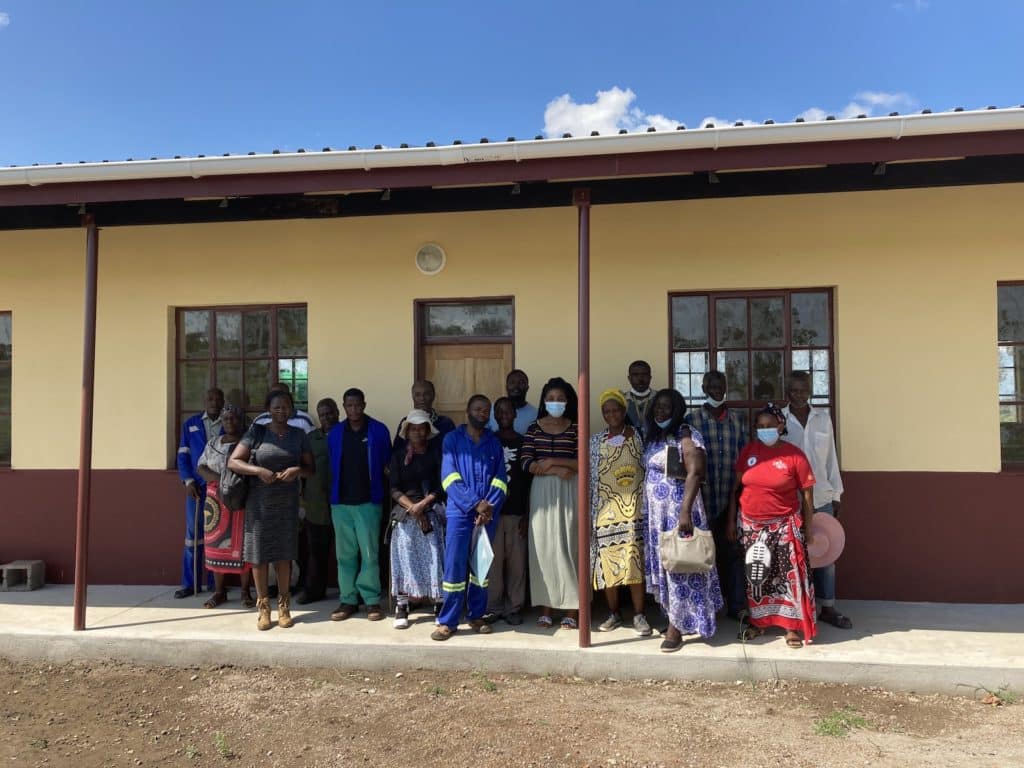 In early 2022 I returned to Mhlumeni, looking forward to seeing how this build had progressed. I was so excited to see this project go from strength to strength. Not only were there 3 classrooms, all fully functional, but there were also 3 ablution blocks, a fence demarcating the school grounds and an area cleared for the science block. This school has big ideas.
Opening of High School
This new High School was officially opened in June 2022 when a Head Teacher was assigned by government to Mhlumeni High School, and 24 students immediately enrolled, despite it being halfway through the academic year. The project is huge and with the support of St Helen and St Katharine School students, it continues to grow.
In 2022 the visiting St Helens and St Katharine School team funded and built an administration block. Again, it was all hands-on deck. The choice of project, requested by the Mhlumeni School Committee, was a sign that the school was expanding. At the time there were three classrooms. As they were in their first year, they only used a maximum of 2 classrooms for when they split lessons, the third classroom was used as the staff room for marking etc. In the new year of 2023, there would be more students enrolled and all three classrooms would be in use and the teachers would have nowhere to do their work.
In 10 days the foundations, walls, windows and doors were in.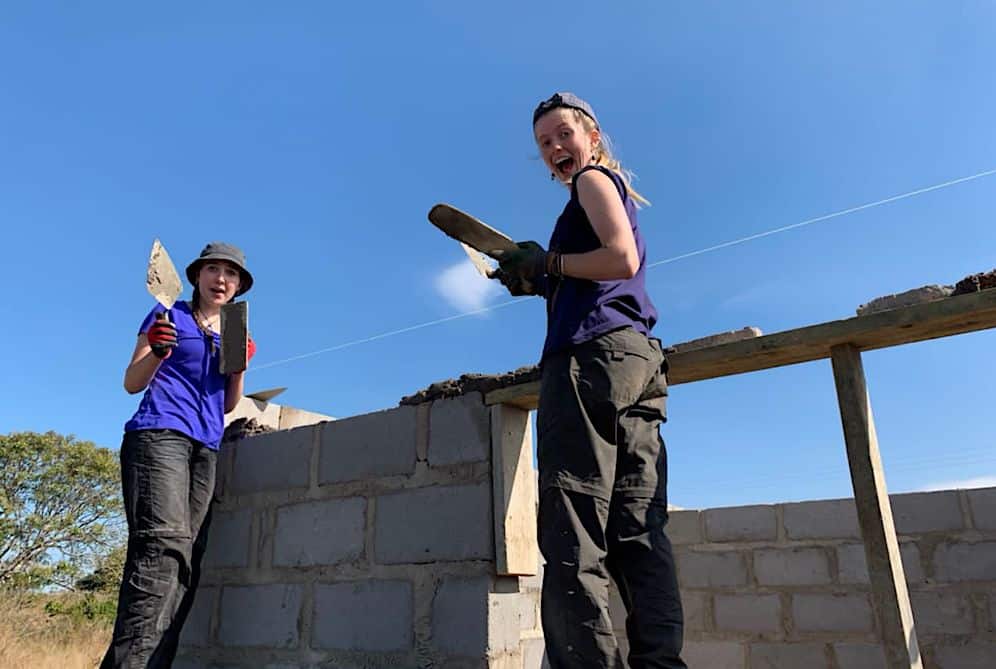 Then it was down to the school committee to source extra funds for the finishing touches which was done exceptionally quickly.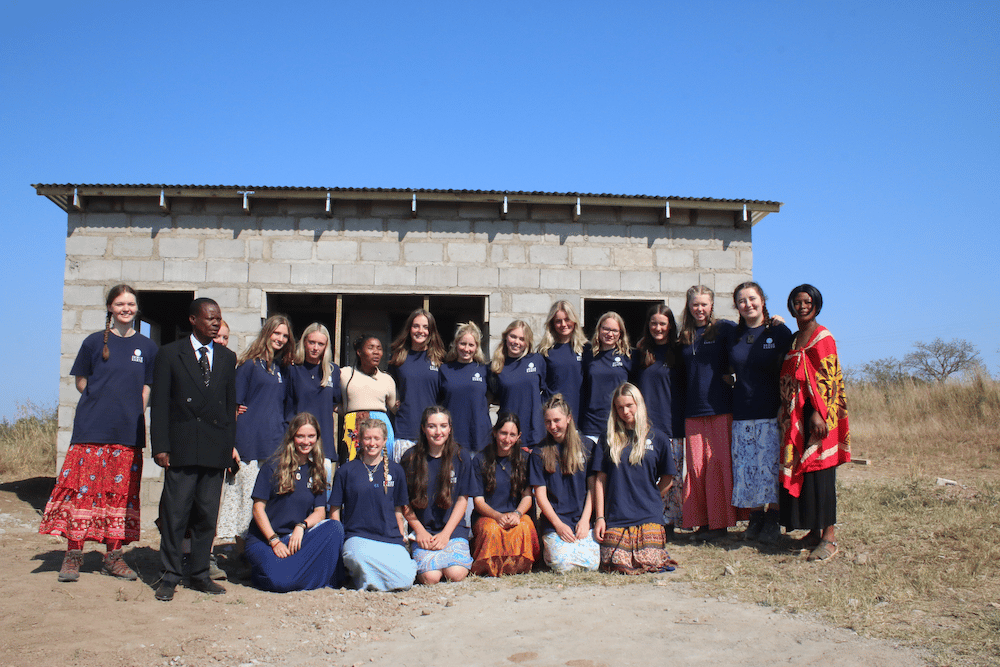 Within a month the administration block was in use consisting of a head teachers' room with secure lockers for exams and a staff room with computers, photocopier and places for the 4 teachers and the school administrator.
The Future of Mhlumeni High School
The achievement and commitment of the community is incredible. In 2024 another team from St Helen and St Katharine's School will visit Mhluemni in July. Fundraising is in hand and a project is being decided on by the community.
Sense Earth is committed to this worthwhile project, to see Mhlumeni High School completed and to help the school reach its full potential. The next few years will be incredibly rewarding for everyone involved. It is a privilege being part of all of this.