I had decided to treat myself to 3 nights of luxury stay in Kruger National Park.  What I didn't realise I was going to see most of Kruger's carnivores during my stay.
I had been to Camp Shawu before, a wonderful five tented camp in the Shishangeni concession area near Crocodile Bridge.  All the tents overlook this incredible view of a wide expanse of water. Here hippo gently honk all day and night and elephants often come down to drink along with lion and rhino well.  It is a veritable paradise and you can simply watch it all from the decking of your huge tent. Inside the tent are sofas, a clawfoot bath and a double bed that is so large it could sleep at least four people!
I had organised it a few weeks before and I was so excited about this treat.  However, what I had not envisaged was the weather and the incredible carnivore sightings that I was going to see. It was a bit of a roller coaster ride.
It does get cold in Africa
Whilst the UK was experiencing a massive hot spell I was experiencing an immense cold snap. I wore my down jacket for three days without taking it off.  Guests are often surprised about this as most people's impressions are that Africa is really hot all the time.  Not true, I can vouch for this as one of my days at Shawu I spent most of the time either soaking in my warm bath or sitting wrapped up in a very thick blanket next to a fire.  Admittedly I was sitting inside my tent with the canvas door open, it was perishing cold wind.  From here I watched a herd of 40 elephant walk by.  It wasn't all bad! In fact it was quite snuggly.
I had arrived in beautiful blue sunshine and as I was driven into the camp there were elephants down by the waterhole.  What a welcome!  After a delicious lunch on the decking overlooking the African bush, we went on safari.  And this was the beginning of a carnivore extravaganza of which I've never experienced before.
Our evening safari in Kruger
That evening safari we saw two of nine male lions that have formed a brotherly group in the vicinity. The first of of Kruger's carnivores that we saw, many more to come. We found them with very fat bellies resting in the shade under some meagre bushes, they looked extremely content and rather smug with themselves as well.  It looked like that food was going to last them for a while!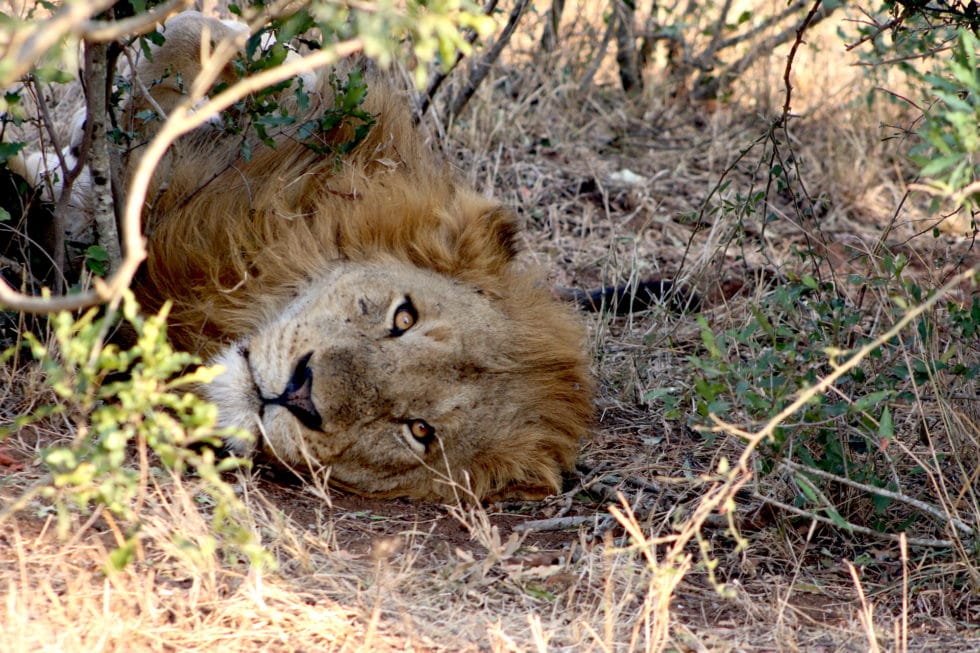 The great thing about being on safaris is the anticipation, although it is exhausting being in a state of high alert all the time.  Even if I don't see anything I simply love being in the bush; the smell of the baked earth or in my case the rain on the damp earth. I cherish the views as far as the eye can see and the sounds of the bush, it is all part of an overloaded sensory experience.
Our guide Samson knew where there was a recent rhino carcass which had died in a territorial fight. The carcass had been feeding a host of different carnivores over many days.  As we pitched up there was one other vehicle where everyone was looking to the same side, cameras poised aimed with a purpose. We all perked up. This is always an indication that there is something there worth seeing!  And we were not disappointed.  There were three hyena, a mother and two cubs, their heads bloodied from being shoved into the open belly of the carcass. The smell wafted over to us.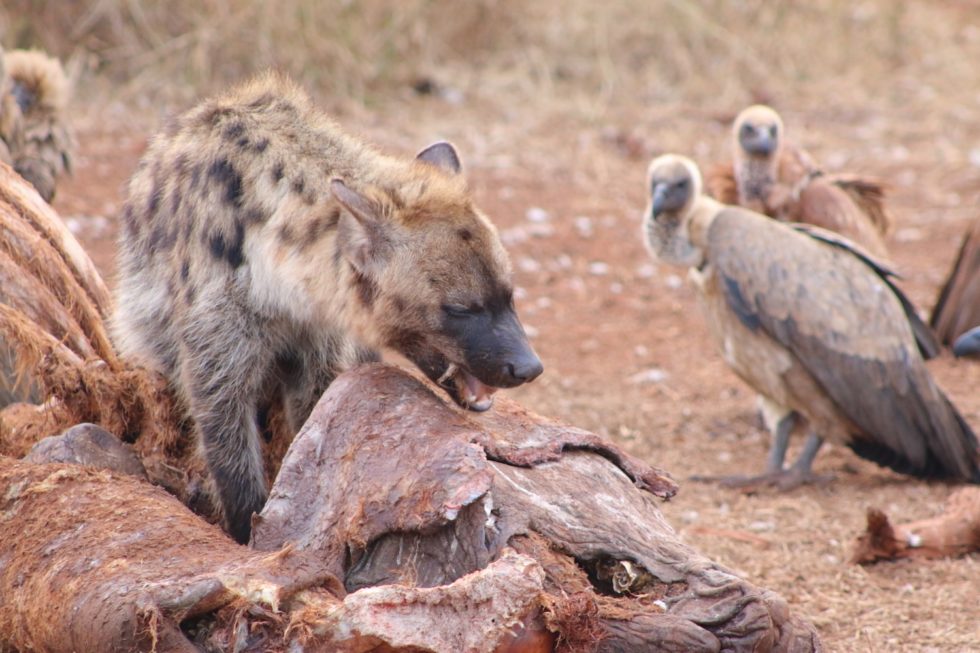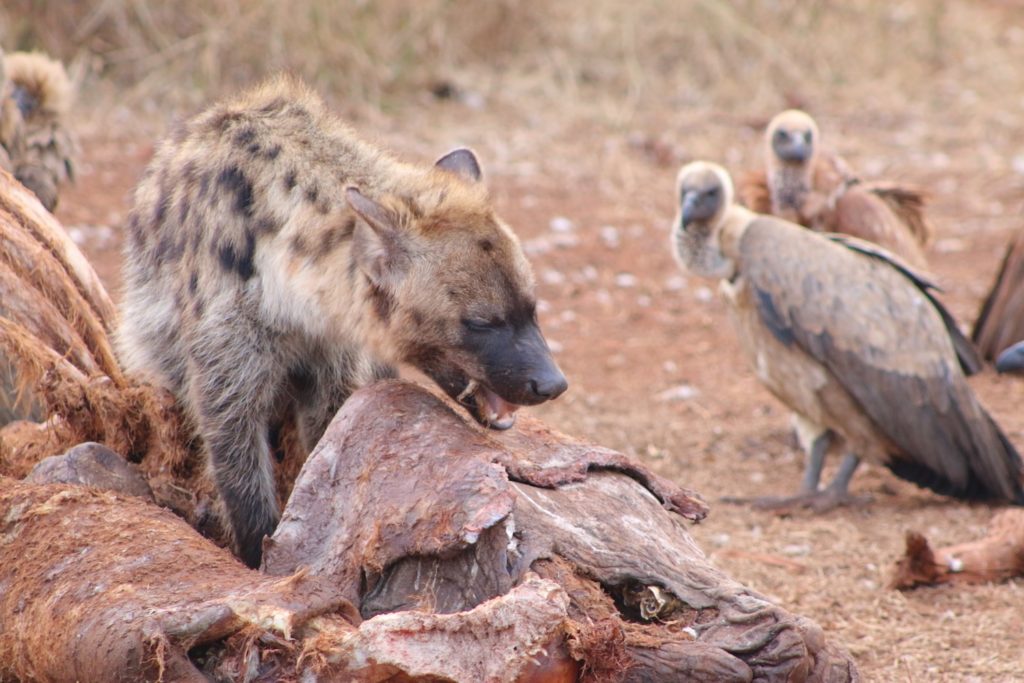 There was also a large 'wake' of vultures fighting over titbits and lolloping around the carcass. There were even a couple of cheeky jackals were trying to get their share.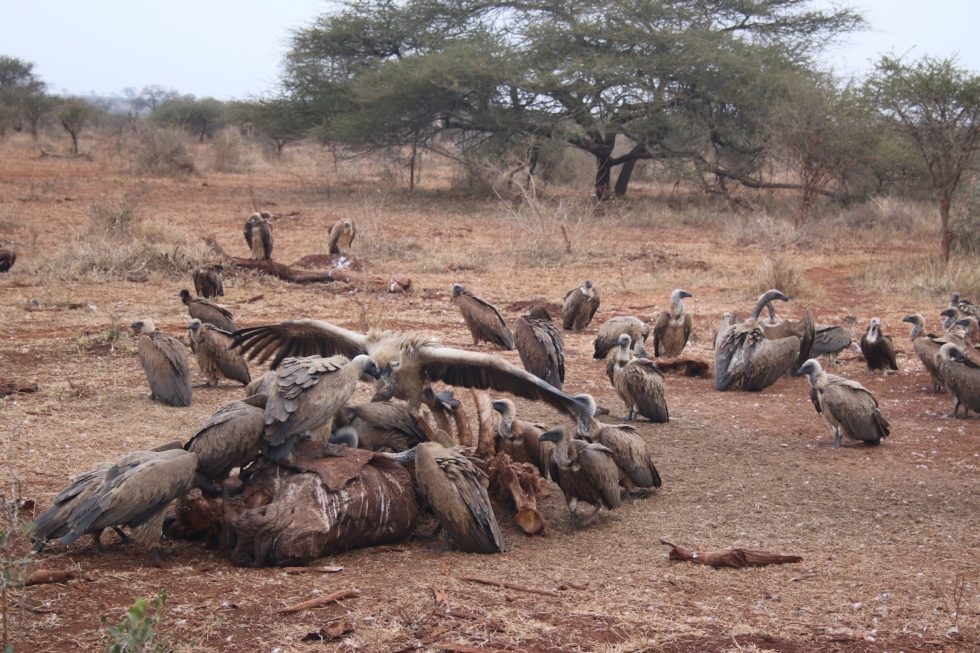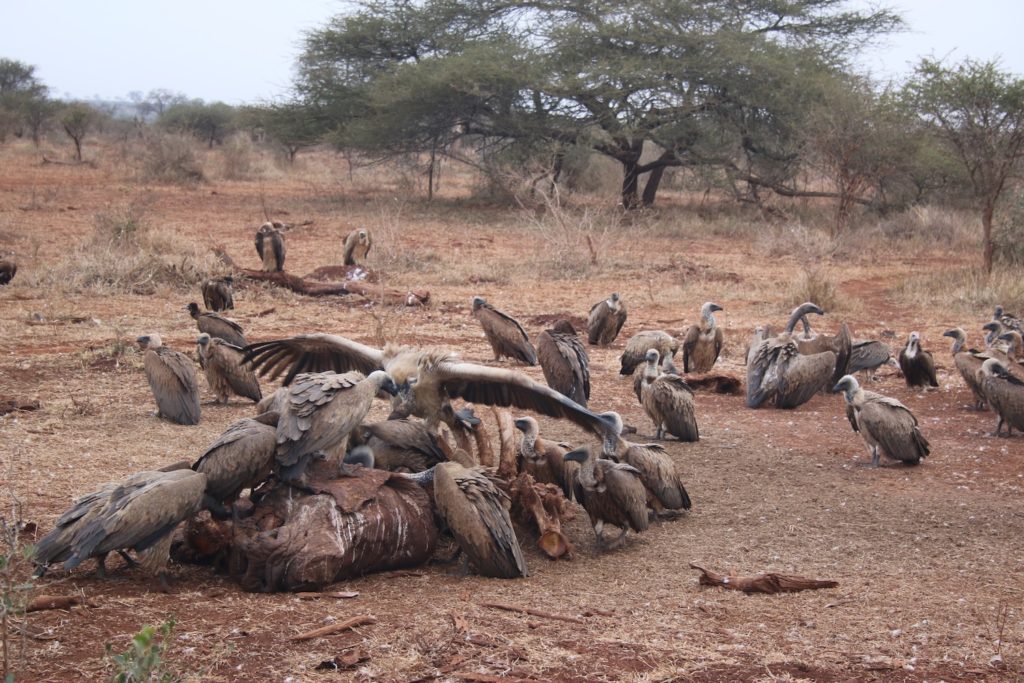 Jackals are very cunning, they work in pairs to get their prize. One catches the attention of the hyena and whilst this hyena is busy chasing it off his crafty mates ducks in and robs a tasty morsel from under the hyena's nose.  A great demonstration of teamwork and highly amusing to watch!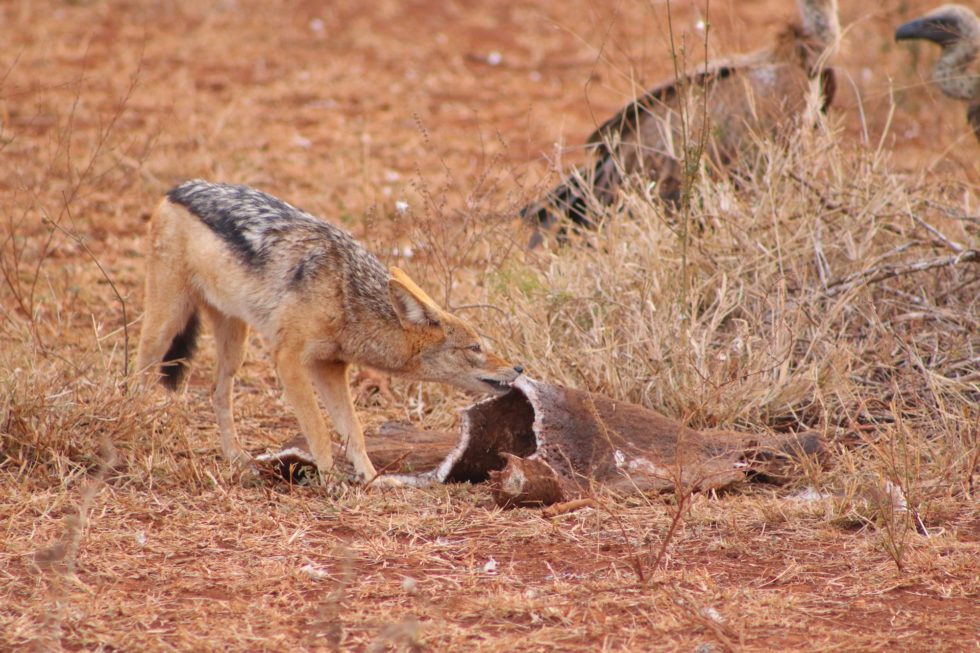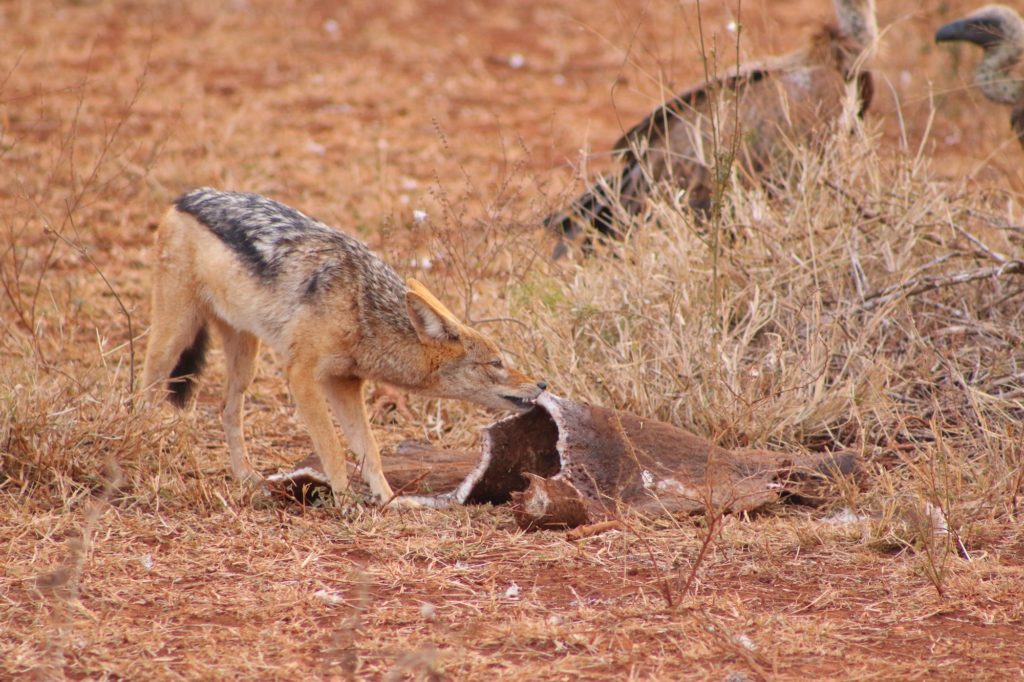 That night I went to sleep to the roaring of lions. The other brothers had pitched up and they did keep me awake for a while. I even stepped out onto my veranda in the middle of the night and shone my torch around the edge of the water. I think I saw a couple of faint outlines there, but I wasn't too sure. They must have been pretty near, it did feel as if they were in my outside shower. Lions can be heard over a distance of 5 miles, but it felt as if they were 5m away.
Kruger's carnivores in a day
That morning I got up at 5.30 for the morning game drive. The first thing we did was to check on the lions that have been making such a noise throughout the night.  We found five more brothers, some of which were very bloated like the ones we had seen previous day. They were certainly were thirsty as they lapped up copious amounts of water.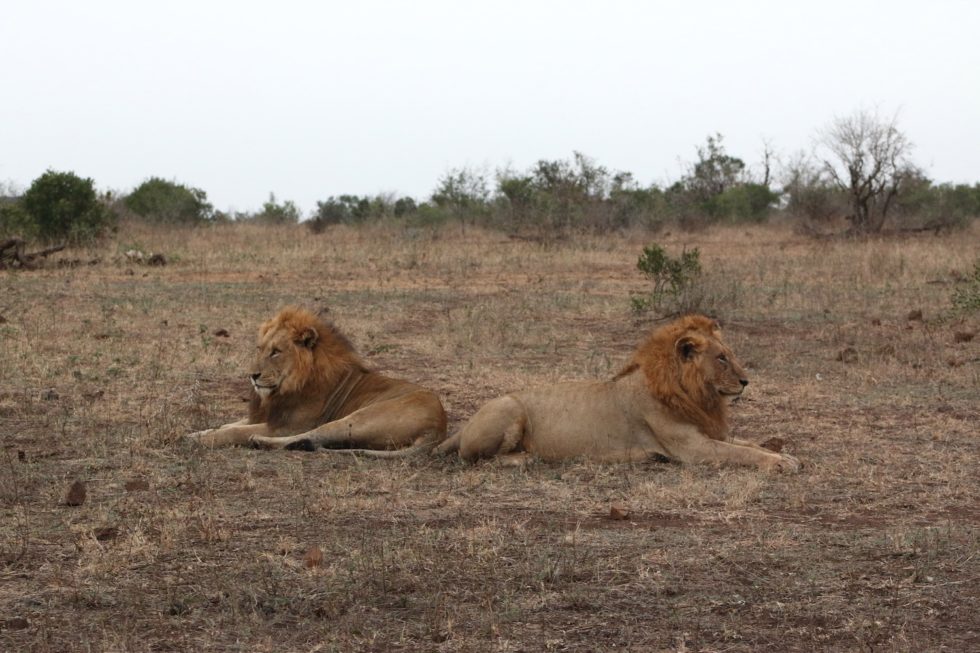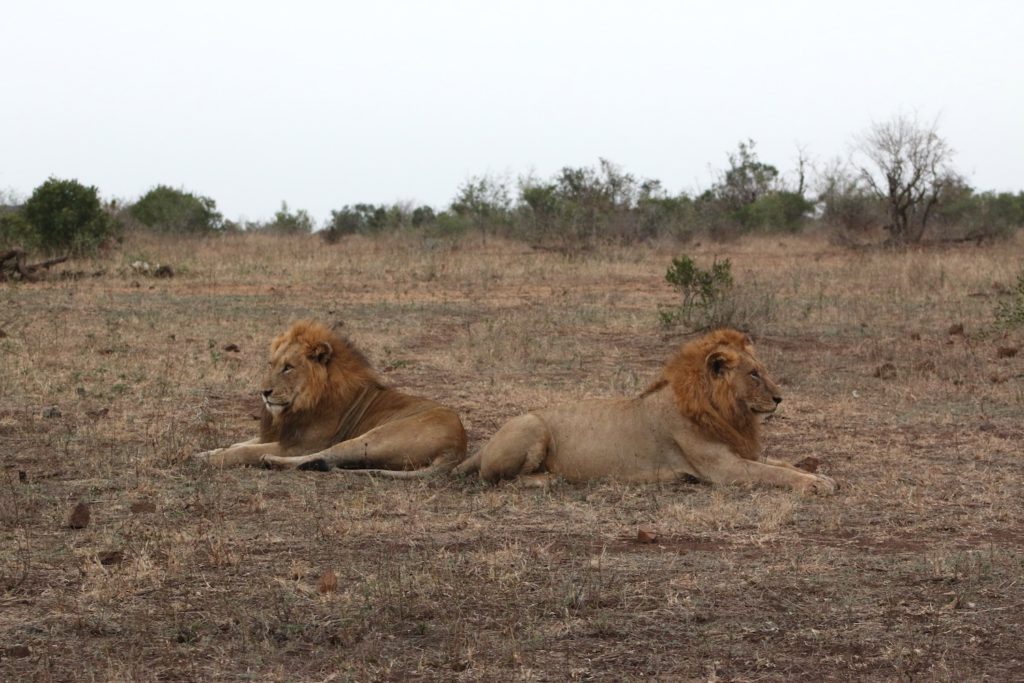 We went drove to the opposite side of the dam to find the two brothers we had seen the day before, they were waiting to welcome their brothers.  They plodded together off into the bush, maybe to find somewhere warm to sleep, the temperature had dropped over night.
As we were driving away we noticed an impala that had a broken back leg, we could only guess at what had happened. The impala had large scratch marks down its back which Samson thought was the result of a leopard attack.  This plucky impala had managed to get away but unfortunately with a broken back leg.  We stayed with it for a while but we all knew the writing was on the wall for this chap.
On the afternoon game drive we got a call from another vehicle who were where we had seen the impala. We arrived just in time to see a cheetah finish suffocating the impala by grabbing it around the neck. The impala was obviously too exhausted and wouldn't have been able to escape. The cheetah eventually dispatched its kill and started to feast.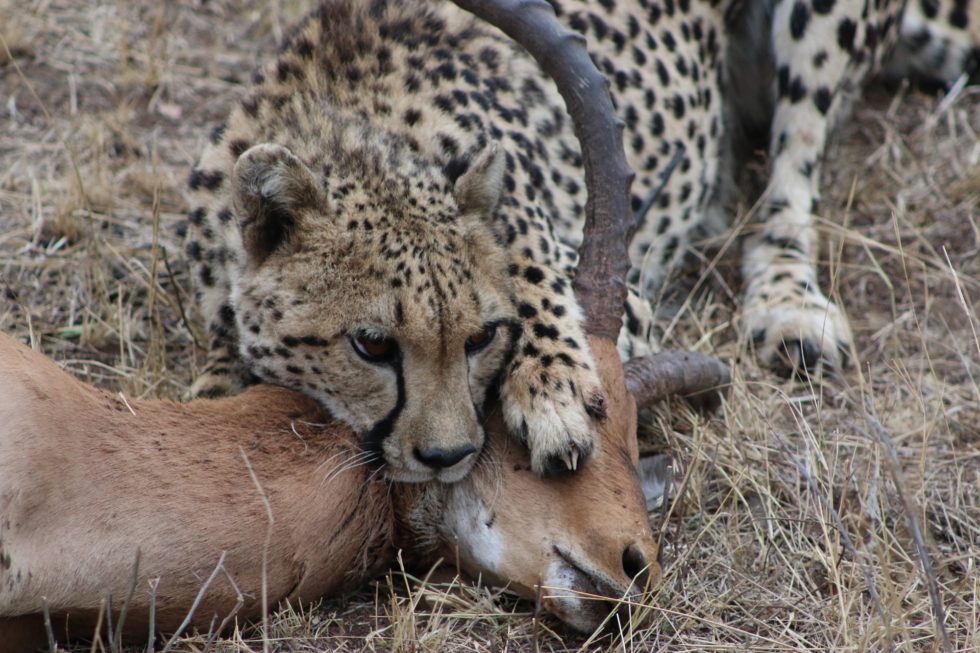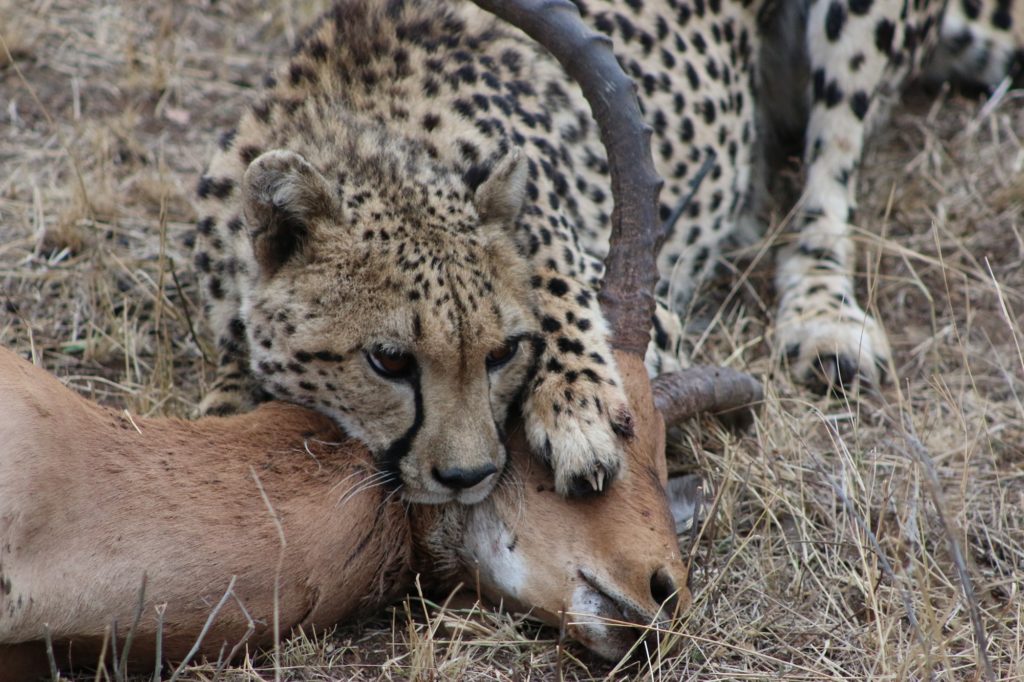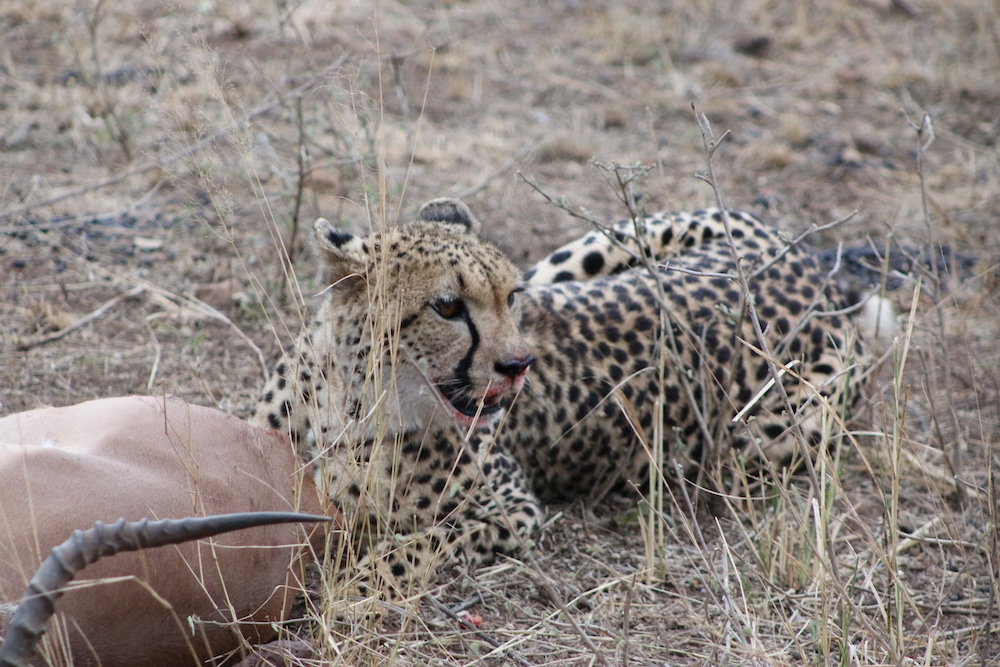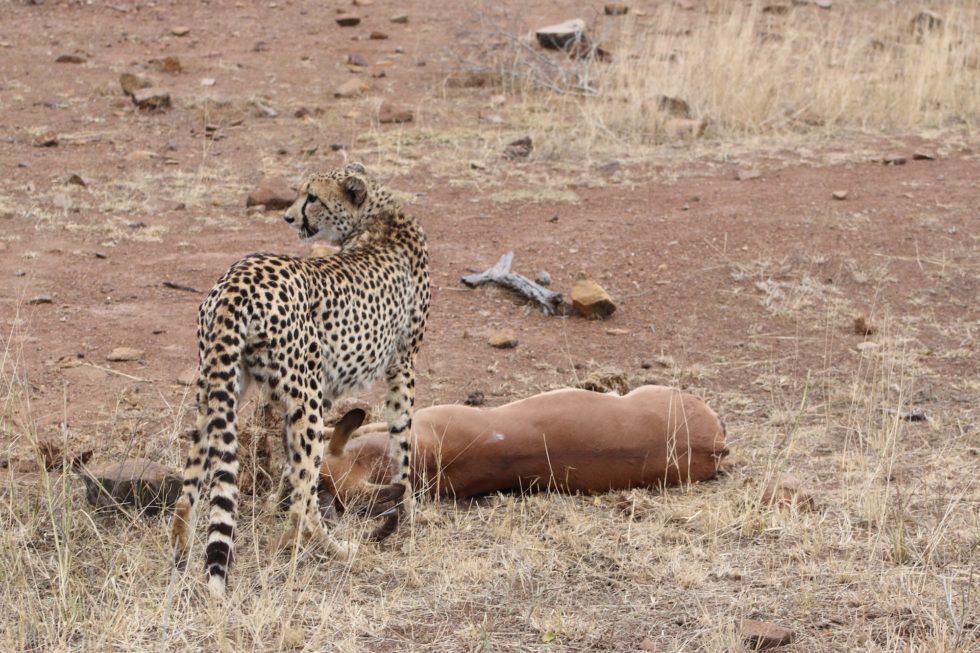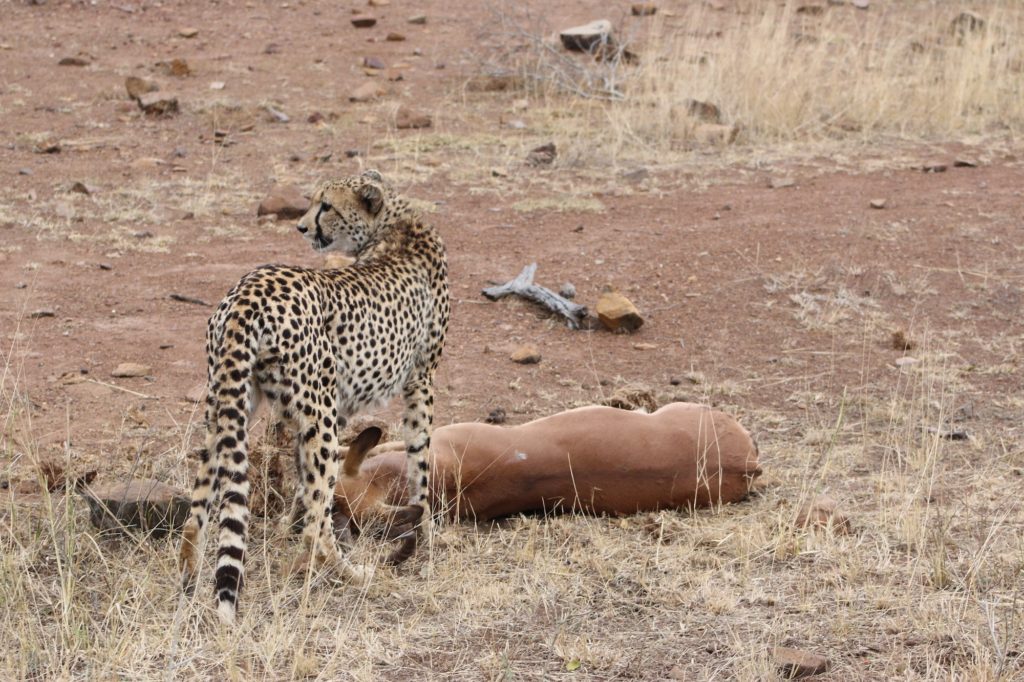 Cheetah do have their kills taken by other predators, often lion. Therefore cheetah will gorge to eat as much as possible in the shortest space of time. This female was no exception, she went straight in from the back end of the impala, which is the easiest place to access the insides, and started eating. I hoped that she would manage to eat enough in the next few hours. Light was fading and we left her feeding.
There were saw so many incredible wildlife sightings during my three day stay. I saw a leopard dripping out of a tree, it was a long distance away it  but still very exciting. I watched two honey badgers chasing each other into the bush and also several slender mongooses, and those were just the carnivores of Kruger. Our female cheetah had eaten masses and we watched her over the days finish her kill. She did not get harassed by any lions – luckily they had had their fill also.
My advice for Kruger is to make sure you visit a private concession area to get away from the crowds. You will probably only see one other vehicle on your game drive and you will have a genuine safari experience.
Just don't expect the sun to shine all the time!