Mana Pools, Zimbabwe, is an extraordinary place and I would certainly classify it as one of the true wildernesses of Africa. It is here you can see all manner of wildlife interactions. This lion one was not what I was expecting.
Camping in Mana Pools
I was camping in one of the remoter campsites of Mana Pools. In order to use the wilderness camps you must have a registered hunter with a firearms licence in the group. You really are stuck out in the middle of nowhere. We had this wonderful campsite, overlooking the River Zambezi, with the most incredible vista over the floodplains.
And it was here that the excitement began.
During the night there was a lot of lion activity down on the floodplains; roaring lions throughout the night, clashes between nervous lionesses and the mewing of cubs caught in the fracas. It was a surprise anyone got any sleep at all – I certainly didn't.
The morning after…
In the morning I tentatively got out of my tent to find Stewart, gun in hand, standing on the outskirts of our campsite checking out the area. There was a large male lion defending his pride from a younger male, all happening about 200m away. It was quite extraordinary.
I started the braai (BBQ) for our breakfast of bacon and eggs, whilst Stuart kept an eye on our distant neighbours. The bacon was on the braai, sizzling away and the eggs were boiling, perfect. There were five of us in the group and we all stood cleaning our teeth, like sentinels, watching the lion saga unfold.
"If any of the lionesses breakaway from the pride, get into the vehicle immediately", said Stewart. " Do not think about it, just do it."  We all nodded, completely understanding the implications if we didn't act quickly.
Lioness in our campsite
Of course this is what happened. Two lionesses broke away from the pride, coming in our direction at a steady trot. We clambered over each as we dived in through the windows to get to safety. It did not take the lionesses long to cover the distance and before we realised it they were in our campsite. Unbeknown to us there was also another lioness in the area with her two cubs, protecting them from the incoming male. They were not a threat to us, they were keeping their distance from the newcomer. But it was still quite a hairy experience having these five visitors, and so close too.
And then they smelt the bacon… inching closer to my breakfast wondering what that mouthwatering smell was.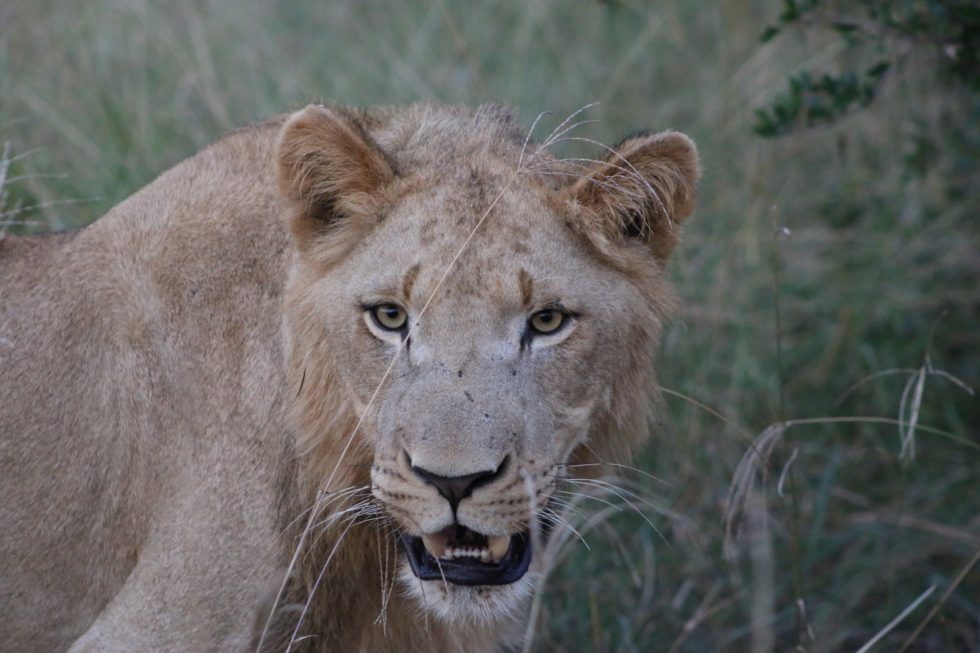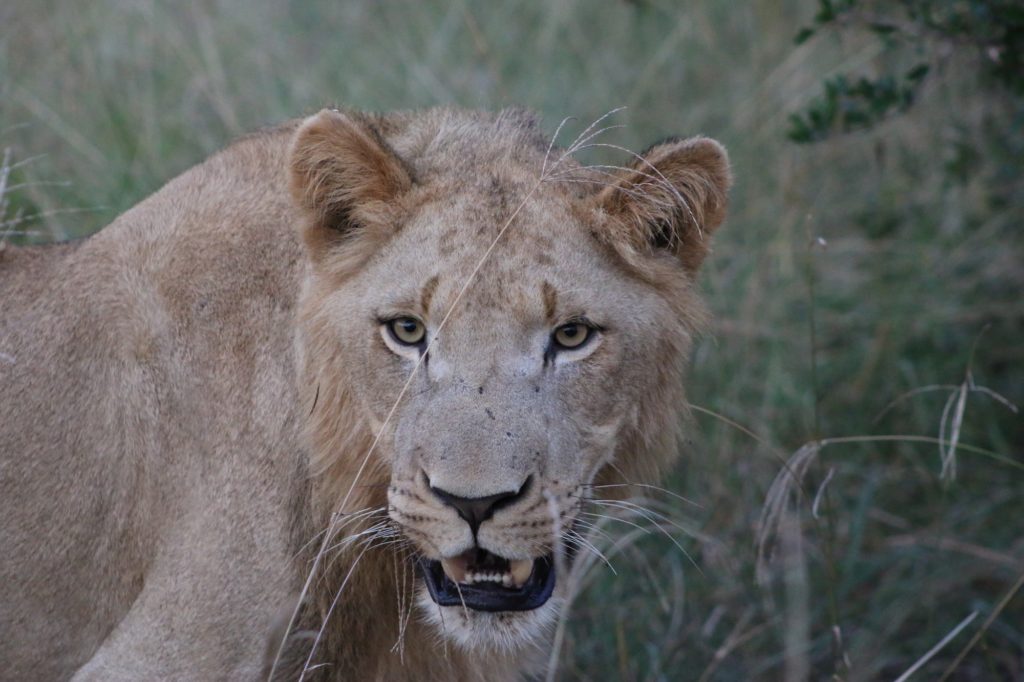 There was no way I was going to leave my breakfast to these cats. That was not an option. Luckily I was sitting in the drivers seat and I decided to take direct action. With some careful manoeuvring I managed to position our vehicle right next to the braai. I could finish cooking our breakfast through the driver's window, in complete safety.
And that is my memory of Mana Pools; me dispensing breakfast as if I was in a Drive Thru, surrounded by salivating lions.