Fishing?  Why on earth would I want to go fishing in the Okavango?
Admittedly I have never really done any proper fishing before, I remember as a child fishing for crabs in rock pools in North Wales and I vaguely remember doing a spot of fishing in a lake in France, but it is all rather hazy. I have never really seen the attraction for fishing, don't you just set up your rods and then sit and wait in the howling wind for eternity?
When I was offered the option of fishing in the Panhandle of the Okavango I wasn't too enamoured with the idea. But as I was staying at Nxamerseri Island Lodge, Botswana, which specialises in fishing and birding, I thought I had better give it a bash.
Fishing in Style
So off I set in my own private boat, more of a small pontoon really, with my guide Fish – rather aptly named I thought.  I had my camera and binoculars to hand because I wasn't going to miss the opportunity to do a bit of bird spotting and maybe take some pictures as well.  Never miss an opportunity is my little mantra.
Fish navigated us beautifully through channels and we passed by multicoloured bee-eaters perching precariously on reeds, lily trotters daintily balanced on emerald green leaves and raced pied kingfishers as they flew in tandem with us along the watercourse. It was heaven.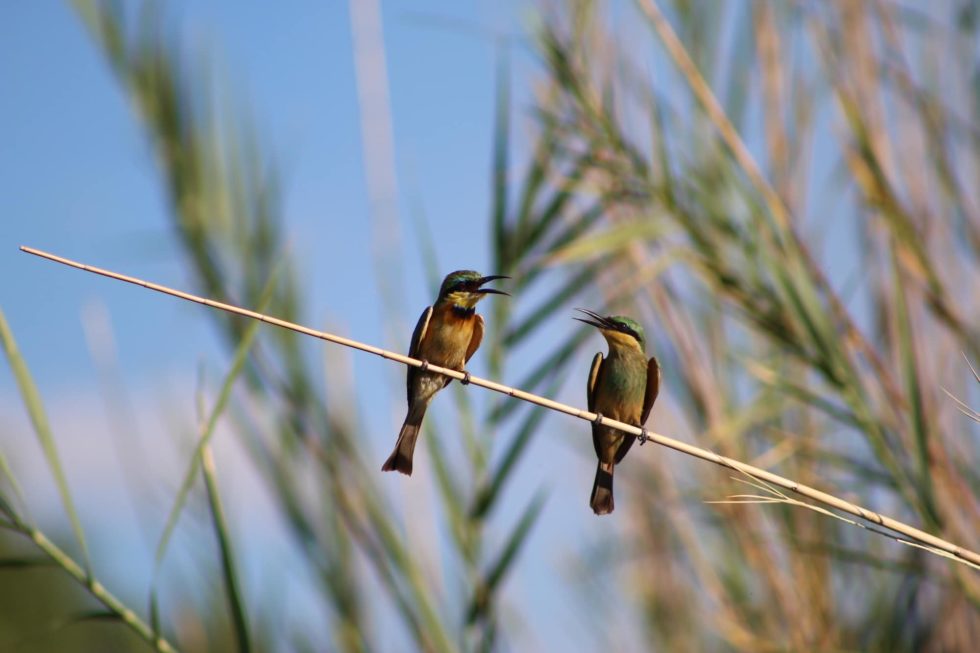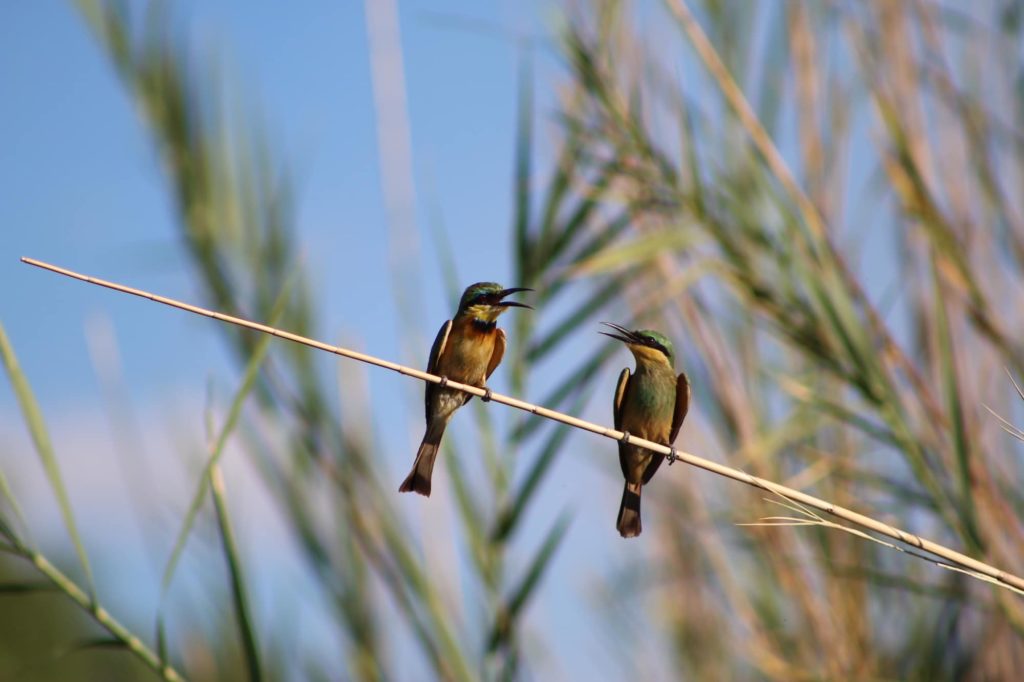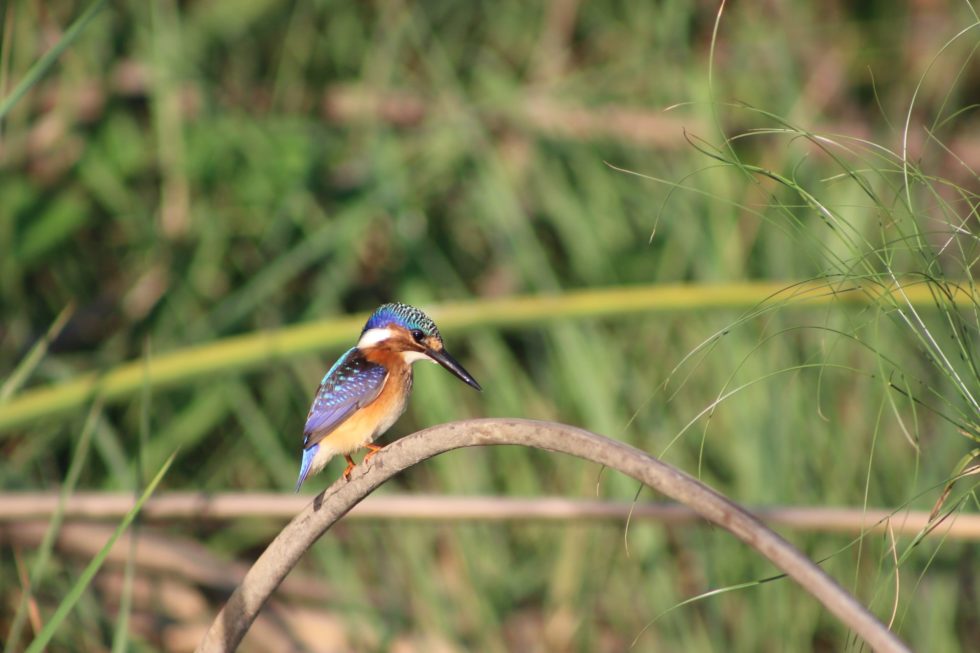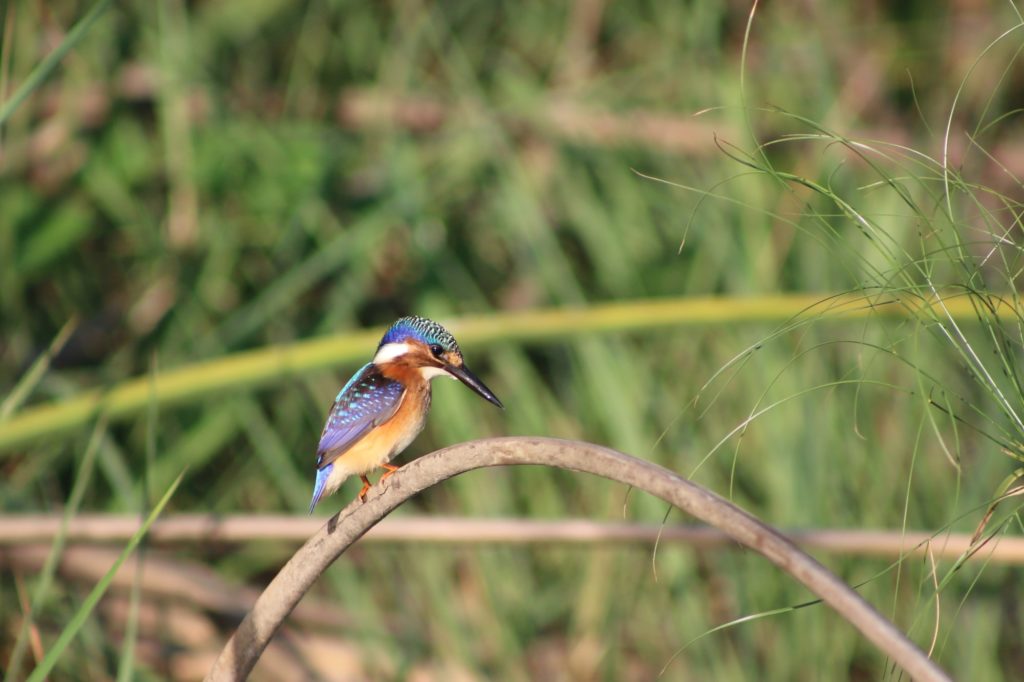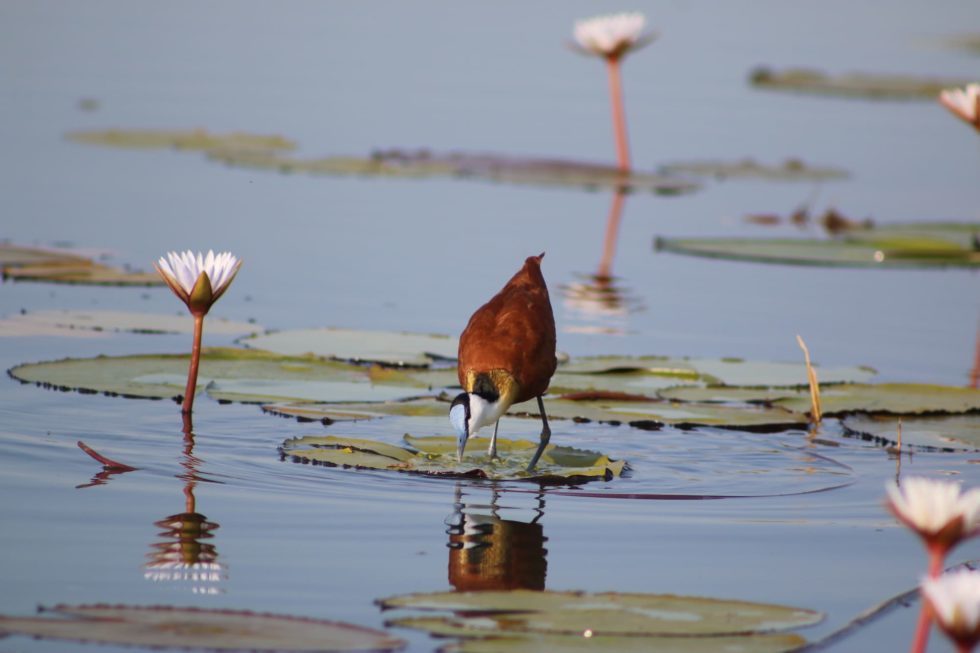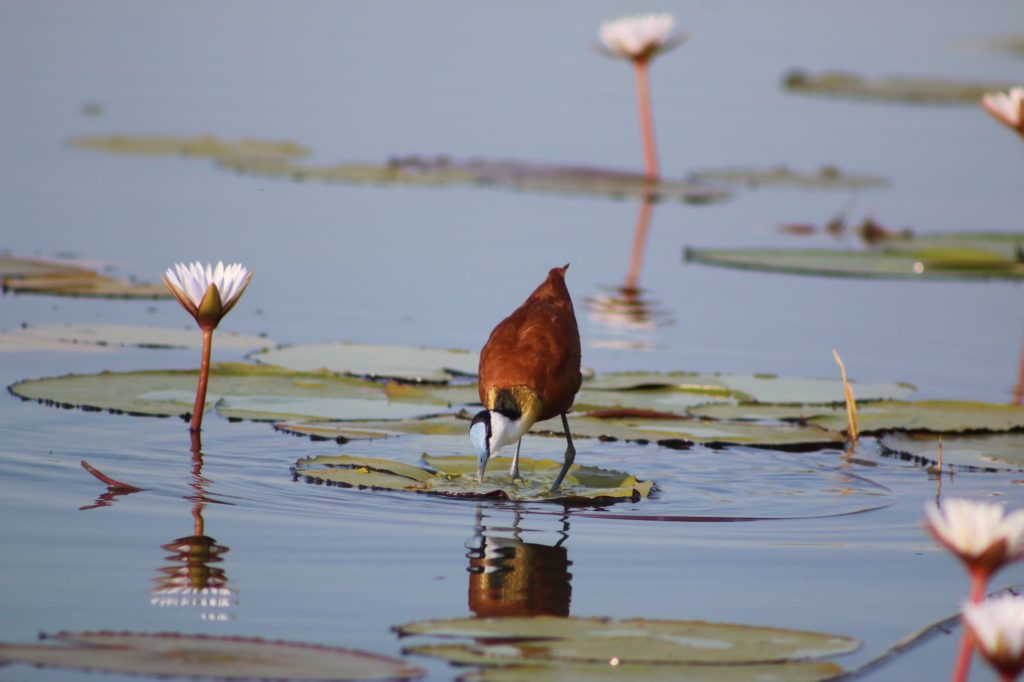 Fish kindly cut the engine when I found something interesting to spot and identify and even take some photographs of, but we were on a mission to get to a really good section of river that was renowned for its tiger fish.  I wasn't really in much of a rush.
We eventually arrived at this particular gem of a spot despite my delaying tactics at looking at wildlife. Fish showed me how to stand and how to cast the line, I was lure fishing. There is a specific knack to throwing the lure out and then gently reeling it in. I learned that the colourful lure sparkles as it gets drawn back in towards the boat. This then entices fish because they think it will be something tasty to eat.
To begin with I was pretty inept, in the first 15 minutes I had caught a reed bed, the side of the boat and myself. But this was not going to deter me. Fish looked so cool, calm and collected that I wanted to try and emulate him.
After another 10 minutes of exasperation I began to get the hang of it, once I had mastered my casting it became very soporific. There's that tranquil, rhythmical lull when the boat is floating downstream; cast, reel, finish, reset the rod and then cast again. I found it very relaxing and soothing. With the warm sun and the wonderful noises around me I could understand the fascination for fishing, especially in the Okavango. This was topped off when I was offered a beer, cold beer and fishing, what a great combination. At that point, life could not have been better, I even had biltong.
Beginners Luck
It was a wonderful opportunity to be, to do something that doesn't tax the brain, to rest whilst you are immersed in nature. I didn't even mind I that haven't caught anything,
And then I caught something and everything changed. I was so excited, I yelled at Fish that I really did have something this time – there had been a few Cry Wolfs (water lilies can be very crafty), but I could feel tugging on the rod, I had genuinely caught something. Fish grabbed the net and we waited in anticipation as I reeled in my catch.  The tension was unbearable.
And there it was, my first tiger fish, all of 20 cm long! We fell about laughing, I don't think I was going to get a record for this catch, maybe the smallest catch ever. But I had caught a fish, and I felt quite chuffed with myself.  We gently unhooked the fish and put it back in the water giving it a second bash at life.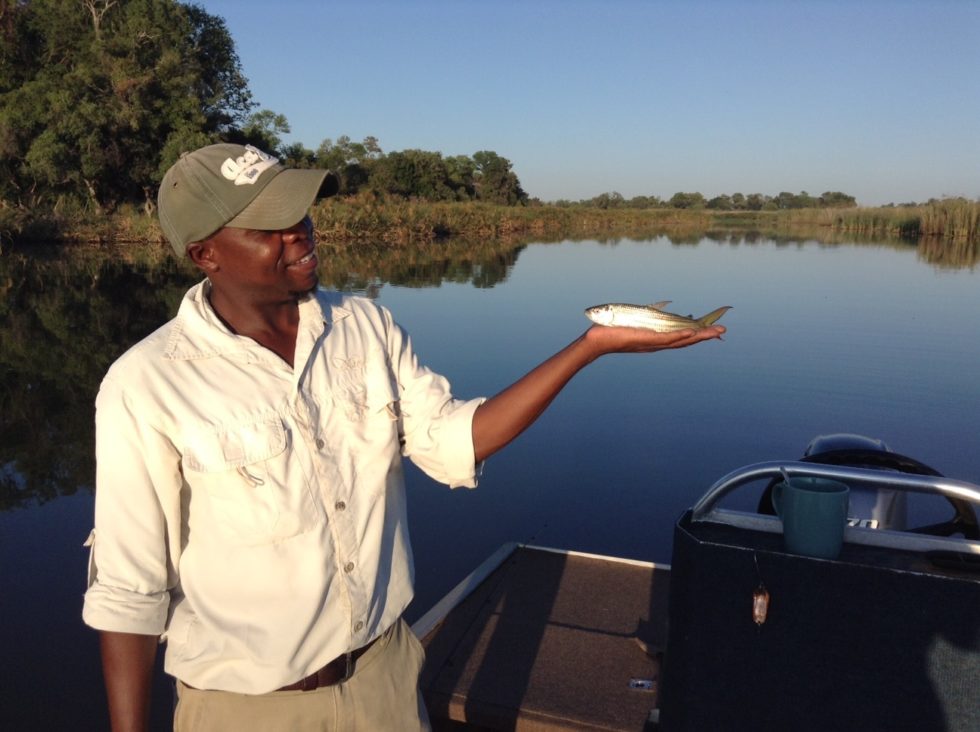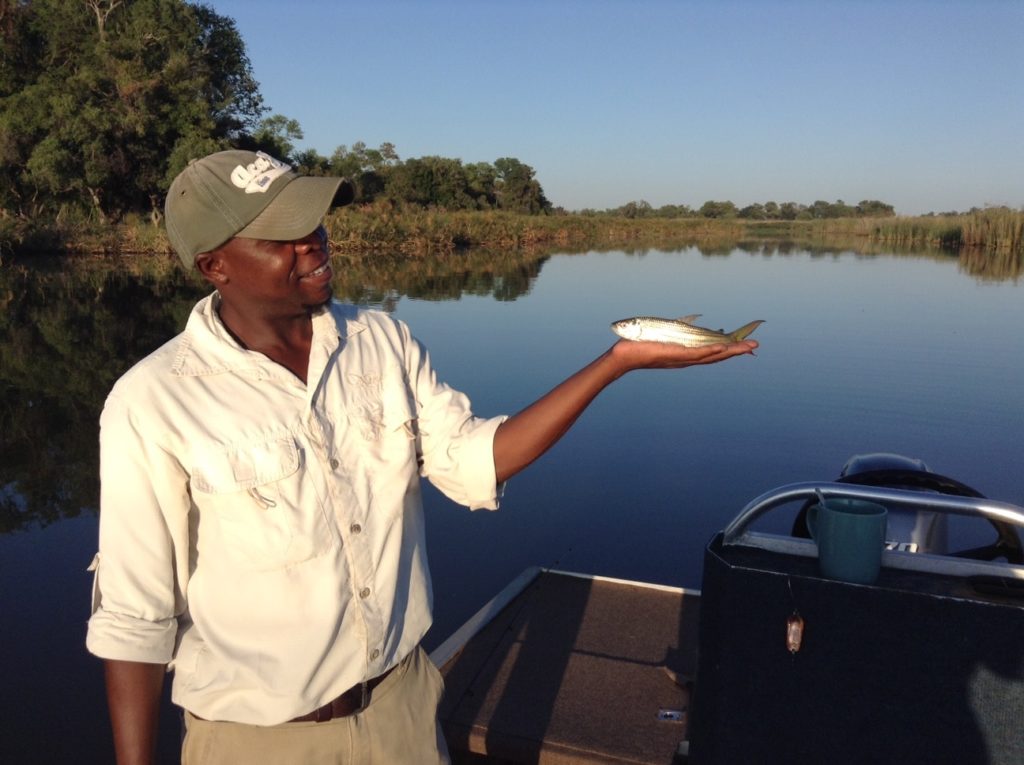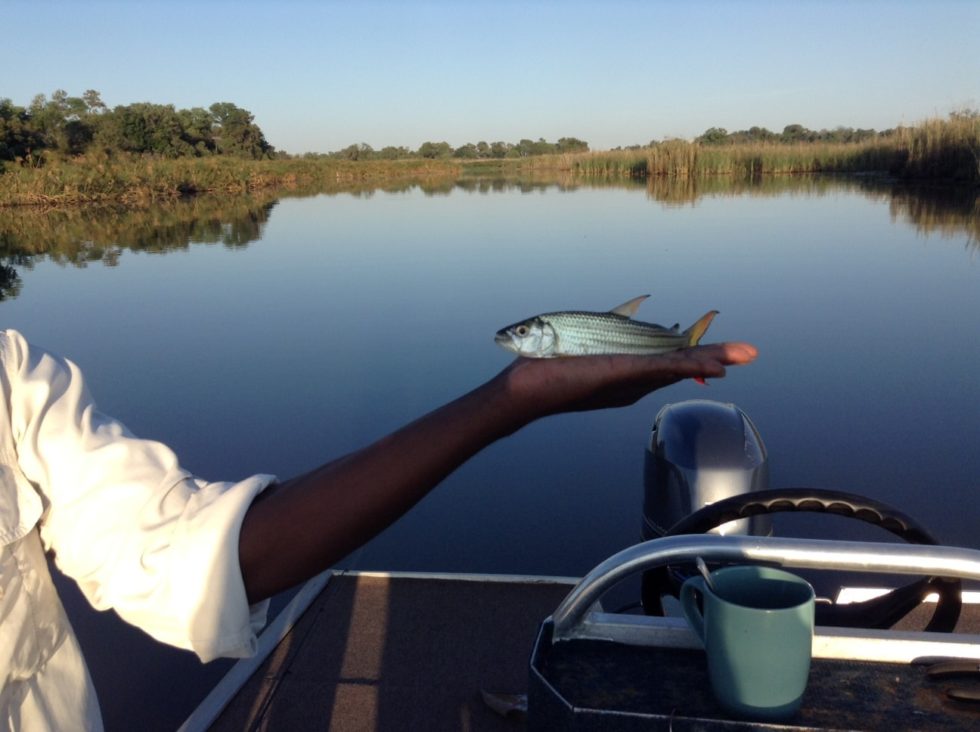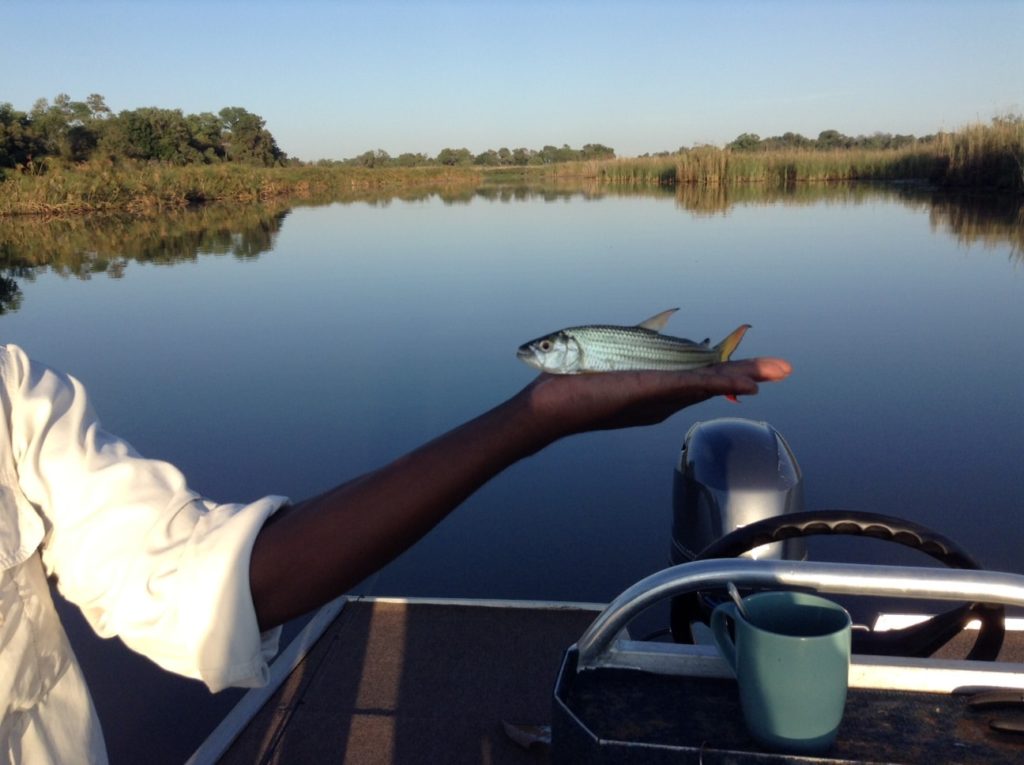 I was hooked.  The anticipation of catching yet another fish was addictive, if not therapeutic as well.  Would you believe it, I caught a second one as well – Fish had not even caught one. Talk about beginners luck.
Fish Eagle Fishing
It just happened that where we were there was a fish eagle sitting up in the tree, eyeballing us.  As we looked at my second very small tiger fish, Fish asked me whether I wanted to feed it to the fish eagle. I thought this was a great idea. I expected to see the fish to be jettisoned back into the river from whence it came. But no, Fish had a plan.
He killed the fish by giving it one seriously big wallop on the head and then manoeuvred our boat to a reed bank.  Then he pulled a section of dead reed out of the water and broke it to be around 15 cm long.  Fish opened the tiger fish's mouth and shoved this section of reed into its gullet. I look closer, I was intrigued.  Fish then demonstrated why he did this. The reed acted as a float and when the fish was in the water it simply drifted on the surface.
"Are you ready?" he asked.
"For what?"
"To take a picture. Focus on that patch of light on the water over there."
I grabbed my camera, I was so excited about this.
Fish got the fish eagles attention by making a whistling noise. He waved the bait in the air and then threw it into the pool of light. There was no time to think, the fish eagle launched itself from its perch and swooped onto the floating fish.  With its talons outstretched and its wingspan in full glory it made an extraordinary spectacle. With a deft dive the fish eagle expertly plucked the floating fish from the water and returned to its perch.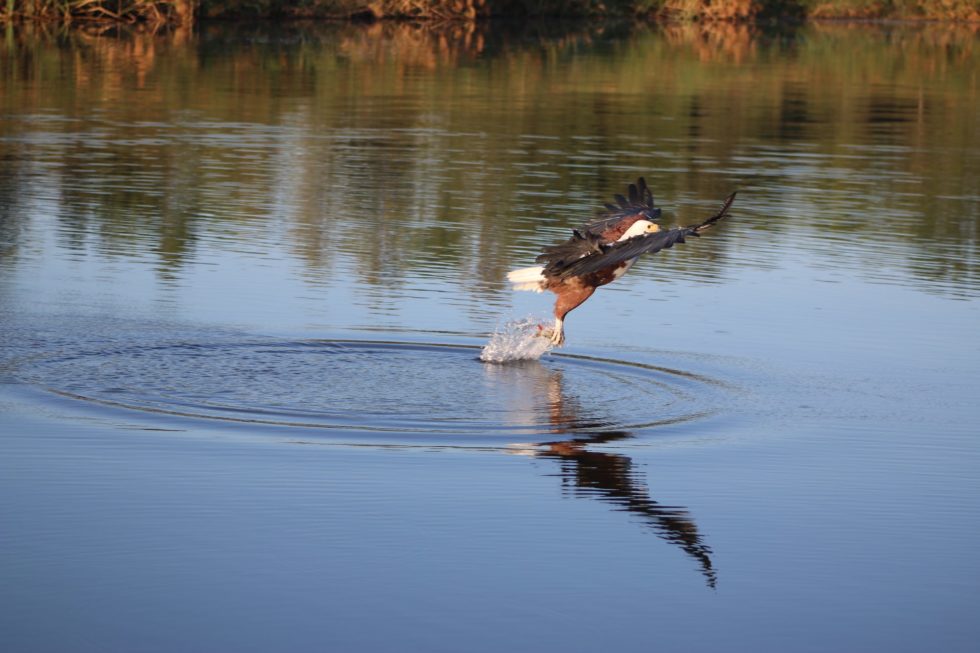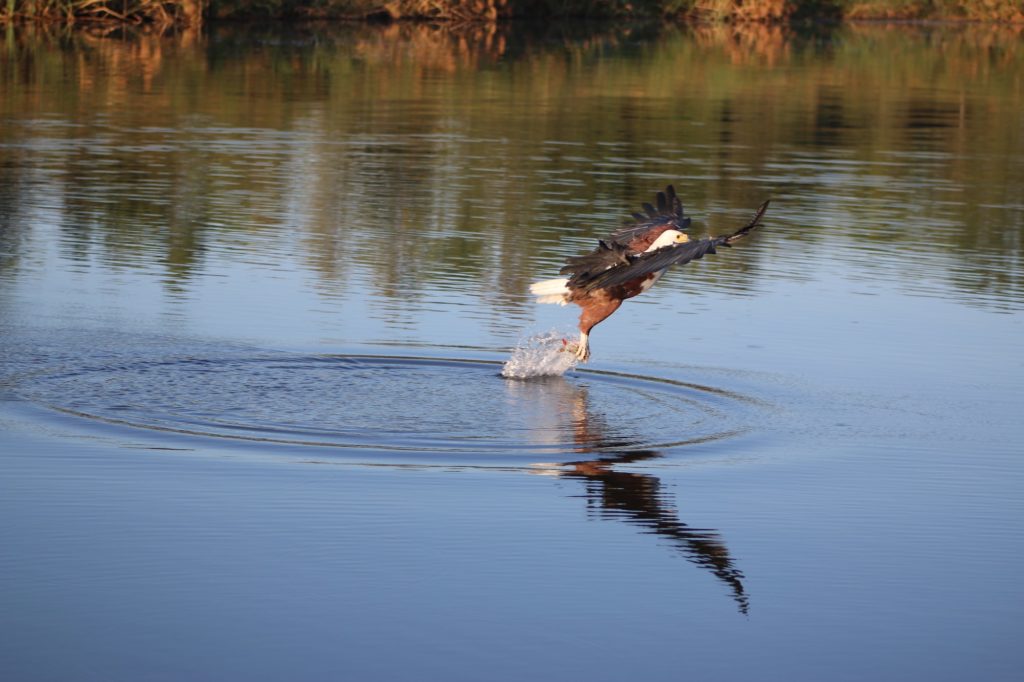 My mouth was open. It was an extraordinary sight to see. The fish eagle proceeded to eat the fish by removing the flesh from the skeleton and leaving the reed behind.
When the next opportunity to fish comes around, I will certainly be there ready to go. But only if it is sunny weather and there is beer on tap.