This blog was written by Josie & Lucy J from the "Eswateam" group of students from St Helen and St Katharine School. It's one of several chronicling  their experiences in Eswatini. For the previous blog in the series, click here.
Hlane's Wildlife at Sunset
The eswateam arrived at the Hlane Royal National Park on Saturday, led by Orla, and had to race to put up the tents before the swift transition to the sunset safari. As we set off, we were keeping our eyes peeled for any animals that might be hiding in the bush, making sure to keep quiet as to not scare away any that may have been nearby. Entering the lion area, we came across a dozing lioness and a pair of lions relaxing after a long day of hunting. The vehicle stopped, allowing us to take in the breath-taking view. The next animals we came across were elephants which came just too close for comfort. Fizzy drinks were enjoyed while watching the sunset. We then made our long journey back through the rhino zone, where we sadly missed the opportunity to see any of the rhinos. Once we arrived back at our new home, we had a delightful dinner of cheesy pasta, before retiring to our tents for the night.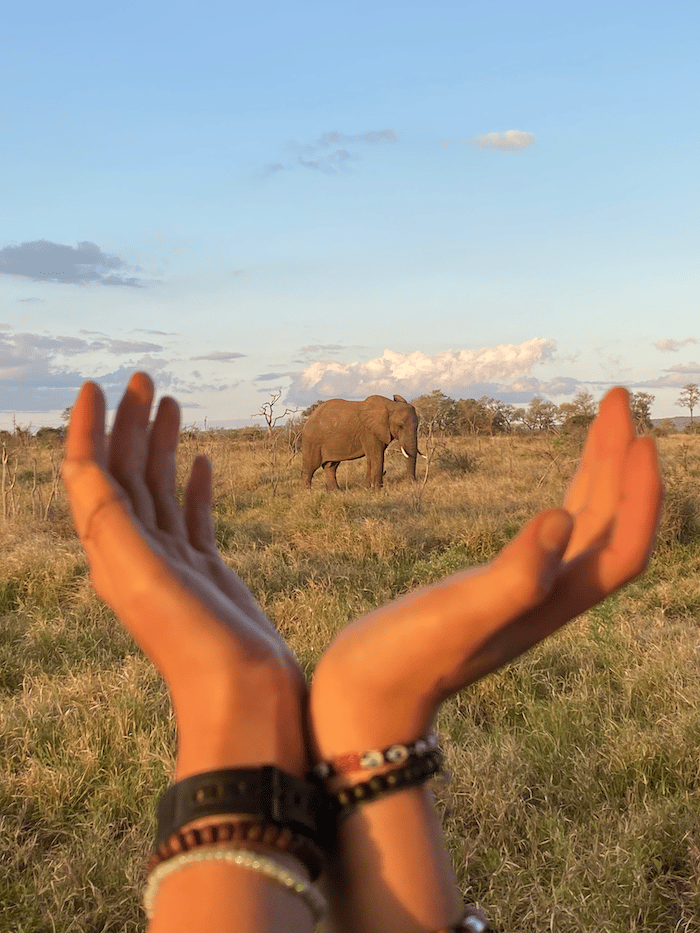 Braving the Bush: An Overnight Trek
Our overnight trek started with us splitting the eswateam into three smaller groups to keep our noise to a minimum, organised by the day's leader Emily. This way we had a greater chance to see more wildlife. In total, we managed to see approximately 10 rhinos, most of which were at a safe distance from us in the shade. During our trek, we learned about different aspects of the surroundings. For example the most common tree is often dead due to the elephants eating its bark. A fun fact we learned from our rangers is that if you use this specific tree for firewood, the smoke gives you a bad headache and sometimes even diarrhoea! Some trees were poisonous, some guide you to water, and some have amazing medicinal properties.
As we were nearing our lunch spot, we saw on the path ahead of us a snake sunbathing – our guides informed us that it was a black mamba and were very surprised at the sight as they are usually hibernating at this time of the year. After lunch we made the hazardous journey through the thorny bush to our campsite where we were greeted by luxury. Dinner from the rangers consisted of wildebeest sausage, porkchops, and salad – the sausages were great (if you like wildebeest)! Contradictory to Jenny's optimistic views, the night under the stars ended up becoming a sleepless night, as we took shifts to watch out for hippos, determined by rock, paper, scissors. Little did we know hippos would be the least of our worries, During Milly and Emily's 12-1 "hippo-watching" shift an intense stare down with a hyena occurred, which the hyena soon won. Others had a front-row seat to a seemingly never-ending baboon fight. Peony and Harriet could be heard having a more successful shift at 3am when they loudly discovered last night's cake. Little attention was paid to any possible wandering hippos, to everyone else's dismay, as they focussed on making cups of coffee.
Camping Out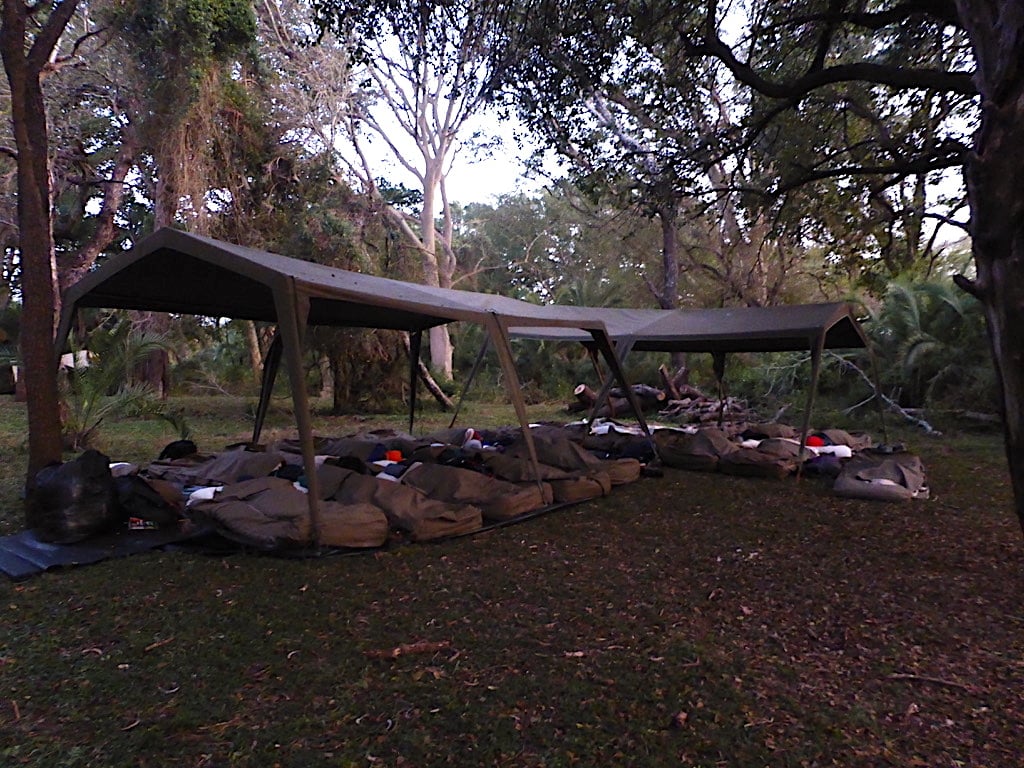 The sun rose slowly as we slept in our Aussie swag bags (not for the faint-hearted!), when we were treated to a hot breakfast, before we once again clambered through the thorny bushes. The walk back was shorter and through fewer bushes, but we still saw rhinos, giraffe, zebra, and wildebeest. Thankfully we didn't run into any black rhino (which are a lot more aggressive than the white ones). When we returned back to our temporary home, we were finally able to wash ourselves – a shower has never felt so good! We were fortunate enough to have an unexpected, cooked meal for lunch while we watched hippos in the lake. The rest of our afternoon was spent relaxing. Postcards were written, gifts were bought, and Wi-Fi was taken advantage of. We made the most of our afternoon off, knowing that there would be an early start the next morning for our sunrise safari.
Admiring Eswatini's  Lions
We woke up at 5 am expecting to see a rewarding sunrise, however we unzipped our tents to be greeted by a dense mist (not in the leader debrief from Josie). We snuggled together in the car to keep warm from the cool, dewy morning. One of the safari groups, whilst watching three lions seemingly fascinated by things elsewhere, froze, as the lions averted their gaze to the truck in front of them which happened to hold some of the members of Eswateam. This resulted in a quick escape from the lions in question, bringing them to safety and avoiding a lot of paperwork. Coco, a member of the truck, has commented on the situation: "At first there was nervous laughter, then there were fears for our lives, and all that I could think was that I would never see Jenny again."
Coffee and Rhinos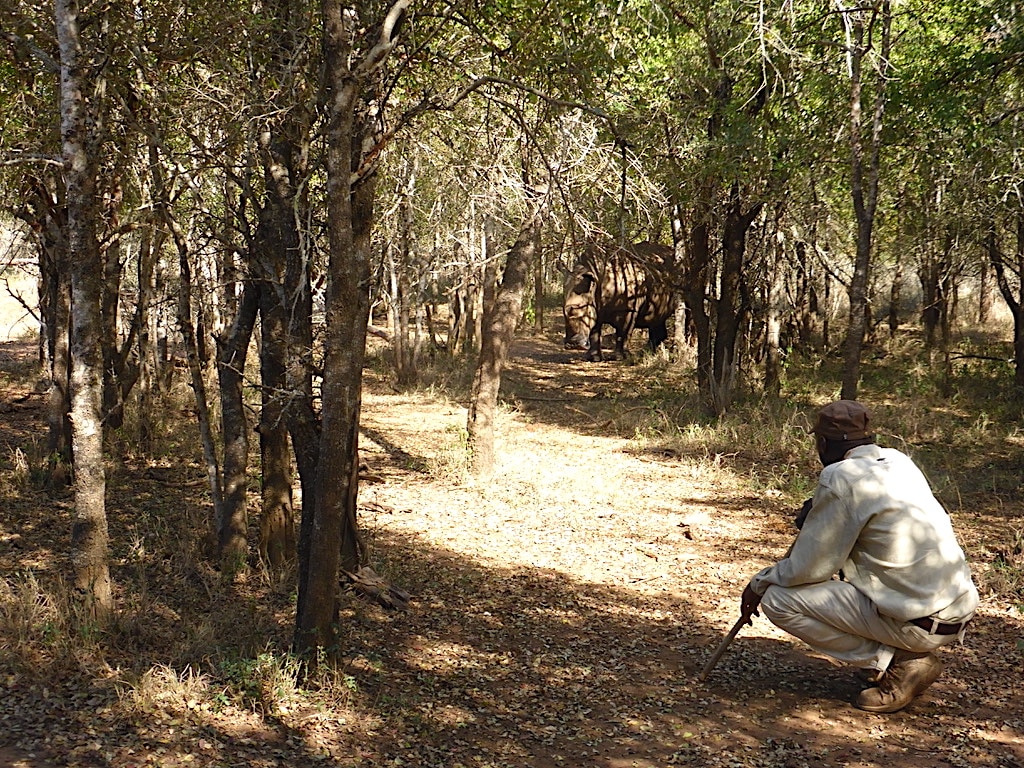 Meanwhile, the rest of the group were enjoying coffee and muffins under the close watch of two white rhinos. Suddenly, a third appeared and they began to approach so we hurried back to our truck, while our guide Johannes, completely unphased, ambled back, finishing his coffee on the way. Luckily (and to our surprise) we're all here to tell the tale. After these exciting events had finished, we packed up camp before the rhino safari as we were on a tight schedule and wouldn't have to pack afterwards.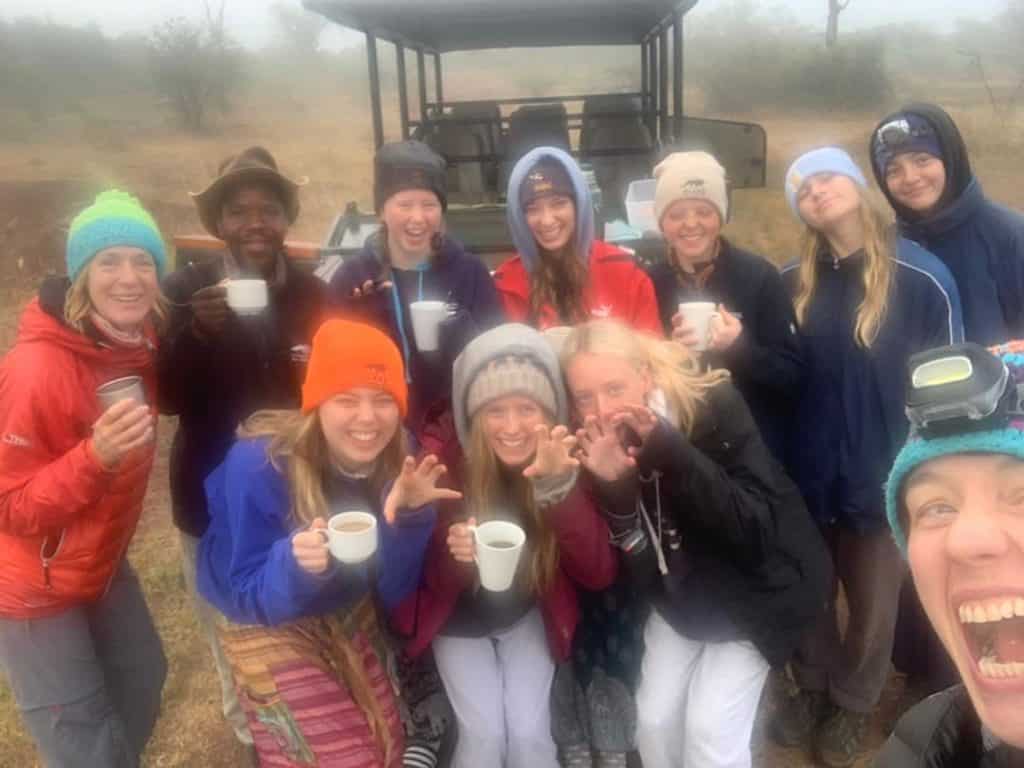 For our final adventure at Hlane we headed off to a rhino safari. Despite the name, we also saw many other animals, including a baby giraffe who was only a few weeks old. We were then lucky enough to get out of the vehicle and observe the rhinos on foot. There were many sightings of impala and nyala which has been common throughout our trip. Then we loaded up our truck, prepared for some manic shopping and ready to begin our project at Mhlumeni.