Looking for an inspiring and close up encounter with wildlife? There's nothing quite like conversing with a Hyena in Botswana.
Luxury at Lebala Camp
This startling encounter happened when I was staying in Botswana at Lebala Camp. I'd just had a glorious afternoon beside the plunge pool in the vast expanse of Linyati, overlooking the extreme northern reaches of Botswana. In fact Lebala means 'wide open space' and that was exactly what I could see across the river channel.
We had been warmly welcomed by the manager Charles that morning. We had eaten a delicious brunch and then had a few hours to spare to take in the ambience of the surrounding area. I was amazed when I had been taken to my en-suite tent – this was probably the most incorrect description of accommodation that I have come across in Africa.  It had an enormous double bed which faced out over my own private decking and into the wilderness, had a claw footed bath and two outdoor showers. 
With the luxurious experience that I'd had so far I was expecting great things on our game drive. There were five of us in the group, and despite there being other people in the lodge we had a vehicle to ourselves. So off we set in search of those elusive wild dog, hyena and lion. We were having a briefing with our guide Bali when he asked us what animals we'd most like to see.
"Wild dog", "hyena", " lion", we all called simultaneously. I got the impression that Bali had heard these requests on a regular basis. I'm sure he was hoping for the day when somebody requested to see a dung beetle. Not that dung beetles aren't interesting, far from it, but even when I go on safari I want to see something large and ferocious as well as the small and dainty creatures.
Tracking Hyena in Botswana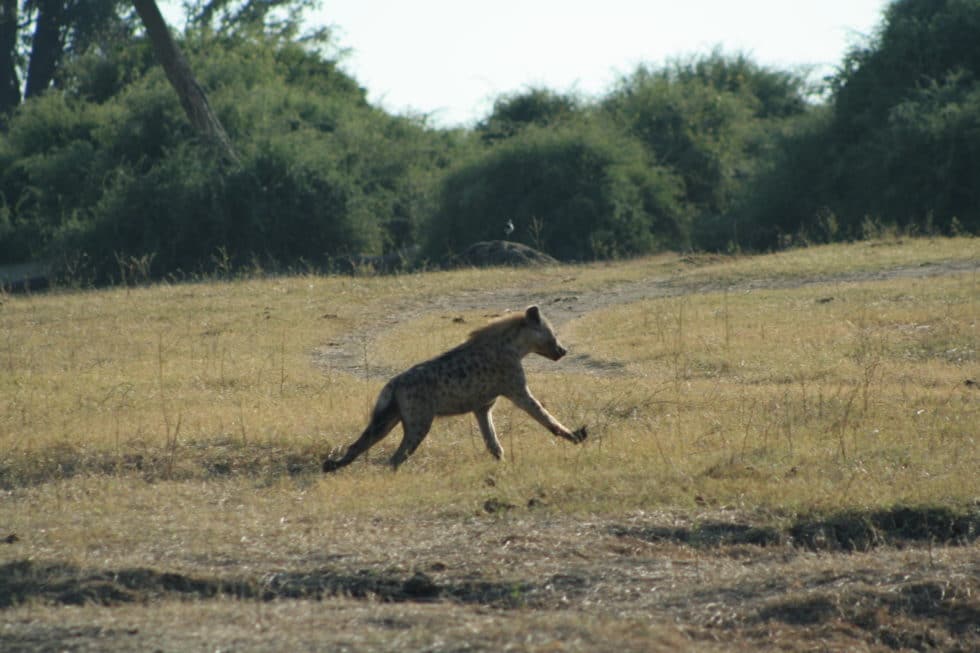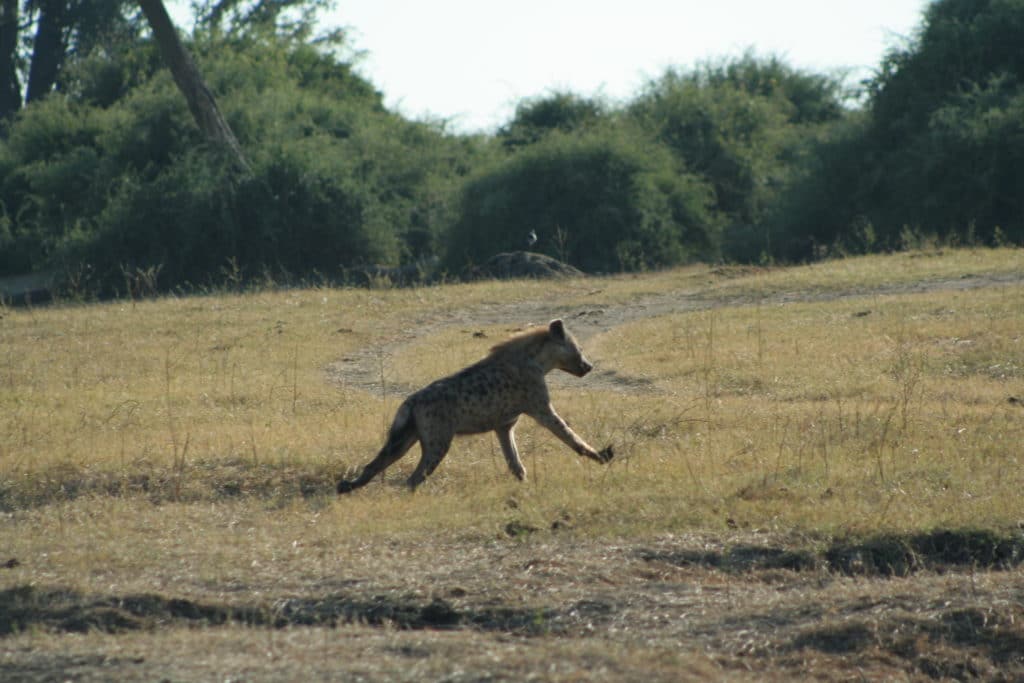 And we certainly stood a greater chance than usual on our game drive as we had a tracker with us. He was sitting right at the front of the vehicle and spent most of his time looking at the ground, reading the signs of the wildlife in the area. He could discern the different animals that had walked across the track, how long ago the animals have passed, which direction they were going and could estimate how far they probably were away from us at that very moment. We were in awe of him.
We'd had a wonderful game drive; seen lots of giraffe and zebra, numerous hippo in a large dam, had a gin and tonic sundowner, seen a porcupine and also a herd of elephant. Night had fallen. The remaining journey back to our 'tents' was spent following the spotlight in a hypnotic trance. We were trying to spot secretive nocturnal animals.
Suddenly our guides were alert and as we rounded the corner there beside a small watering hole were two hyena. They both looked at us suspiciously and one of them immediately lumbered off into the night. Bali gave a silent chuckle whispering to us that it was probably the male that had fled. The female was more courageous and was no doubt the one still looking at us.
Hyena Curiosity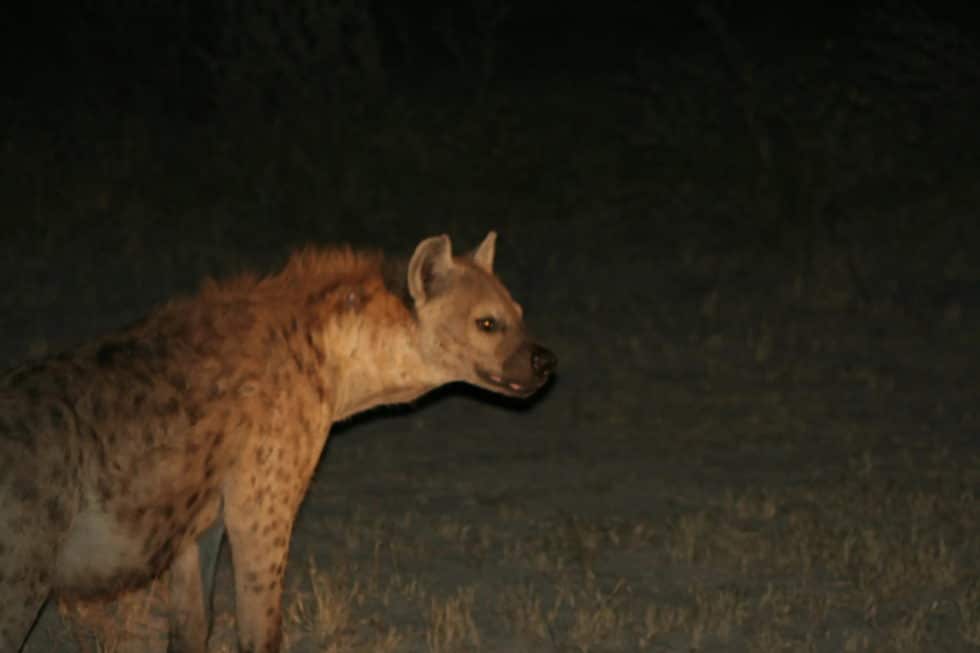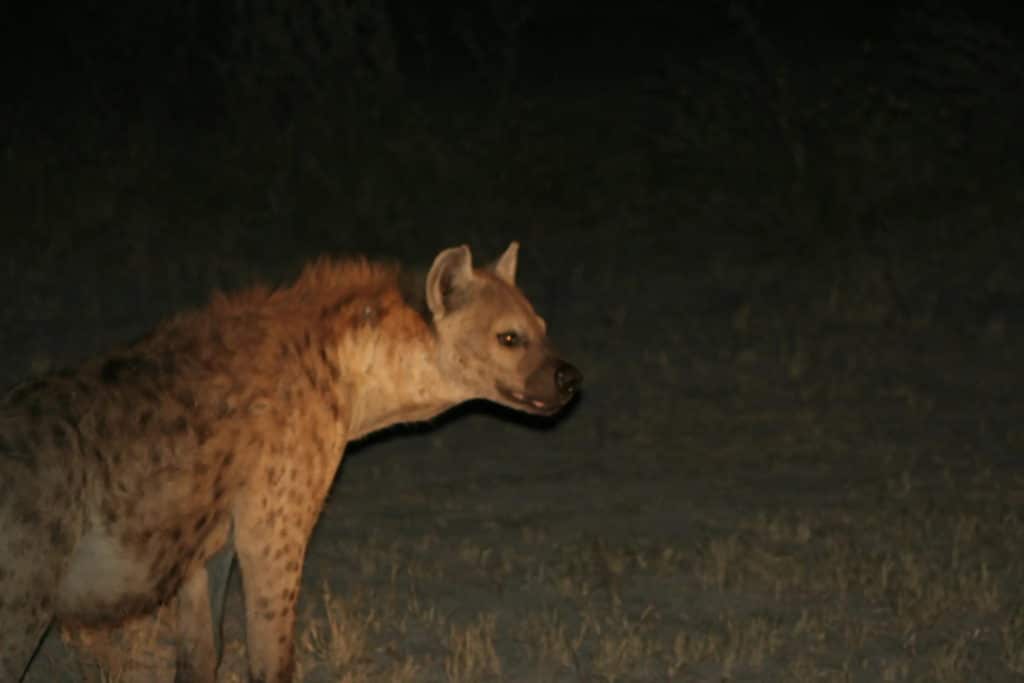 The hyena tentatively approached the vehicle, becoming curious in us. She must have circled the Land Rover at least three times, giving us an excellent sighting of her. It was then that I realised our guide was making some sort of subtle noise that had piqued her curiosity. She didn't seem agitated just inquisitive as to what the mysterious sound was. It obviously puzzled her. It puzzled me too – what was he saying to her?
She paused and looked at us again, oblivious to camera flashes and the spotlight, much more interested in the conversation nearby.
And then with one backward glance she was gone into the night leaving us all with that "wow" expression and feeling privileged at such a wonderful sighting of hyena in Botswana.
After a glorious soak in my private bath and a delicious meal under the African starlit sky I went to bed to find elephants feeding around my tent. The hyena really did put on a show for us that day!