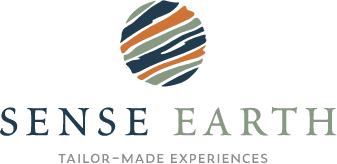 Northern Zimbabwe is the country's most popular region for wildlife safaris, because of its game-rich wilderness areas. Mana Pools is known for wildlife visibility beside the river and in the flood plains whereas Hwange has numerous predators and many elephants. End with the wildlife area around the Zambezi and you're in for a treat.
The ultimate wildlife experience in extraordinary habitats.
Price
Dates
N°· of nights
N°· of guests
Holiday type
Weather
Price includes
From £7,750 per person based on twin share
Your choice
9 nights in country and 2 nights of air travel
2 – 4 people
Tailor-made holiday
Temperature range of 12 – 28 C, dependant on the time of year

Flights from the UK, all transfers, accommodation, meals where stated and back up service.

Suggested add ons: maybe hop over the border into Botswana for a few days.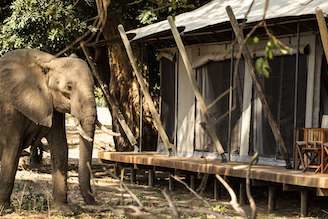 Days 1 - 3
Ruckomechi Camp, Mana Pools National Park - remote wilderness
Located in northern Zimbabwe, the life-giving power of the Zambezi River makes Mana Pools National Park one of Zimbabwe's most lush and flourishing regions. Designated as a UNESCO World Heritage Site, it is known for its natural beauty and as one of the continent's premier game-viewing areas. There are an array of activities such as canoe trips and guided walks. Other popular activities include game drives, river cruises, nature walks, bird watching, fishing and searching for dinosaur tracks.
Accommodation: there are ten spacious en-suite tented units which lie beneath the ana trees, best-beloved of local elephant for their nutritional seeds. The whole camp enjoys incredible views across the Zambezi to the towering escarpment on the Zambian side of the river.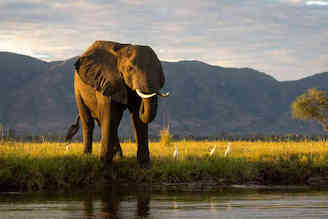 Days 4 - 6
Little Makalolo Camp, Hwange National Park - safari galore
A charming, intimate camp in the south-east of The Hwange National Park, "Little Mak" features prominently on the mental maps of local wildlife, all drawn to its reliable, vibrant waterhole. Hwange, the country's biggest reserve, home to a profusion of wildlife, including giraffe, lion, zebra and approximately 40,000 elephants. Providing a sanctuary for all the country's endangered species including a population of wild dogs thought to be the largest on the continent.
Accommodation: the six spacious en-suite tents are only surpassed in the experience stakes by the opportunity to sleep out at the Madison Pan star bed. Chalets are simple but tastefully decorated and each has an en-suite bathroom with indoor and outdoor showers.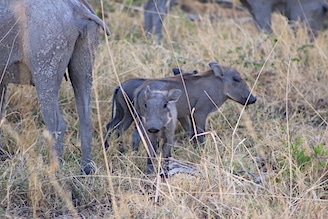 Days 7 - 9
Old Drift Lodge - explore Zambezi National Park
Upstream from the iconic Victoria Falls is the Zambezi National Park, a pristine piece of land on the banks of the Zambezi River. The lodge boasts luxury, family-friendly accommodation overlooking 56,000-hectares of untouched natural beauty. Activities emphasise the rich natural environment, focusing on the abundance of wildlife that roam through the Park and swim the Zambezi River. This natural utopia can be explored by road, river or on foot. It's a truly awe-inspiring experience.
Accommodation: each air-conditioned suite decorated with stylish furnishings, fitting of the bygone eras, with private viewing deck, indoor and outdoor showers, plunge pool and an outdoor bath overlooking the Zambezi.
With Sense Earth you will get an excellent and personalised service and the holiday you hoped for. The places we stayed were chosen carefully as a result of detailed planning.