Wildlife Safari to Uganda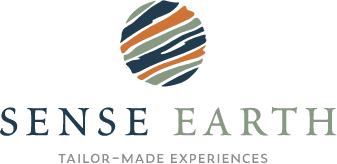 Encounter a host of wildlife and enjoy exquisite scenery. Experience primate tracking through tropical rainforests and spend time with Uganda's mountain gorillas and chimpanzees. Visit Ziwa Rhino Sanctuary to view southern white rhino and learn about this successful conservation project. Also, view game during boat rides on some of the country's most beautiful stretches of water.
This safari also allows time to interact with local communities to learn about their culture and participate in some of their traditional activities.
| | | | | | | |
| --- | --- | --- | --- | --- | --- | --- |
| Price | Dates | N°· of nights | N°· of guests | Holiday type | Weather | Price includes |
| From £6,950 per person based on twin share | Your choice | 14 nights in country and 2 nights of air travel | 2 people | Tailor-made holiday | Temperature range of 16 – 28 C | Flights from the UK, all transfers, accommodation, breakfast, lunch and dinner, and all activites as per itinerary |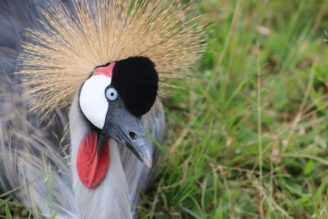 Day 1
The Boma Hotel - Entebbe
Set in tropical gardens in a leafy suburb, a few minutes' drive from Entebbe International Airport, the Boma Hotel provides the perfect surroundings for guests and is a convenient stop over when entering the country via the city's international airport. Enjoy the large tropical hotel garden teeming with birdlife. It's well worth taking a walk around, there are several hidden alcoves with seating areas, perfect for relaxing with a book or a drink.
Accommodation: all en-suite rooms with private verandas are tastefully decorated in an eclectic African European style to reflect the local culture. Hand carved furniture and local artwork are sourced locally to support nearby communities.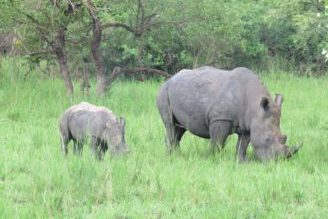 Day 2
Amuka Safari Lodge - Rhino Sanctuary
Experience Africa as it was meant to be seen from Amuka Lodge, nestled in a pristine woodlands forest, in the heart of the world-renowned Ziwa Rhino Sanctuary. Bringing you breathtaking encounters with Uganda's only wild rhinoceros as well a wide array of birds and wildlife. With unfenced chalets that make the most of the bush environment, here you will find an escapist feel of seclusion like nothing else exists in the world.
Accommodation: en-suite chalets constructed from hardwood timber and stone. All chalets are complete with large, personal verandas where visitors can lounge on safari chairs and take in the serenity of the surroundings.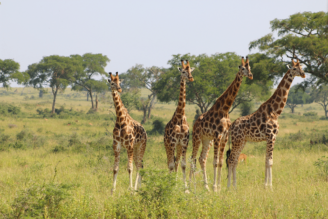 Days 3 - 4
Fort Murchison - River Nile
Set on the Eastern banks of the slow flowing Albert Nile, Fort Murchison revokes the idea of a well-maintained isolated outpost from times where Arab traders frequented the African hinterlands and legendary explorers led expeditions in search of the source of the Nile. The Murchison Falls National Park lays at the northern end of the Albertine Rift Valley, where the Bunyoro escarpment merges into the vast plains of Acholiland.
Accommodation: en-suite spacious bedroom with comfortable beds, bathrooms with countersunk basins and showers with plenty hot water from solar heaters. All rooms boast a private balcony with its own sofa.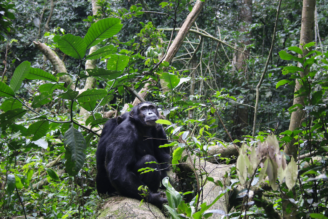 Days 5 - 6
Turaco Treetops - Kibale National Park
Turaco Treetops is Kibale Forest' newest semi-luxe lodge. An excellent, eco-friendly, spacious lodge creating an uncomplicated, and warm-hearted atmosphere and offering guests a unique experience in the forest with stunning views over the snow-capped Rwenzori Mountains. Immerse yourself in nature in the lodges' 5.2 hectares of rain forest, neighbouring the lush Kibale National Park, famous for its chimpanzees. Explore the forest and see chimpanzees up close.
Accommodation: the eight cottages are designed to 'bring the outdoors inside' and mix modernity with an 'African feel' by using clean lines in combination with wood and other natural materials. It's a nature lovers' location, with beautiful gardens and walkways to the rooms.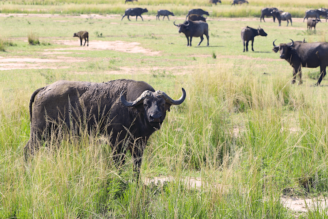 Days 7 - 8
The Bush Lodge - Queen Elizabeth adventure
In western Uganda, surrounded by the Queen Elizabeth National Park and bordering the Kazinga channel, the lodge has a truly unique setting. With the tented camp on the river, high up on the bank with views of hippo pods. An excellent base for your safari activities in Queen Elizabeth National Park. Early morning game drives through Kasenyi Plains or the Ishasha sector. Boat tours on the Kazinga channel cruising just meters from hundreds of hippos and buffalos.
Accommodation: 12 en-suite self-contained bandas, spaciously placed between the indigenous bush. The rooms are built on a raised wooden platform and made from a combination of canvas and local materials.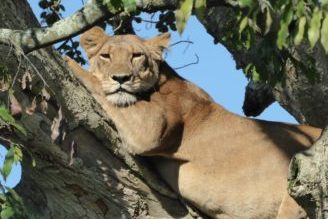 Day 9
Ishasha Jungle Lodge - tree climbing lions
Surrounded by riparian forest vegetation and acacias Savannah, Ishasha Jungle Lodge is a small eco-friendly lodge, entirely made with local materials and African art. Located just 2 km from the Katokye Gate of the Queen Elizabeth National Park along River Ntungwe. The lodge is in an arena of photographic views, a perfect location for your photographic safaris and game drives in the Ishasha sector of Queen Elizabeth National Park.
Accommodation: raised en-suite wooden deck cottages, spacious rooms, and bathroom, all finished with canvas. Mosquito netting hanging from ceilings covering each sleeping area. The eco-lodge uses clean energy and power. Solar systems give 24hr power and hot water to all cottages.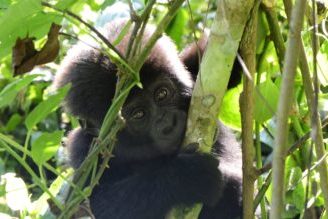 Day 10
Engagi Lodge - community visit
Engagi Lodge in Bwindi is a modern lodge in a breathtaking setting offering stunning views over the forest canopy. The lodge is situated in a large tract of land contiguous to the Bwindi Impenetrable Forest National Park and runs from the main road to the Park Headquarters down to the Munyaga river. Bwindi Impenetrable Forest National Park is one of the richest ecosystems in Africa and the diversity of species is a feature of the park.
Accommodation: en-suite cottages, spaced out and hidden in the foliage. Each cottage has either double or twin beds, a bathroom with flushing toilets and hot and cold running water. All have private verandas where guests can enjoy their morning tea or coffee as they watch out over the forest canopy.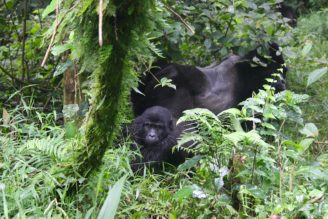 Day 11
Chameleon Hill Lodge - Gorilla tracking
Perched high atop a hill, overlooking Lake Mutanda in southwestern Uganda, is Chameleon Hill Lodge. This amazing place is one of a kind, from the quirky, colourful architecture, the spectacular scenery, and the friendly, welcoming staff; the local experiences, and the food, are just a few that will be forever imprinted in your minds. This exclusive, colourful and vibrant lodge enjoys spectacular views across the lake with the Virunga Volcanoes as a magnificent backdrop.
Accommodation: each room has its own unique charm and character, with its own colour scheme and private garden, and they all share stunning views across the lake. You will find a modern en-suite bathroom and shower with a panorama window to enjoy the views of the lake and volcanoes.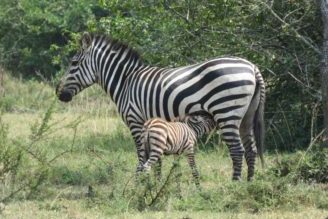 Days 12 - 13
Mihingo Lodge - cycling safari
Mihingo is a luxurious, family-owned lodge in a magical setting adjacent to Lake Mburo National Park. Perched high on a rocky kopje, whose pre-Cambrian granite boulders were formed over 500 million years ago, it has spectacular views over a vast savannah landscape. Designed to blend in with its fragile surroundings, this environmentally friendly lodge offers comfort, relaxation, an infinity pool overlooking the valley below and the experience of being at one with nature.
Accommodation: luxury, spacious, canvas tented rooms with en-suite bathroom with hot and cold running water, showers, and flush loos. All rooms are designed to provide guests with privacy and tranquillity and sensitively designed to complement the local environment with great attention to detail.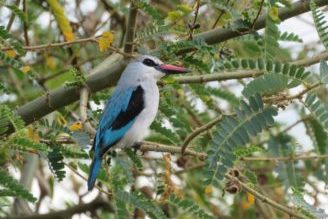 Day 14
The Boma Hotel - pass across the Equator
Return to The Boma Hotel in Entebbe via the Equator for the final night's stay of your Ugandan adventure. Visit Mabamba wetlands, one of Uganda's 12 RAMSAR sites – sites of international importance to conservation. Take a boat ride on this extensive marsh, in search of the globally threatened Shoebill and other water birds. Return to visit Entebbe's craft village for some last minute souvenir shopping, before transferring to the airport for your flight home.
Accommodation: enjoy a relaxing dip in the hotel swimming pool. Enjoy the large tropical hotel garden teeming with birdlife. It's well worth taking a walk around, there are several hidden alcoves with seating areas, perfect for relaxing with a book or a drink.
Good advice, a personalised service catering to our particular requests and an abundance of good information which was both helpful and informative. The places we stayed were obviously chosen carefully to match our preferences for holiday activities and they were perfect.
Dennis and Sarah Gornall