Walking Wildlife Safari To Uganda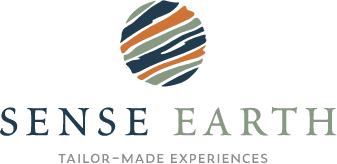 Explore the country's magical natural habitats. Experience the thrill of the African bush by foot and enjoy spectacular views and go off the beaten track to gain a deeper insight into daily life and the traditional and modern culture of Uganda and it's friendly people. Get up close to a host of wildlife, including Uganda's iconic mountain gorillas and chimpanzees. Prepare for unforgettable adventures in the wild!
| | | | | | | |
| --- | --- | --- | --- | --- | --- | --- |
| Price | Dates | N°· of nights | N°· of guests | Holiday type | Weather | Price includes |
| From £6,750 per person based on twin share | Your choice | 13 nights in country and 2 nights of air travel | 2 people | Tailor-made holiday | Temperature range of 16 – 28 C | Flights from the UK, all transfers (private), accommodation, breakfast, lunch and dinner, and all activities as per itinerary |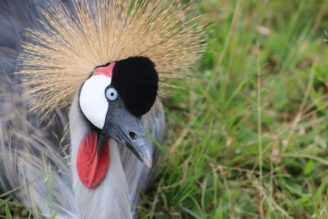 Day 1
The Boma Hotel - Entebbe
Set in tropical gardens in a leafy suburb, a few minutes' drive from Entebbe International Airport, the Boma Hotel provides the perfect surroundings for guests and is a convenient stop over when entering the country via the city's international airport. Enjoy the large tropical hotel garden teeming with birdlife. It's well worth taking a walk around, there are several hidden alcoves with seating areas, perfect for relaxing with a book or a drink.
Accommodation: all en-suite rooms with private verandas are tastefully decorated in an eclectic African European style to reflect the local culture. Hand carved furniture and local artwork are sourced locally to support nearby communities.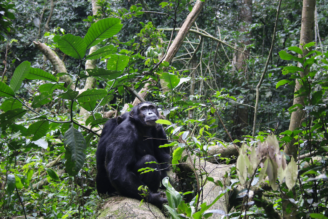 Days 2 - 3
Turaco Treetops - Kibale National Park
Turaco Treetops is Kibale Forest' newest semi-luxe lodge. An excellent, eco-friendly, spacious lodge creating an uncomplicated, and warm-hearted atmosphere and offering guests a unique experience in the forest with stunning views over the snow-capped Rwenzori Mountains. Immerse yourself in nature in the lodges' 5.2 hectares of rain forest, neighbouring the lush Kibale National Park, famous for its chimpanzees. Explore the forest and see chimpanzees up close.
Accommodation: the eight cottages are designed to 'bring the outdoors inside' and mix modernity with an 'African feel' by using clean lines in combination with wood and other natural materials. It's a nature lovers' location, with beautiful gardens and walkways to the rooms.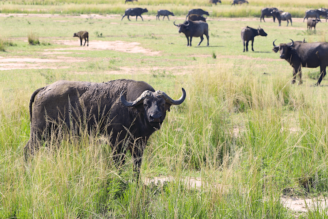 Days 4 - 5
The Bush Lodge - Queen Elizabeth adventure
In western Uganda, surrounded by the Queen Elizabeth National Park and bordering the Kazinga channel, the lodge has a truly unique setting. With the tented camp on the river, high up on the bank with views of hippo pods. An excellent base for your safari activities in Queen Elizabeth National Park. Early morning game drives through Kasenyi Plains or the Ishasha sector. Boat tours on the Kazinga channel cruising just meters from hundreds of hippos and buffalos.
Accommodation: 12 en-suite self-contained bandas, spaciously placed between the indigenous bush. The rooms are built on a raised wooden platform and made from a combination of canvas and local materials.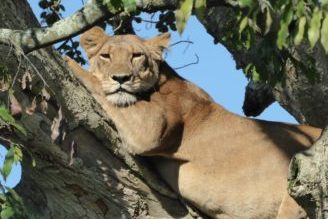 Day 6
Ishasha Jungle Lodge - tree climbing lions
Surrounded by riparian forest vegetation and acacias Savannah, Ishasha Jungle Lodge is a small eco-friendly lodge, entirely made with local materials and African art. Located just 2 km from the Katokye Gate of the Queen Elizabeth National Park along River Ntungwe. The lodge is in an arena of photographic views, a perfect location for your photographic safaris and game drives in the Ishasha sector of Queen Elizabeth National Park.
Accommodation: raised en-suite wooden deck cottages, spacious rooms, and bathroom, all finished with canvas. Mosquito netting hanging from ceilings covering each sleeping area. The eco-lodge uses clean energy and power. Solar systems give 24hr power and hot water to all cottages.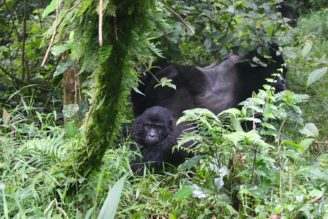 Day 7
Ichumbi Gorilla Lodge - Gorilla tracking
Ichumbi, derived from the local Rufumbira dialect means 'a cool, comfortable home'. Ichumbi Gorilla Lodge is just a 10 minutes' walk to Rushaga gate of Bwindi Impenetrable National Park, in south-western Uganda, of which you have a spectacular view of the park right from your room! Enjoy your Gorilla tracking experience in the UNESCO designated World Heritage Site, go birding watching and enjoy forest life surrounded by impressive landscape.
Accommodation: the luxury cottages, each with en-suite facilities with hot showers and a private balcony to enjoy the spectacular view of Bwindi Forest and beautiful surrounding landscapes. Each wonderful room is individually designed, with double or twin beds and a large space for luggage.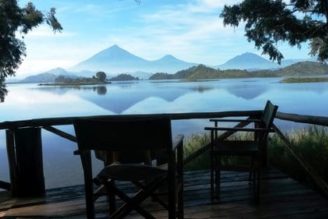 Days 8 - 11
Mutanda Lake Resort - community walks
Perched on Lake Mutanda peninsula in the shadow of the Virunga Mountains, the resort offers comfortable accommodation combined with the most beautiful views across the lake, to the skyline dotted with volcanoes, this resort is heavenly. Built on a hill, offering rooms with spectacular views from their private balconies. This is a perfect base for gorilla trackers, lake loungers, volcano hikers and bird lovers as well as those looking for a mystical place in nature.
Accommodation: each cottage comes with a private veranda and en-suite bathroom. Double or twin comfortable beds with mosquito nets. The lodge provides free wireless internet from the restaurant, enabling you to share your gorilla experiences with your friends back home!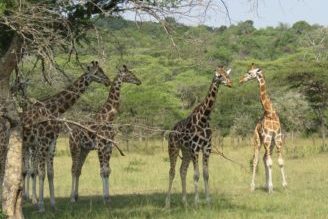 Days 12 - 13
Rwakobo Rock - Lake Mburo National Park
Rwakobo Rock is a peaceful and secluded retreat, nestled on a scenic outcrop, where you can breathe in the essence of wild Uganda. The comfortable and spacious cottages are dotted around the hill, all very private and offering great sunset views. Lake Mburo National Park's 260km² comprises a wide variety of habitats. Rolling grassland hills, savannah valleys, and woodland. Supporting a large diversity of megafauna. It is the best place to find eland, zebra, and impala in Uganda.
Accommodation: thatched cottages with solar lighting, flush toilets, and solar heated showers, which blend into the natural landscape and around the hillside taking advantage of rocky ledges and secluded corners. Relax around the campfire where you can watch the sunset explode into a brilliant starlit sky.
Your amazing knowledge, observation skills, organisation, patience and friendly nature have made this a fantastic holiday.
Dianne