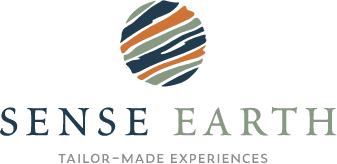 This wildlife journey is perfect for nature lovers. After spending time in Sri Lanka's largest and oldest park Wilpattu, you will go in search of elephants at Minneriya National Park. At Gal Oya, there is a chance to see some of Sri Lanka's nocturnal creatures.
Next stop is Yala National Park where you will take Jeep safaris in the hope of seeing leopard. Bird watchers will love Bundala, a UNESCO biosphere reserve where large flocks of greater flamingo congregate. Explore the trails of Sinharaja rainforest, home to 95% of Sri Lanka's endemic birds.
The final stop of this journey is Mirissa, one of the few places in the world where you may see blue whales.
Price
Dates
N°· of nights
N°· of guests
Holiday type
Weather
Price includes
From £4,895 per person based on twin share
Your choice
13 nights in country and 2 nights of air travel
Minimum of 2 people
Tailor-made

Temperature range of 23 – 33°c

Flights from the UK, internal flights, transfers, guides, accommodation, meals and activities where stated and back up service.

Time to visit: November to April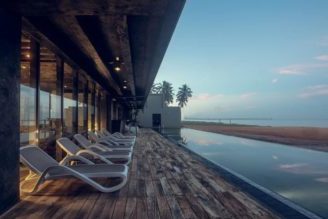 Day 1
Pledgescape - Negombo
On arrival in Sri Lanka, you will be met and assisted by our local representative, who will introduce you to your driver who will transfer you to Negombo. This city, on the west coast of Sri Lanka, north of the capital, Colombo, was once a trading port for the Dutch and British. Negombo has developed into a bustling modern town with a handful of reminders of its colonial past. Negombo Lagoon, lined with fishermen's huts, feeds into the Dutch-era Hamilton Canal.
Accommodation: the Pledgescape hotel is situated close to the international airport; this beachside property is a wonderful place to recover from any jet lag before your wildlife adventures begin.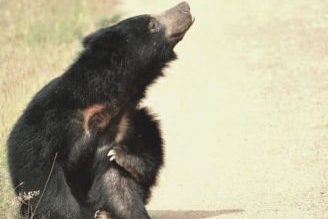 Days 2 - 3
Big Game Camp - wildlife viewing
After breakfast, you leave for Wilpattu National Park. The park is located in Sri Lanka's northwest coast and is Sri Lanka's oldest and largest national park. It's home to leopard, elephants, deer, Sri Lankan sloth bears and crocodiles. Between the jungle foliage, you will find villus – natural lakes that attract an abundance of bird life. During your stay, you will take morning and afternoon Jeep safaris into the park in search of its wildlife, returning to the camp for delicious meals.
Accommodation: located on the southern side of the park and surrounded by forest, Big Game Camp offers tented en-suite accommodation. Meals are normally served al fresco by the lake.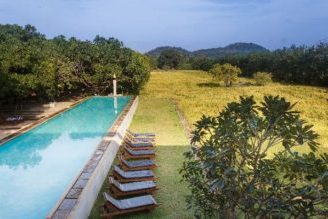 Day 4
Sigiriana, Dambulla - Minneriya
After a final morning safari in Wilpattu you will leave for Dambulla, a small village and a central location for all the ancient city sites. In the afternoon you will leave for a Jeep safari into Minneriya National Park, home to Sri Lanka's favourites such as spotted and sambar deer and wild Asian elephants. Known as 'the gathering', where the elephant numbers increase as they come to feed on the lake beds. Plantation tours and nature walks with a guides can be arranged locally.
Accommodation: Sigiriana Resort is surrounded by paddy fields and mango, banana and cashew plantations. Facilities include a swimming pool, tennis and volleyball courts.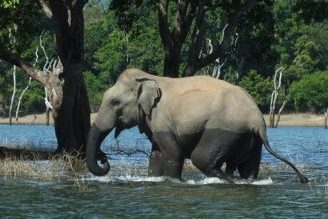 Days 5 - 6
Gal Oya Lodge - jeep safaris
After breakfast leave for Gal Oya, one of Sri Lanka's most remote and least visited wilderness areas. Join one of the resident naturalists for a night walk in the forests surrounding the lodge where you may encounter nocturnal amphibians, reptiles, mammals and birds. The next morning you will be taken on a Jeep safari into Gal Oya National Park. This hidden gem was once the protectorate of ancient royalty due to its abundance of medicinal plants. Look out for deer, herds of elephants, kingfishers, kites and eagles.
Accommodation: Gal Oya Lodge is set within 20 acres of private jungle. Built using natural materials, the spacious bungalows have an al fresco bathroom and garden veranda.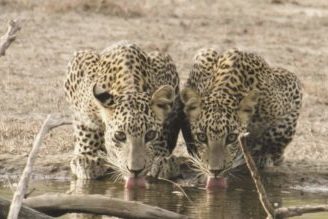 Day 7
Big Game Camp - Yala National Park
After breakfast leave for Yala, the most visited and second largest national park in Sri Lanka. In the afternoon you will take a Jeep safari into the park. Yala National park is one of Sri Lanka's premier parks and is renowned for its variety of wildlife notably its many elephants, sloth bears and its high concentration of leopard.
Accommodation: Big Game Camp is surrounded by nature and is a 20-minute drive to the park's entrance. Most meals at this tented camp are served outdoors with dinner under the stars a memorable experience.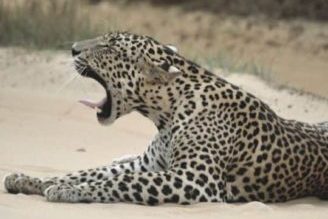 Day 8
Bundala and Yala National Parks
This morning you will go on a safari into Bundala National Park. Bundala is an internationally important wintering ground for migratory water birds in Sri Lanka with nearly 200 species of birds, including the greater flamingo which migrate here in large flocks. Bundala became Sri Lanka's first wetland Ramsar site and was designated as a biosphere reserve by UNESCO. Bundala National Park is an excellent choice for birders, and you've also got a good chance of spotting crocodiles, wild boar, monitor lizards, monkeys and elephants.
Accommodation: there is a watering hole at the Big Game Camp, so between safaris you may see wildlife within the camp.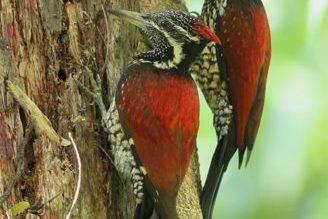 Days 9 - 10
The Rainforest Eco Lodge - Sinharaja
Enjoy an early morning game drive around Yala National Park. Return to the camp for a late breakfast before leaving for Sinharaja Rainforest. Occupying a broad ridge at the heart of the island's wet zone, most days the jungle is shrouded by rain clouds. Recognising its importance to the island's ecosystem, UNESCO declared the Sinharaja Forest Reserve a World Heritage Site in 1989. During your time here you will be taken on guided trails through the rainforest and the surrounding tea plantations.
Accommodation: The Rainforest Eco Lodge borders the Sinharaja Rainforest. Each en suite chalet has a private deck overlooking the rainforest.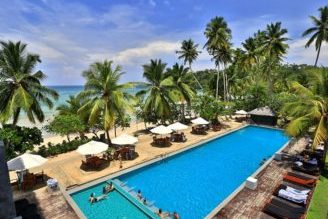 Days 11 - 13
Paradise Beach Club - whale watching
Sinharaja is home to 95% of Sri Lanka's endemic birds and you may see some of them during your early morning bird and butterfly watching trail. Afterwards, leave for Mirissa, a stunning crescent beach on Sri Lanka's southern coastline. An early start the next morning will take you out by boat on a whale watching excursion. The main season from November to April and, subject to weather condition. The ultimate experience is to see the mighty blue whale. The next day is at leisure where you may want to check out the spa or beach.
Accommodation: Paradise Beach Club is situated on the sandy Mirissa Beach in the picturesque resort of Negombo. There are 56 rooms set around a swimming pool.
The places we stayed were lovely and the people so welcoming and every part of the holiday worked like clockwork down to the diligent planning.
Barnfield family