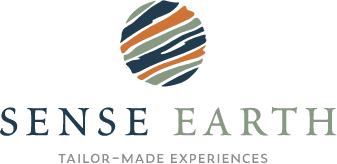 Journey through Madhya Pradesh, the true centre and heartland of India. Drive through forested areas, and past rural villages where most of the population still live in vivid indigo blue mud and thatch houses. The areas forests were made famous by Rudyard Kipling and many have subsequently been turned into National Parks in order to preserve their unique, rich and varied wildlife. Other captivating treasures include the imposing fort at Gwalior and the Scindia palace museum which houses an excellent collection of art.
Step back 100 years in time, it is a privilege to witness.
Price
Dates
N°· of nights
N°· of guests
Holiday type
Weather
Price includes
From £4,850 per person based on twin share, single supp £280
Your choice
12 nights in country and 2 nights of air travel
Minimum of 2 people
Tailor-made holiday
Temperature range of 15 – 30 C

Flights from the UK, internal flights, transfers, guides, accommodation, meals and activities where stated and back up service.

Time to visit: October – June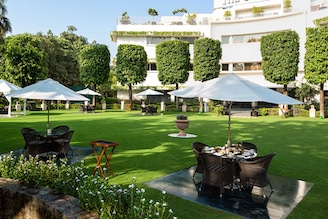 Days 1 - 2
Delhi - immerse into city life
Explore Delhi with your city expert. This experience can be customized depending on your interests. There are forts, palaces, old market places, museums and art galleries. Visit the Kingdom of Dreams for a Bollywood style theatre followed by dinner. A 10-minute walk from Khan Market and Lodi Gardins, The Claridges Hotel enjoys a very central, yet peaceful location. Right on the cusp of New and Old Dehli. A historical landmark, this hotel is an ideal location to enjoy India's magnificent past, with modern luxuries for a comfortable stay.
Accommodation: The Claridges Hotel, Delhi provides a luxury accommodation where you can witness the magic of old Delhi along with the modern luxury of New Dehli.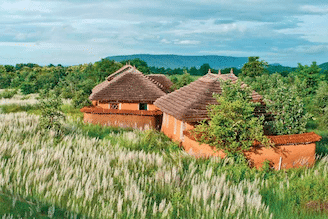 Days 3 - 5
Sarai at Toria - temples and tigers
India's most titillating town is famed far and wide for the erotic stone carvings that swathe Khajuraho's three groups of World Heritage-listed temples. Visit Ajaygarh hilltop Fort which is a mix of culture, heritage and wildlife. The fort lies several hundred steps on a steep outcrop overlooking the small rural town of Ajaygarh. Then safari in Panna Tiger Reserve. The park was originally part of Project Tiger and its forest are full of an amazing diversity of wildlife found in Central Indian forests and a land of mesmerising waterfalls.
Accommodation: this is a charming earth-friendly property on the banks of the Ken River, close to Khajuraho and Panna Tiger Reserve in Madhya Pradesh, surrounded by wildlife, culture and tranquil scenery.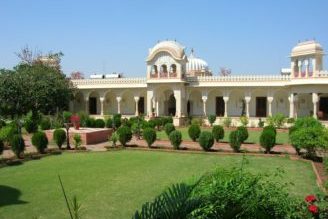 Day 6
Orchha - historical explosion
After an early lunch, transfer by road to Orchha, visit palaces, forts and temples. For nearly 300 years it was one of the most important urban areas leaving the town with a supreme display of Mughal-influenced Rajput architecture in the shape of spectacular palaces, temples and royal chhatris (cenotaphs). Historical Orchha, in the town of Madhya Pradesh, meaning 'hidden' ancient medieval town, was founded in the 16th century and is home to Mughal influenced Rajput architecture and other stunning ancient temples and gardens.
Accommodation: Amar Mahal, Orchha. The architecture of Amar Mahal is built like the Rajput house of Bundelkhand. It is a perfect gateway to experience the historical and natural splendour of the surrounding area.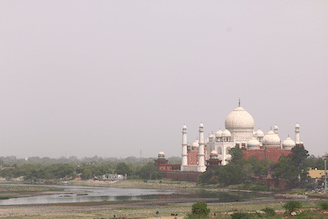 Days 7 - 8
ITC Mughal - the iconic Taj Mahal
Explore the city of love and longing, meticulously planned, built and nurtured by three successive Mughal emperors. Visitors to Agra are transfixed by the medieval charms retained by this city made famous by the Taj Mahal. A city where forts, museums and monuments blend harmoniously with their surrounding nature. Step into the Mehtab Bagh, a beautifully laid out garden on the other side of the Yamuna to be wowed by another spectacular view. Some say its the most memorable view of the Taj.
Accommodation: this luxury hotel in Agra is a fitting tribute to the great Mughal builders of the past, full of splendour and perfection which was the hallmark of the Mughal Dynasty.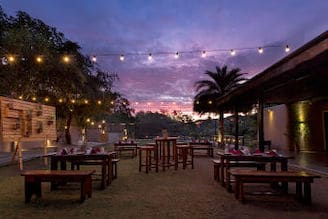 Days 9 - 10
Jehan Numa Retreat - Bhopal wonders
Split by a pair of lakes, Bhopal offers two starkly contrasting cityscapes. North of the lakes is Bhopal's Muslim-dominated old city, a labyrinthine area of mosques and crowded bazaars. South of the lakes is more modern, with some excellent museums and restaurants nestled comfortably in the Arera and Shyamla Hills. Explore Sanchi village, a major Buddhist pilgrimage site and visit the Tribal Museum, an enchanted forest that is unlike any museum you will have visited before.
Accommodation: sprung up from the earth at the edge of a green forest is this snug lodge, created in the tradition of culture and life that is nourished by its relationship with nature. Peace and tranquillity.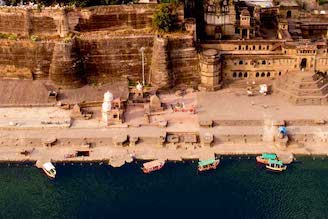 Days 11 - 12
Ahilya Fort - visit Maheshwar ghats
Maheshwar has long held spiritual significance with its ancient ghats and temples on the holy Narmada River. The ghats are a whirl of colour and interest and the compact old quarter is a pleasure to explore. It is dominated by its fort, whose huge ramparts, towering above the river ghats, were built by Emperor Akbar.  Visit picturesque Mandu home to some of India's finest examples of Afghan architecture and the plateau is littered with World Heritage-listed palaces, tombs, monuments and mosques.
Accommodation: the hotel is set in 18th century buildings where  you can stroll through linked courtyards, fountains, and gardens. It is easy to find a secluded spot to read a book, sip some tea, or just watch the butterflies flutter by.
The organisation is impeccable. We made so many amazing memories and left us with stories to dine out on for a lifetime! Thank you so very much for everything."
Sarah Jones