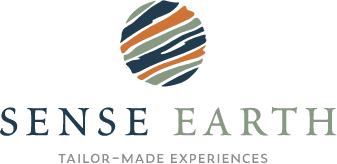 Namibia is a vast country where wildlife graze in the shimmer of mirages and there is a wilderness waiting for you to explore. Discover the northern part of Namibia, the less travelled and remoter areas, where you can immerse yourself into wide open spaces.
Have a memorable and inspiring holiday away from the crowds.
| | | | | | | |
| --- | --- | --- | --- | --- | --- | --- |
| Price | Dates | N°· of nights | N°· of guests | Holiday type | Weather | Price includes |
| From £4,950 per person based on twin share | Your choice | 12 nights in country and 2 nights of air travel | 2 – 4 people | Tailor-made holiday | Temperature range of 15 – 30 C, dependant on the time of year | Flights from UK, car hire, accommodation, meals where stated and back up service. |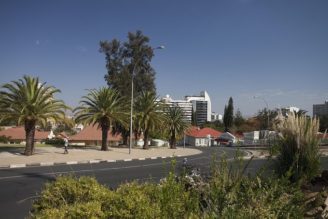 Day 1
The Elegant Guest House – explore Windhoek
Located in a quiet street in the heart of Namibia's capital city Windhoek, the Elegant Guest house offers a fusion of Namibian chic with modern creature comforts in which to relax and recover from your travels. The guesthouse is close to the city centre where you can explore the historic sights, shops and restaurants of the city. The guesthouse offers secure parking, a refreshing pool and tranquil gardens for guests to enjoy. It is a great place to start your Namibia journey.
Accommodation: beautiful twin en-suite rooms, with quality linen and a range of high-quality amenities to ensure restful sleep and a comfortable stay. The guest house will ensure you are ready for your trip into the vast expanse of Namibia.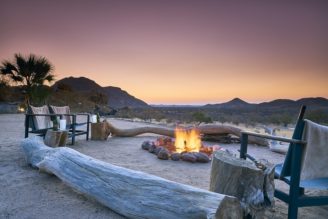 Day 2
Ai-Aiba Lodge
Ai-Aiba, the Rock Painting Lodge, is dramatically set amongst a mass of granite rock boulders in the foothills of the Erongo Mountain range. The view overlooking the Erongo Mountain Nature Conservancy is simply stunning. This is the place to come and explore an area rich in historic rock paintings, the focal point of their activities. A place of unimaginable beauty and history. Take a guided sundowner walk to end your first day In Namibia.
Accommodation: each air-conditioned twin room has a small lounge with a tea and coffee station and an electronic safe for valuables. The big bathroom comprises of a walk-in shower, luxury body products and a separate toilet.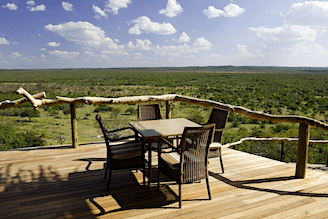 Days 3 - 4
Ongava Lodge – luxury at Etosha
Perched on the top of a small rocky outcrop, overlooking the plains below, Ongava Lodge was the original 'luxury game lodge' near Etosha. It stands on the private Ongava Game Reserve which borders the southern side of Etosha National Park. Ongava has resident white and black rhino, giving you the unique opportunity to see both of these charismatic species as well expert tours into Etosha. Birdwatching on the Ongava Reserve can also be very good.
Accommodation: attractively built brick, rock and thatch chalets which overlook the African bush. Each air-conditioned room has glass-fronted doors leading out to a private, covered veranda overlooking the plains. Pure luxury.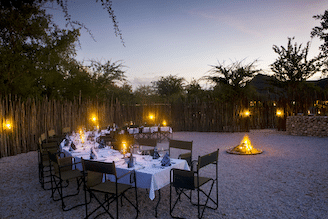 Days 5 - 6
Mushara Bush Camp - drive across Etsoha
The drive across Etosha is something else. Take it at your own pace and explore the vastness of Etosha. The Mushara Bush Camp offers a down-to-earth tented bush camp experience which is well suited as an exceptional affordable base for families exploring the magical Etosha Pan National Park. The main Bush Camp House is thatched and has a true bush camp feel to it. Meals are served on the thatched veranda with the bush being a mere step away.
Accommodation: each of the 16 custom made en-suite tents are built from canvas, wood and local limestone. With an 8 m2 private veranda and windows from floor to ceiling, these tents are spacious and airy.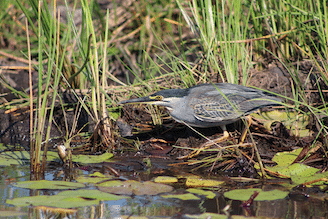 Day 7
Hakusembe River Lodge - Kavango River
The fresh balm of beauty soothes your weary soul. You have reached the verdant Hakusembe river oasis. River birds fly up between the reeds, people row their dugout canoes on the river and soft muted sounds float over the waters from the villages on the far bank. As you sit on the floating deck, legs up, book in hand absorbing the peace to the accompaniment of bird calls and the gentle splashing of water, all worldly worries float away.
Accommodation: 20 thatched chalets are wonderfully situated between large acacia trees and overlooking the Kavango River. Air-conditioning, a fridge, fan, mosquito nets, a tea/coffee station and an in-room safe are standard.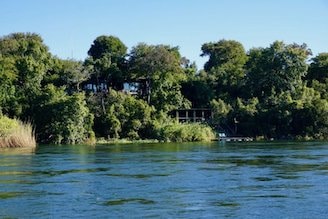 Day 8
Riverdance Lodge - visit Popa Falls
Overlooking the Kavango river, the lodge has a wonderfully peaceful ambience. More than 430 Namibian bird species have been recorded in the area and the region is considered one of Namibia's top birding destinations. Here, the course of the Kavango River is abruptly interrupted by rocks, creating a 4m high waterfall, Popa Falls, before the river enters Botswana and the Okavango Delta. Year-round water ensures an abundance of game.
Accommodation: the rooms are nestled amongst riverine woodland, emphasizing privacy and seclusion. They are all of a wooden and glass construction and set on the waterfront. Private walkways lead to your own luxurious bathroom.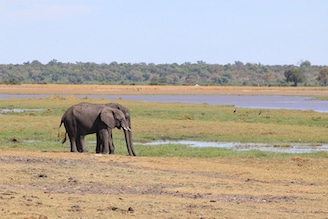 Days 9 - 10
Nkasa Lupala Tented Lodge - remote safaris
Set well off the beaten track, Nkasa Lupala Tented Lodge allows travellers to experience the wild beauty of the Nkasa Rupara park and Wuparo Conservancy. The camp is unfenced, allowing game to wander freely through. Standing admist trees in the beautiful and peaceful Wuparo Conservancy. Activities at the lodge focus on game drives with possible sightings of elephant, buffalo, hippo, wildebeest and lion, as well as antelopes and a wide variety of birds.
Accommodation: 10 tented rooms, all raised up on stilts like treehouses, give superb views of the surrounding area. Rooms are simple yet comfortable, with a double bed and wardrobe. Through glass sliding doors is a wooden veranda.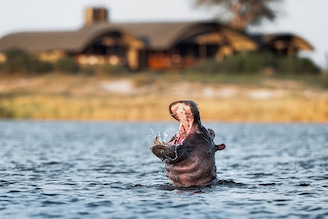 Days 11 - 12
Serondela Lodge – safari in Chobe
Situated on the Namibian banks of the Chobe river, Serondela Lodge is facing the world renowned Chobe National Park. This ensures all year round close encounters with free roaming wildlife, with Chobe most famous for being a major elephant corridor. Explore Chobe by boat in this exclusive setting. An incredibly beautiful area giving endless photographic opportunities, being situated within a very dynamic conservancy.
Accommodation: all 8 rooms are on high ground overlooking the banks of the Chobe river. Spacious and secluded with private viewing decks where you can relax and observe the herds of elephants, buffaloes and impala as they graze.
All in all another great Sense Africa trip, so thanks once again Jenny.
Duncan Laker