Night drive at Okonjima
"Would you like to go on a night drive or visit the night hide and maybe see African porcupine?"
I was having a truly scrumptious meal at Okonjima Bush Camp, Namibia.  There were only seven of us around the dinner table. The Bush Camp provides a genuine bush experience with the added extra of visiting a hide at night. I immediately jumped at the opportunity – I had been told that you can often see porcupine and honey badgers. It had been a long time since I had seen a porcupine and I thought going to the hide would nicely round off a spectacular day. Earlier on I had been seen both leopard and cheetah, so I was feeling lucky.
Only 3 of us decided we would like to go to the hide and we were told to come to reception in about half an hour. I had enough time to get back to my room and get my camera before the allocated time. I was really lucky, my room was the furthest room from the main part of the camp, I love the solitude, and wonderfully situated in the African bush. Each room has a bed that faces out into the bush and mosquito netting protects you from curious visitors. And at night you could still see the stars twinkling in the African sky. There is also a beautiful lounge area with numerous books to look up what you've seen that day. Everything has been so well thought out.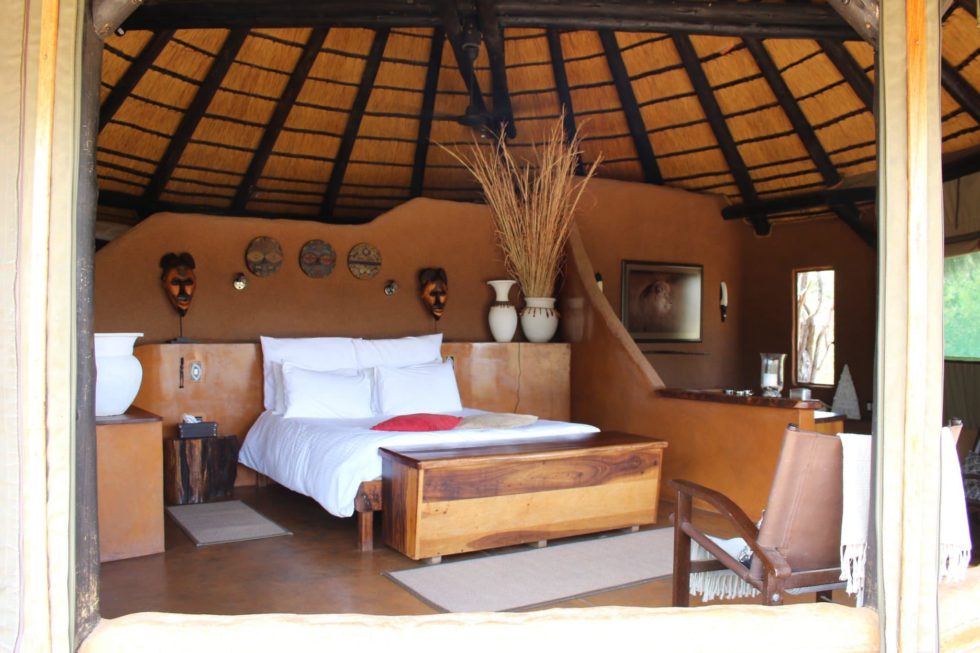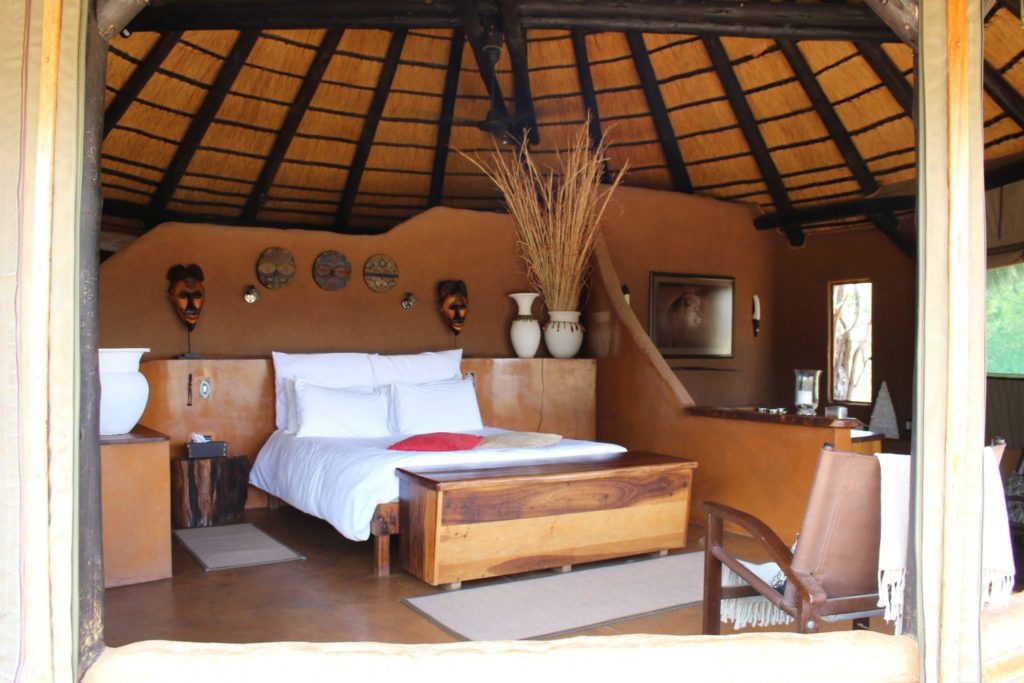 "Ready to go?" we were asked, of course we were. The three of us piled into the vehicle and we had our own mini night drive to the hide. On the way we saw giraffe, kudu, heard numerous birds and were even treated to a mongoose disappearing into the undergrowth.
Okonjima bush hide
The hide looks over a flat area that feels as if it is a natural amphitheatre as it is surrounded by a rocky outcrop. We had got a few leftover vegetables that were scattered on the 'stage' and I settle down for a bit of a wait. I had anticipated that it may be some time before we would see anything at all.
I was so wrong. Within minutes there was a rustling in the bushes and an African porcupine appeared from stage left. It was enormous! People are often surprised at how large porcupines are, but even this one surprised me. He was closely followed by his mate. I had to hold my breath so as not to spook them. We watched in awe as they settled down to the serious business of eating butternut skin and the remains of lettuce. The air was still and I could hear every single crunch, snort and gnaw made by these animals. You could even hear their quills clanking together as they change position to get the best angle on their food. It was mesmerising.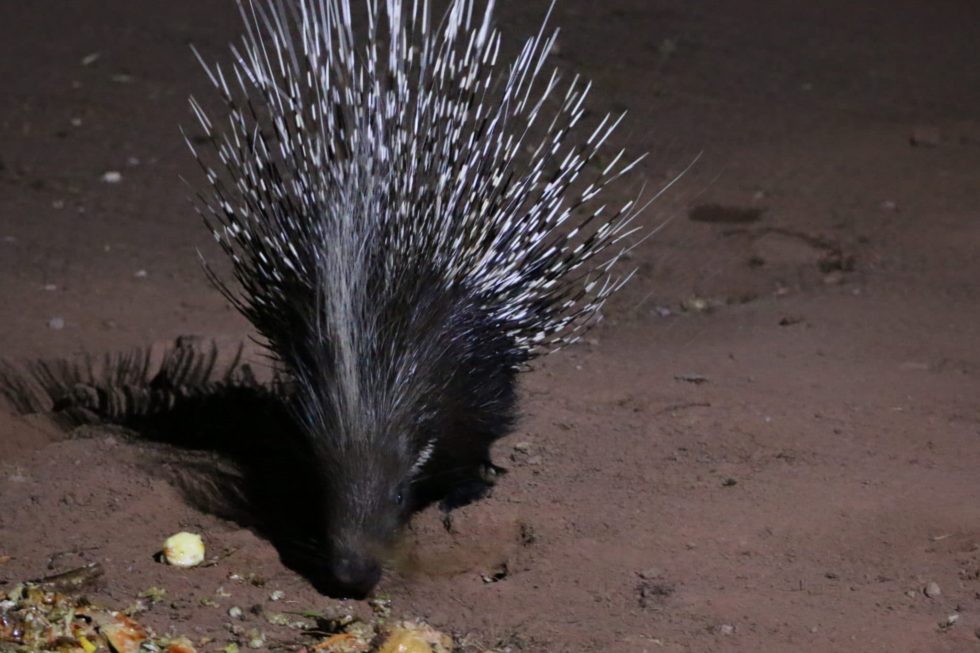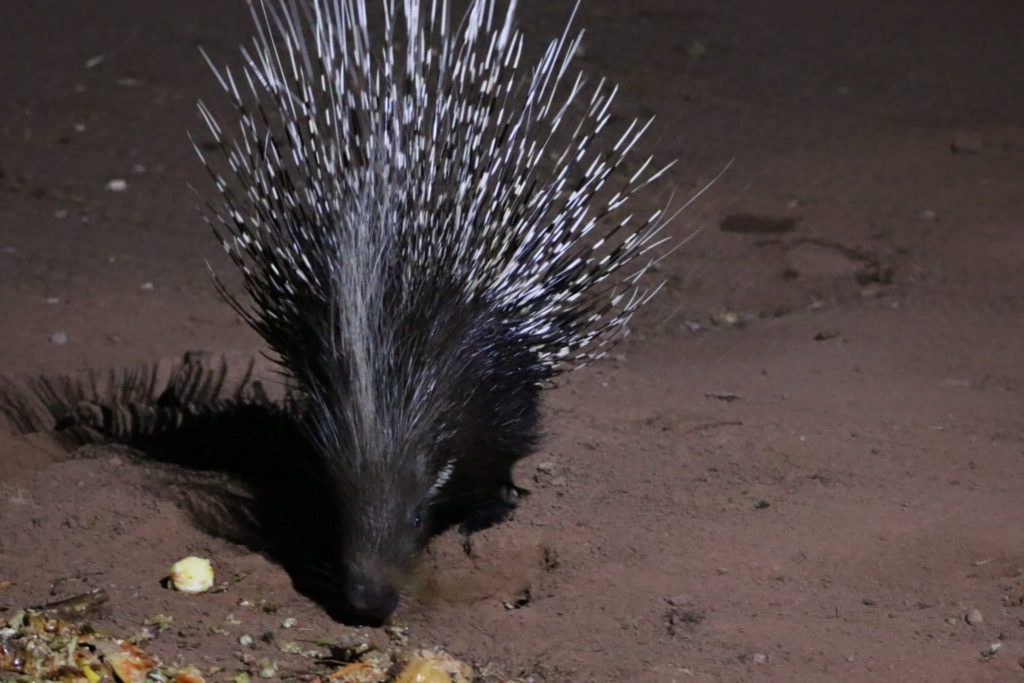 After mum and dad had settled down a youngster appeared who had obviously learned the tricks of the trade from his or her parents. The youngster was a little bit more wary of the surroundings but eventually settled down to eat its delicious snacks.
We spent about an hour watching these animals, and what a privilege it was. It is amazing how something as simple as watching a porcupine can make you appreciate the good things in life.
African Porcupine predators
Porcupine quills present an impenetrable thicket to most predators. But these backward-pointing defences are only effective if the rodent can keep its assailant to its rear. In North America, pumas and fishers (marten-like mammals) are skilled porcupine predators. They can outmanoeuvre them and launch their attack from the front by biting its unprotected face. Or they try flipping the porcupine over to expose its soft vulnerable underbelly.
Strangely, many snakes cannot resist a porcupine, even though they can be mortally wounded by the quills, especially the point of swallowing. Lions will have a go at an African porcupine and there is evidence that porcupine-related injuries can turn lions, particularly young males, into man-eaters. This is because the wound or resulting infection from quills can prevent them from hunting their usual prey.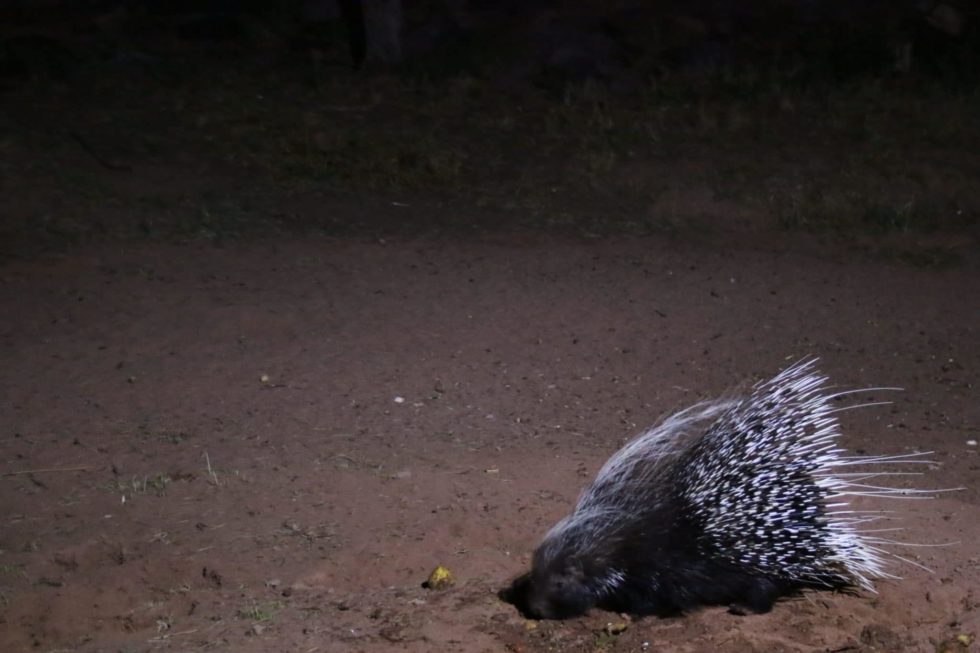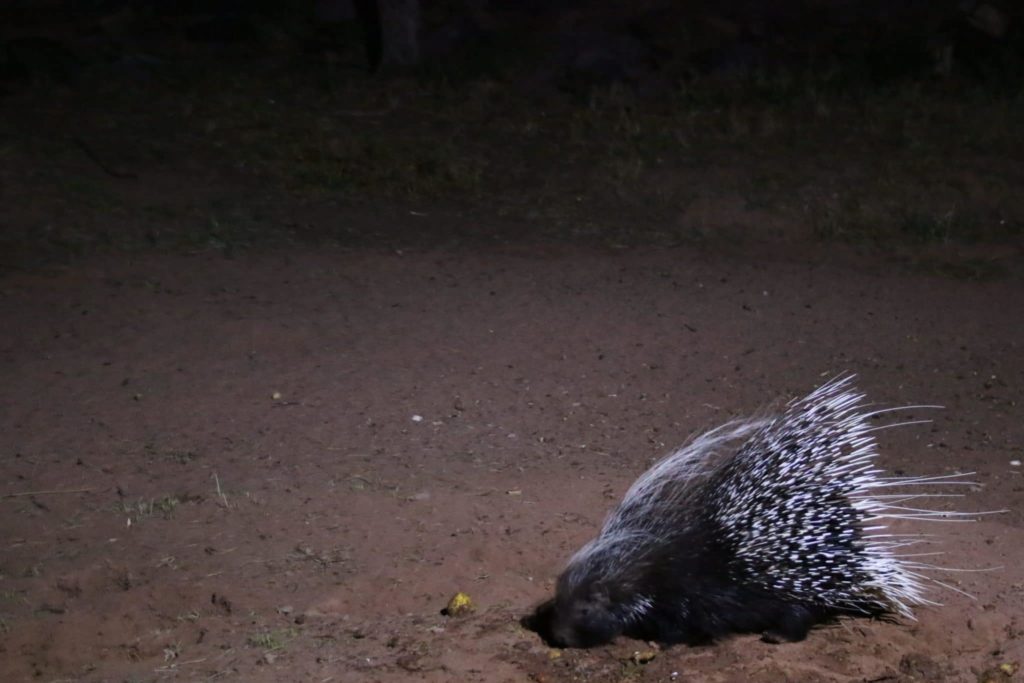 I would thoroughly recommend staying at camp Okonjima but if you do want to see the porcupine and also those elusive honey badgers (which I did not see that time) then you need to stay at the Bush Camp rather than Plains Camp. Plains Camp no longer offers excursions to the hide.
Another rare visitor
However, my excitement of the night didn't finish there. I was kindly driven to my accommodation and as the vehicle pulled up we spotted an animal around the small lantern outside my room. I couldn't believe my eyes, it was an aardwolf – very rare. It just so happened that on that particular night the termites were flying out of an nest in order to expand their territory. This had attracted the aardwolf for his midnight snack. I did try to get a photograph of him but it wasn't very good…but I certainly have the memory of seeing him.