The Skeleton Coast is a dramatic section of coastline of Namibia stretching from the Ugab River up to the Kunene River. The Skeleton Coast Park, now a national park, was proclaimed in 1971 and covers 16,845 km2, protecting nearly a third of Namibia's desolate coastline. Expect stark and arid shoreline scenes peppered with skeletons of whales and seals as well as famous shipwrecks.
This is a tough place to live in and The Bushmen call the region "The Land God Made in Anger", and Portuguese sailors referred to it as "The Gates of Hell". Rainfall rarely exceeds 10 mm annually making it very inhospitable. When visiting you can understand why it has these accolades.
It is a wonderful and fascinating place to visit. The drive is really memorable, in a good way.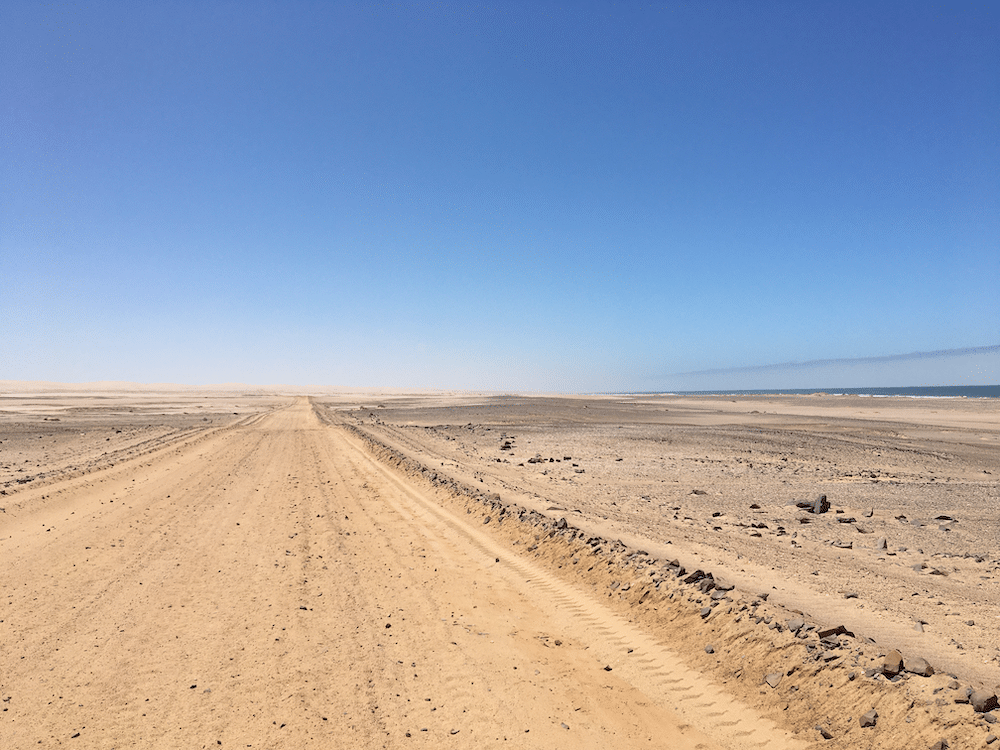 My journey takes in the northern section of the Skeleton coast, from Torra Bay to Shipwreck Lodge. A journey that will take around 5 hours with the landscape being dominated by high sand dunes flowing down into the sea. It is worth the drive but leave plenty of time.
Wildlife of the Skeleton Coast
Along the coast there are signs of life; a myriad of hyena and lion tracks, seal carcasses dragged along the coast, a plethora of bird footprints and tiny indentations from crabs, beetles, and other arthropods. You can spend hours following these as they crisscross the beach. Despite these harsh surroundings the wildlife has adapted to this unforgiving land. There are elephants and lions in the riverbeds, brown hyenas that frequent the coast, and birds and other desert-adapted wildlife are at home in this unforgiving land. You can see footprints of hyena and jackal that come to the shore to feed off seals that have died in the rough sea.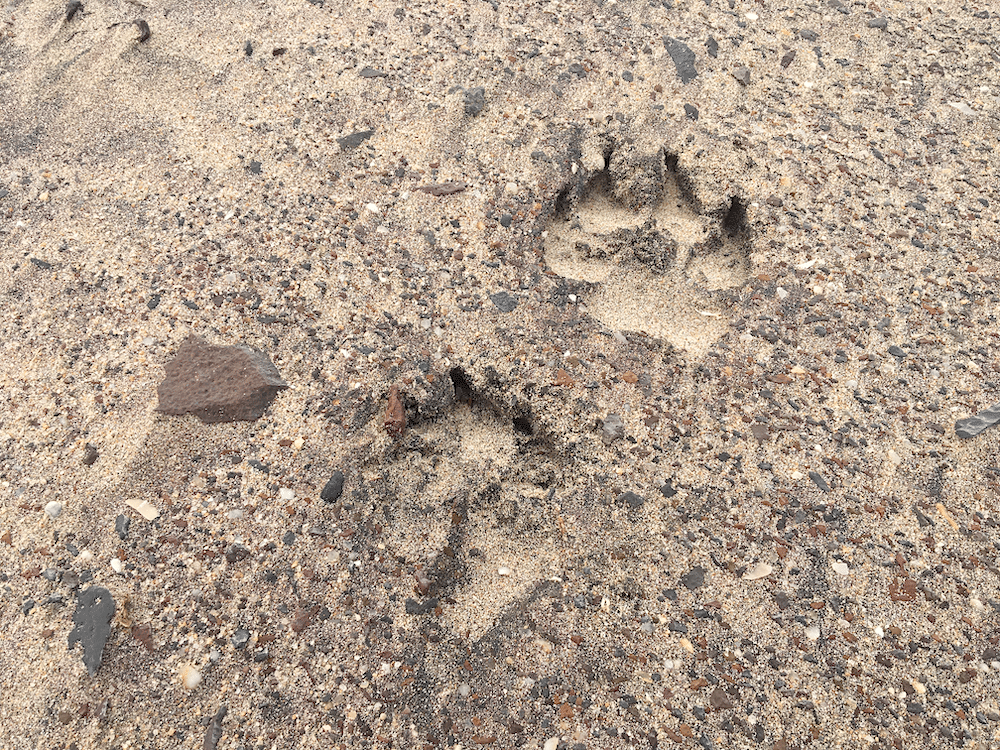 A jackal sculked across the barren sand looking for tasty morsels, a large nursery for young cormorants, snuggly tucked together against the elements and a seal bobbed its head in the sea.  There is life here, you just have to keep looking. The Skeleton Coast really is a place where only the fittest survive.
Torra Bay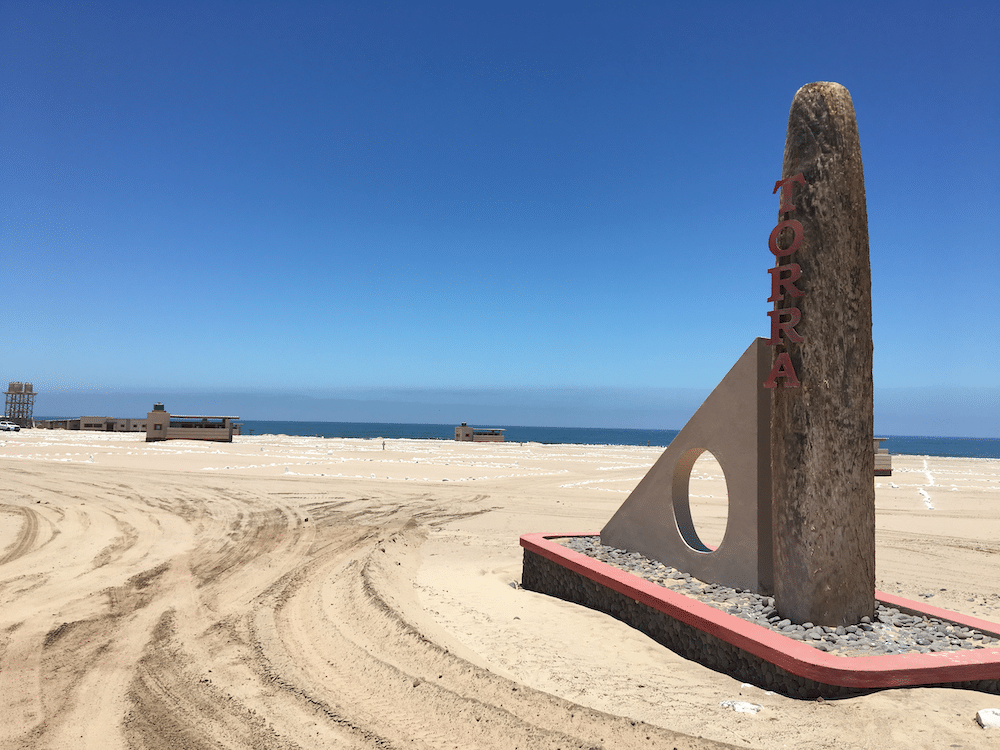 This is the first place of note, well not really. Blink and you miss it. It is surprising that Torra Bay is even on the map, one long blink and you have passed it without even acknowledging it as a place. But during December and January it attracts fisherman for the variety and quantity of fish that come down the Atlantic current, breathing life into this desolate habitation. Then it returns to its ghost town status. I saw one man who looked at me with surprise as I drove past, I waved, he shook his head.
Terrace Bay
Terrace Bay is larger and warrants a mention on the map, but only just. Here there is a fuel station, which is closed during lunch from 12 – 2pm, and accommodation for around 50 people. Again, not much happening in this remote settlement but I did stop to check I was going in the right direction. The road split and I was not too sure which one to take. If I had driven on a bit further, it was pretty obvious, but having not seen too many people I thought I should check. Also, the road on the map changed from being a solid line to a dotted line, which was rather daunting. The roads in Namibia are good, although mostly gravel, so I was anticipating this dotted road to be very sandy and not well worn. I was expecting to put my off road driving skills to the test.
Mowe Bay Seal Colony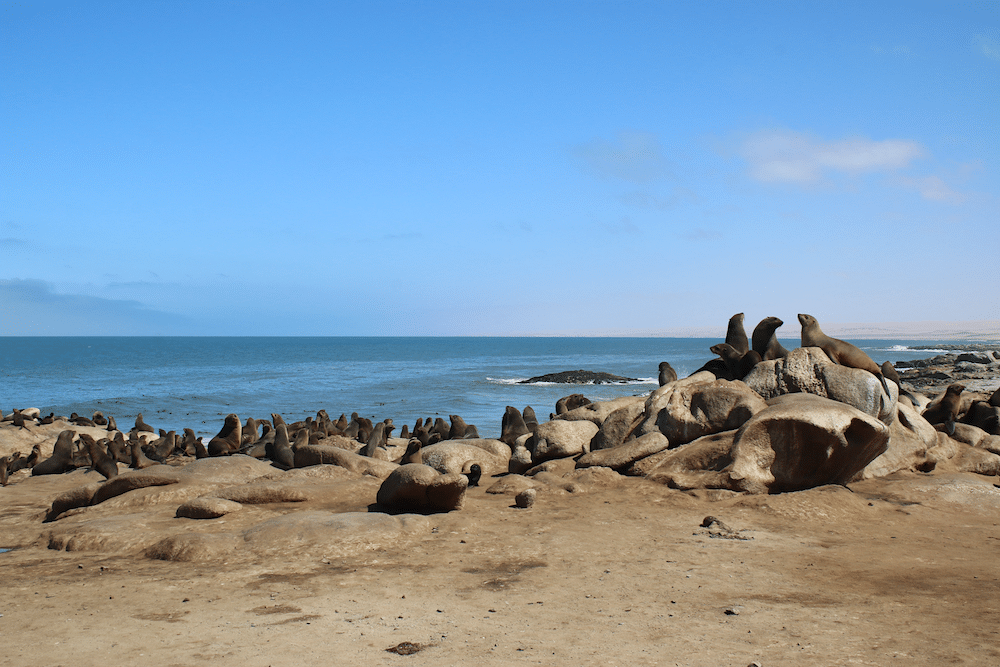 After another hour and a half of driving I reached Mowe Bay, pronounced Mo-vay. The seal colony here is extensive and you can drive up to the colony and observe them from your car. It is not signposted from the road and I only knew it was there as Shipwreck Lodge had told me for my return journey. If you do visit, please be mindful about the seals, and keep your distance. You can see that people have driven far too close to these animals, there are tyre tracks into colony, which probably unsettled them all.
The smell and noise is deafening, if you are brave enough to open the windows! I sat in my car watching them all, young pups mewing for their mothers, adults vying for the highest points on the rocks, seals coming in from the sea and I loved watching them cavort in the waves. I could have spent hours there simply watching them but I still had more driving to do.
The Suiderkus 1977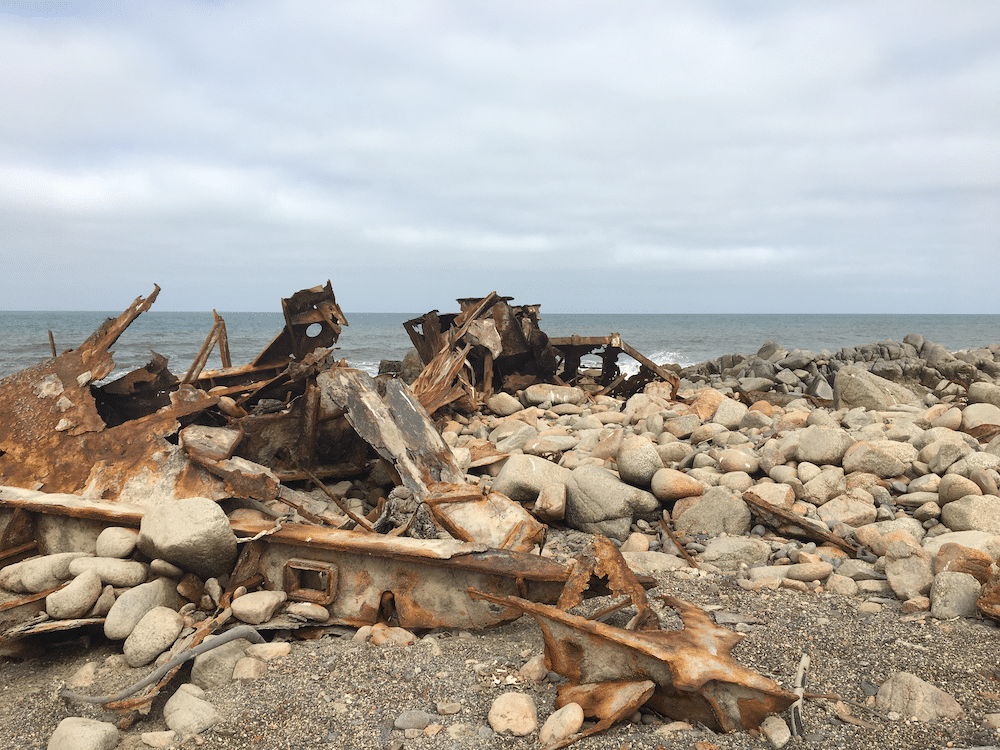 This wreck is the first that you come upon as you drive north. The Suiderkus was owned by the Angra Pequena Viskoporasie in Cape Town. This was a modern fishing factory ship fitted with a highly sophisticated navigational system. Despite all this technology the ship ran aground near Möwe Bay on 16 January 1977, it was her maiden voyage. The ship has disintegrated although there is large portion of the hull still visible, currently a home for a group of cormorants. It is hard to access if you don't know where it is, it is just a bit further north of Mowe Bay.
The Sir Charles Elliott was a South African steam tug that ran aground and was wrecked at Rock Point, Namibia on the 3rd December 1942. It was returning to Cape Town after assisting the Dunedin Star. There is not much left of the tug, the sea having reclaimed most of it.
During the World War II the Dunedin Star left Liverpool carrying munitions and supplies for Allied forces. On board were passengers who wanted to escape a war-torn London. The ship hit an underwater obstacle and grounded 500m from the shore, stranding its passengers and crew on the Skeleton Coast.
Ventura Bomber
Ventura Bomber was also helping the Dunedin Star. It was sent to land with supplies and water for the survivors who had made it to shore. It landed but got stuck in loose sand when trying to take off. A second bomber was sent to replenish supplies. This did not land, simply dropped its supplies, but it crashed into the ocean on the way back. The three crewmen made it to shore and began their long walk south.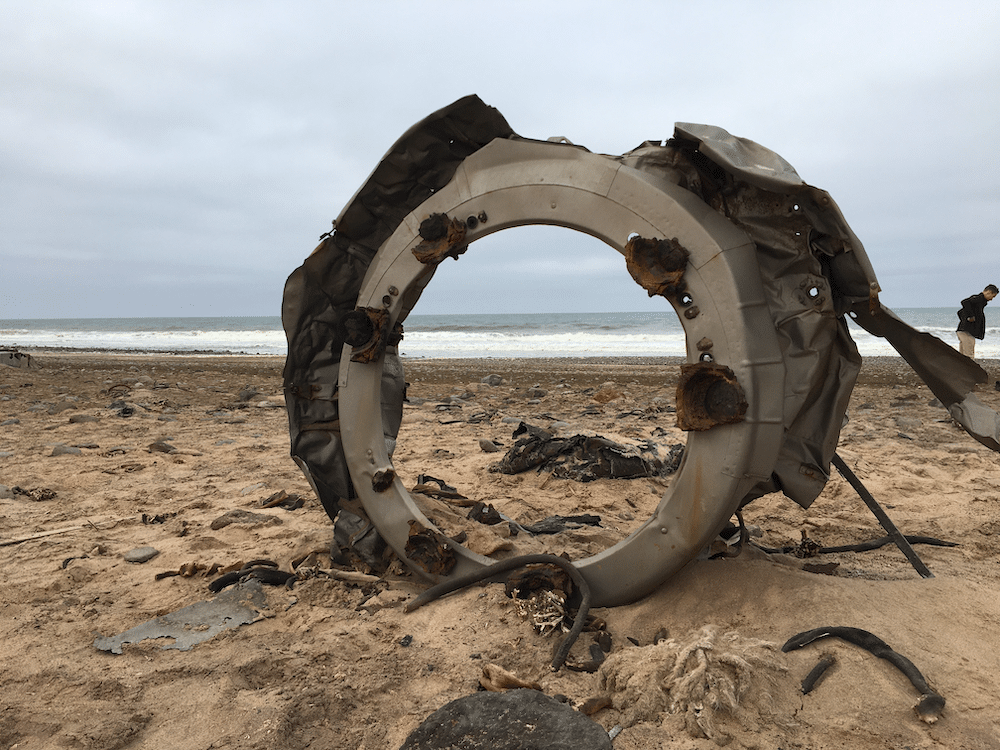 Shipwreck Lodge
Arriving at the lodge is unexpected, having spent so much time looking at sand and destroyed structures, it is odd to see the lodge in the middle of nowhere.  Believe me, it really is in the middle of nowhere. The lodge style fits perfectly in the the surroundings and it is situated away from the sea on top of a sand dune overlooking incredible views.
Visit Shipwreck Lodge for a remote desert experience and a sense of wonder.