Driving across Western Etosha in Namibia is a fantastic way to get away from crowds, see elephants and experience nature. Recently, I got the opportunity to get back out to Namibia, and find out how Etosha has changed.
About Etosha National Park
Etosha is a sizeable park covering 22,270km, so plenty of opportunity to see game. The Park is one of the largest national parks in Africa and was proclaimed a game reserve in March 1907. Etosha means the "great white area" and refers to the huge salt pan in the eastern side of the park. It is an impressive sight because it's the biggest salt pan in Africa. When it rains, the water collects in the pan and attracts thousands of flamingos, a spectacular event I wish to see. It is on my bucket list.
The Park has a number of floodlit waterholes at the camps in the park, the ideal place to sit with a gin and tonic as the sunsets and well into the night. Etosha National Park is any photographer or nature lover's dream.
Over the years the Park has become popular for sighting elephants lumbering across open spaces, cheetah resting under trees, hyena fishing in waterholes and hordes of springbok dotted across the white earth. It is as mesmerising and captivating, as it is stark.
Previously the whole of the western section, making up about half of the park, was open to just the visitors who had a reservation in the two camps in the area. In 2015, access was open to everybody. When I got back to Etosha this November, I was intrigued to see what it would be like. The western section does not have the vast salt pan. Instead it comprises of shrubs and trees pockmarked with waterholes, creating the lifeline of the park. This was going to be an adventure; it is a long drive and I was looking forward to it.
Entering Etosha at Galton Gate
When I arrived at Galton Gate, I was expecting a line of vehicles waiting to get into the park, the normal situation at other entrances. However, I was met by a lone guard who directed me to a car parking space in the shade. There was no need really, there was plenty of space, my car was the only one there! I filled out my entry form, paid my fee of N$200 (£10) had a loo stop and got back into the car.
I was then stopped by a couple of other officials, who were having breakfast, asking me to give them permission to look in the car. They were checking for plastic bags. Plastic bags are illegal in the park, and you can face a hefty fine of N$500 (£25). If you have plastic bags which are used for keeping items safe in your luggage then this is fine, such as protecting toiletries and other exploding lotions and potions. It is really supermarket carrier bags they are looking for or black bin bags. Just keep them under wraps in your luggage.
No bags to be seen in my car, I was off into the park. The whole entry process had taken all of 10 mins.
Driving across Western Etosha
I was going to drive the more direct route to Okaukeujo Rest Camp, around 193km. From there I would exit the park. It was going to be a long drive and I knew it would take me all day. Keeping at the speed limit of 60 km/hr this would take me over 4 hrs, and that was not including stops at waterholes, slowing down, spotting birds and eating snacks. I had better get a wriggle on. I knew I had to pace myself and not stay too long at waterholes, otherwise it would be a rush at the end of the day. It is a common error, not leaving enough time to get out of the park before sunset. Sunset is the time you have to be out of the park and this is shown on information boards at the entry gates and also the camps in the park.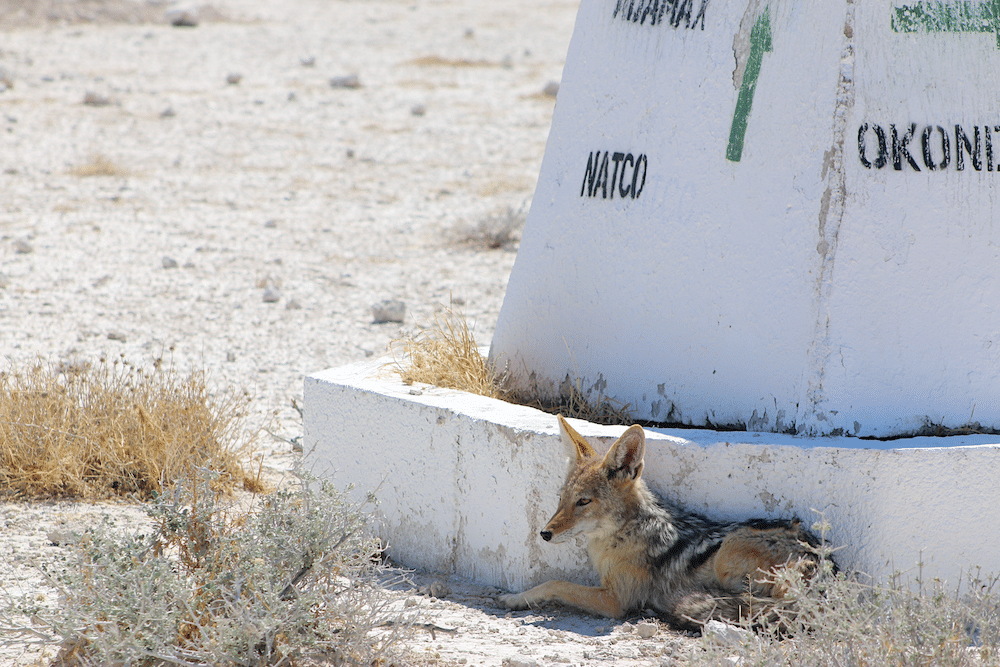 The park road network is well signposted with every junction marked with a large white concrete pyramid. So, you know where you are in the park and where the waterholes are. Although sometimes the pyramids are not there, or you miss them and then you wonder whether you are driving in the right direction. I missed the very first waterhole in the park, Stercutia, although maybe it was not in use.
Choosing which waterhole to visit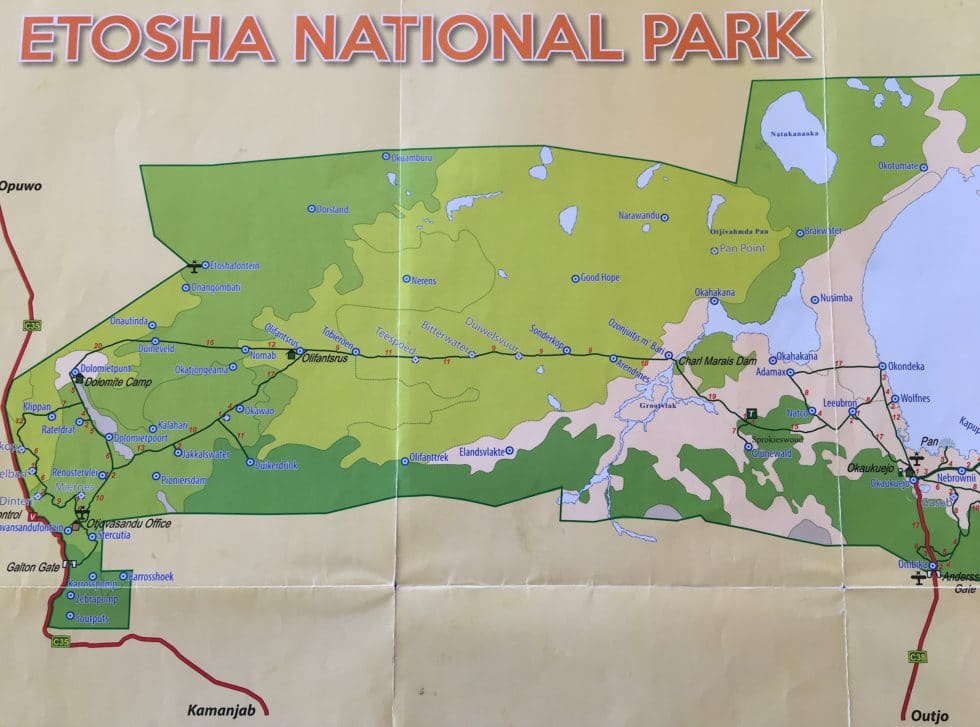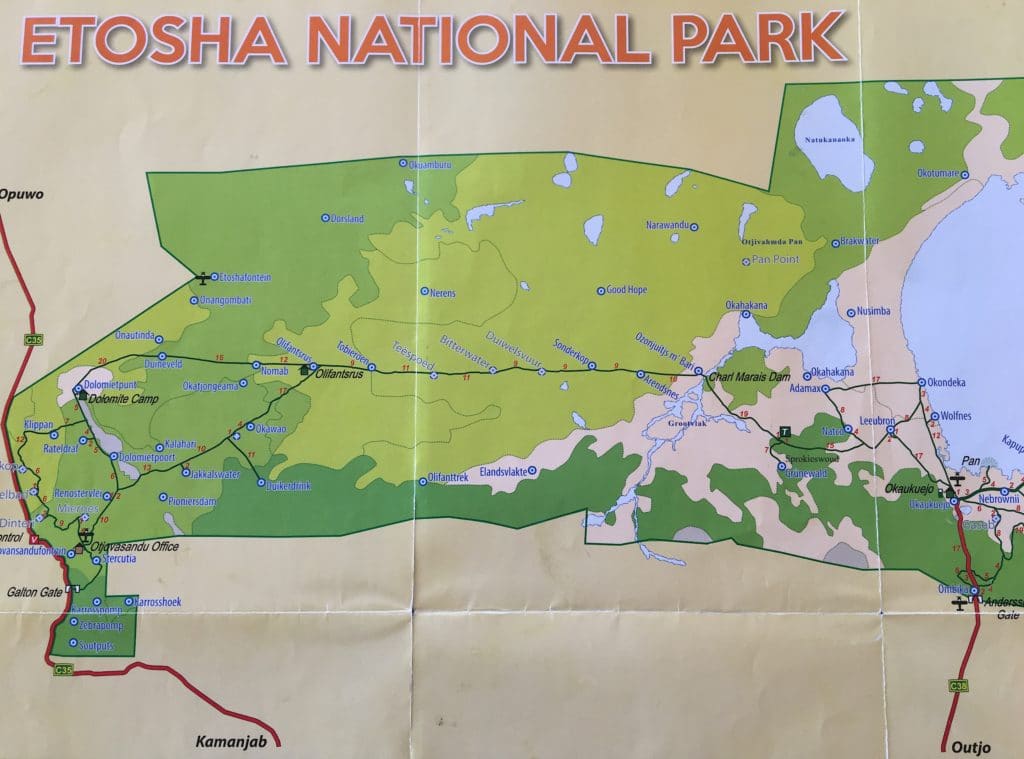 It is up to you to decide on which waterholes to visit. There are detailed maps on sale with the road system as well as information about the status of the waterholes, whether they are active, or even better, pumphole active. Pumphole guarantees you that there is water there all year round and as it was so hot, and the rains had not come, I decided to visit just the pumphole waterholes. Thirsty animals would be making their way there. But plans could change.
First stop was Renostervlei, where there were oryx and springbok as well as a couple of elephants. I was delighted; elephants! I love watching them gracefully and silently walk through the bush, it is soporific. After watching them for a while I reluctantly decided to move on to the next waterhole, Jakkalswater. I nearly didn't stop there; I am so pleased I made the decision to do so. There was another car already there, the only car I would see for another 2 hours.
Jakkalswater had seven elephants, drinking and washing, with a couple of young ones cavorting around. And then arrived the real parade. I watched another 23 elephants arrive in beautiful synchronisation, walking towards me with their ears flapping, all in a perfect harmony. It was wonderful, exhilarating, it was restoration for the soul. As I watched them arrive, greeting each other, I had a huge smile on my face.  This is what I love about being in Etosha, or on any game drive, seeing a gem of a sighting like this. It is beautiful, nature at her best.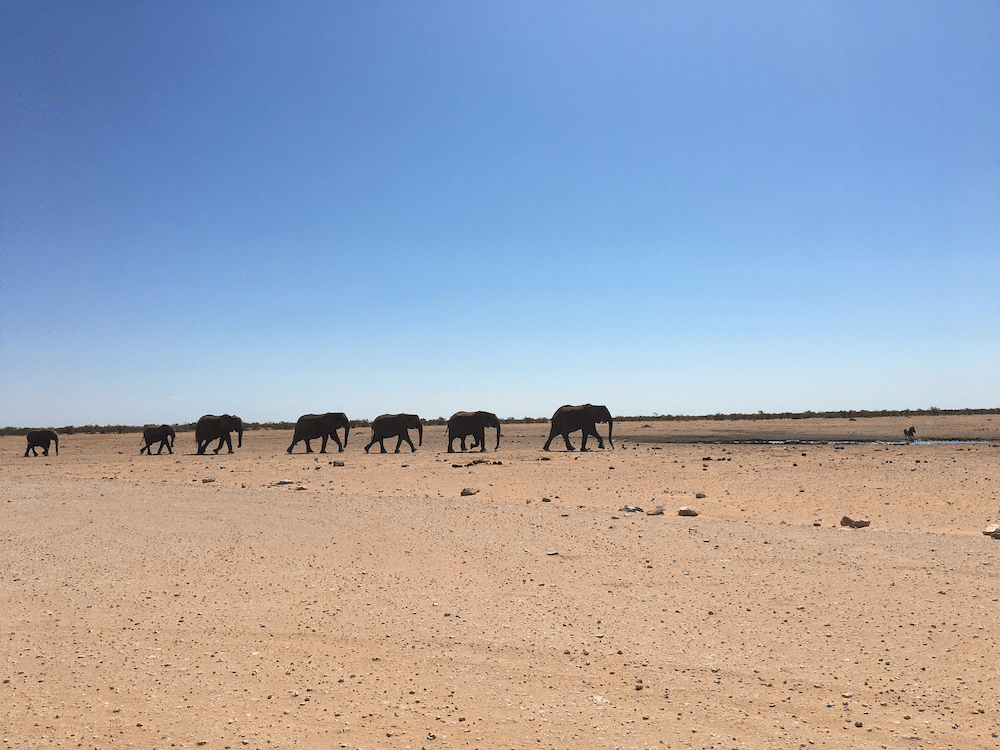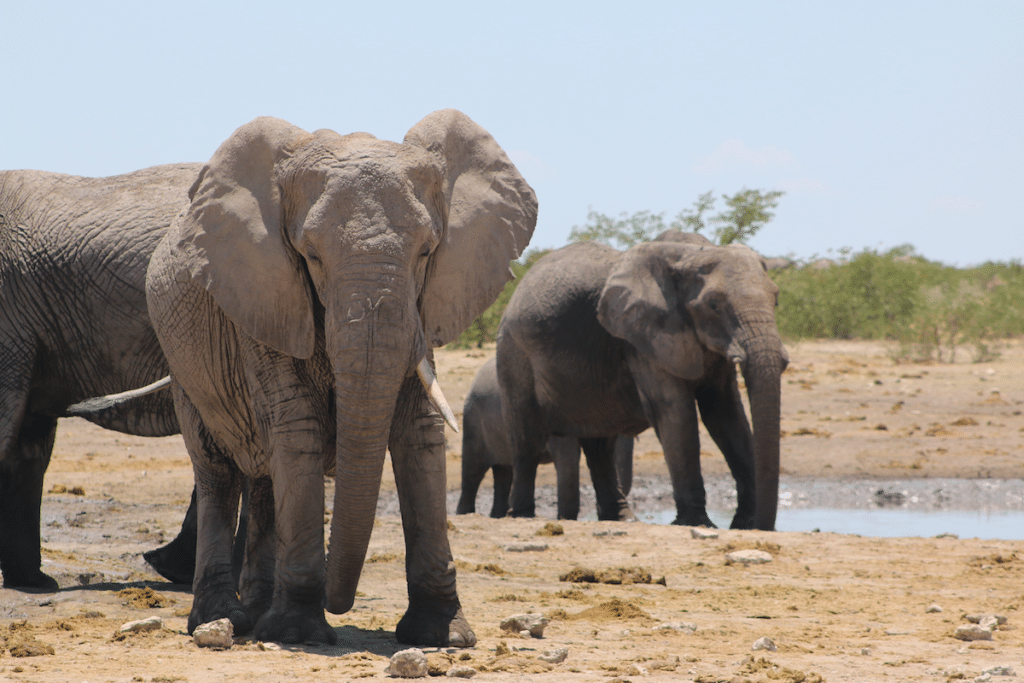 Burning Etosha
In the distance I could see smoke and I wondered what was burning. It looked quite far in the distance, nothing to be concerned about. As I drove on, I noticed that there had recently been a fire, the ground was burnt to a crisp, blackened shrubs and grass littered the way. I stopped at other waterholes, but only briefly. It was getting hotter but that was not just the scotching sun. I could see the fires now, some only metres from the road, I simply kept going. The flames were licking mopane trees, embracing everything in its wake. It took a good half an hour to be clear of the smoke and the collection of individual fires on my route.
An estimated 487,732 hectares, 22% of the Park's area, has been affected by veld fires this year. This is an improvement compared to 60% of total area burned in 2009. This was before the introduction of the patch-mosaic burning and firebreaks, helped to manage and control wildfires. Fires start accidentally by sparks from charcoal burners in neighbouring communities as well as naturally from lightning strikes. However, it is important to stress that savannas need occasional fire to keep the ecosystem healthy and to help new grass growth, ideal fodder for grazing animals.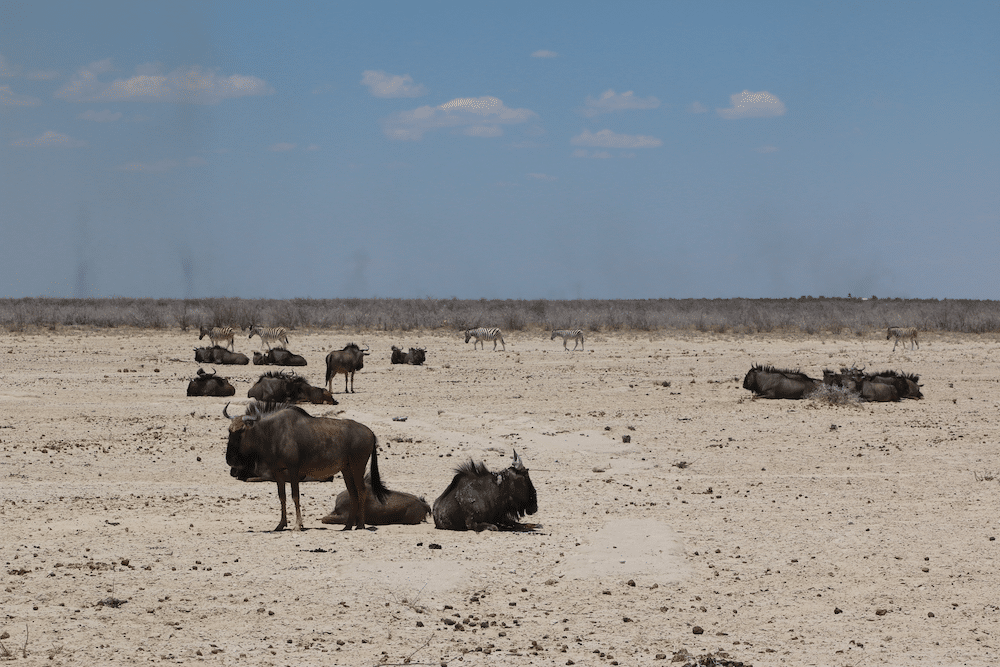 Okaukuejo
Leaving the burning behind I drove on towards Okaukuejo, through vibrant green mopane trees that had dodged the fires. I saw giraffe drinking, dazzles of zebra crossing the road, raptors spiralling in the sky and springbok sheltering out of the heat. It was magical.
My day ended at Okaukuejo waterhole. Here you can get out and stretch your legs and wander around the viewing area overlooking one of the most prolific waterholes in the Park.
There I saw yet more elephant. Today had been an elephant day, it was a great day all round. Tomorrow I was back in the Park, I was already looking forward to that drive.