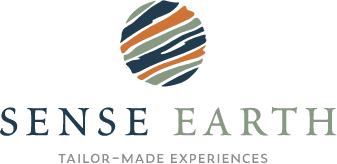 Namibia is a country of compelling beauty and a sense of unconfined space. Rugged yet fragile, barren but beautiful, Namibia is an enchanting wilderness with a rich fusion of culture and tradition.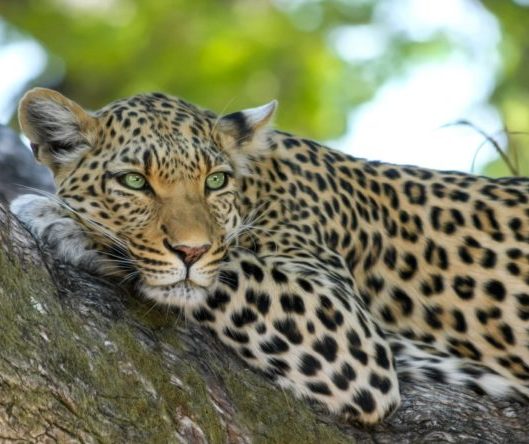 Track Leopard at Okonjima
Okonjima is home to The Africat Foundation providing protection for predators such as leopard, wild dog and hyena. It also undertakes extensive research into how farming and predators can coexist in the form of capturing problem animals, educating farmers and releasing them into secure environments. Unfortunately some animals cannot be released back into the wild, for a variety of reasons, so enjoy watching them, that is after tracking them down first!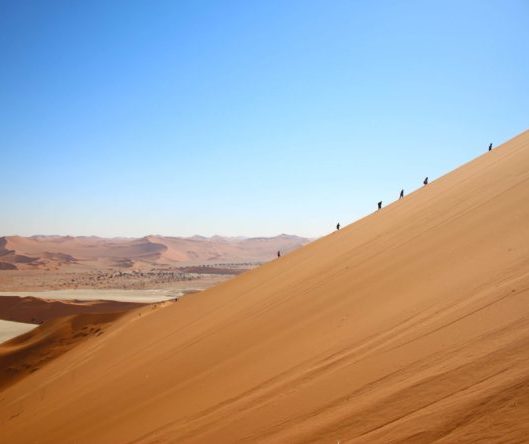 Climb a sand dune at Sossusvlei
Explore Sossusvlei by walking amongst a sea of dunes and experiencing this rich landscape of red wind sculptures interspersed with cream coloured vleis. Standing at over 170m, Dune 45 is a popular dune to climb and is often photographed early and late in the day when shadows create striking colour contrasts. Alternatively, climb Big Daddy, standing at a whopping 325m, it is the tallest sand dune in the area and the views from the top are astounding.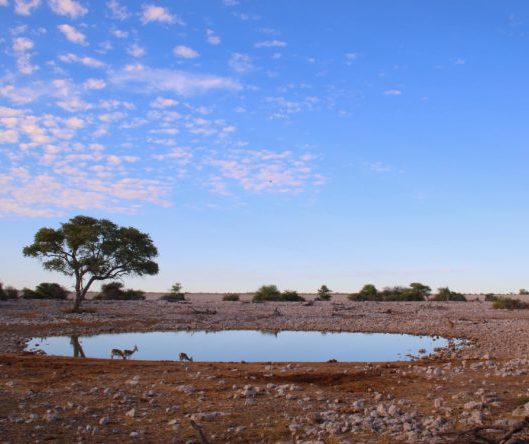 Floodlit Waterhole Watch in Etosha National Park
Etosha National Park has many waterholes where you can watch elephants jostle with lions, herds of antelope nervously drink from the cool waters and birds swoop down for tasty morsels. At night floodlit waterholes continue to entice the game into drink. Watch night active wildlife interact, creating a natural theatrical spectacle for you to sit back and enjoy.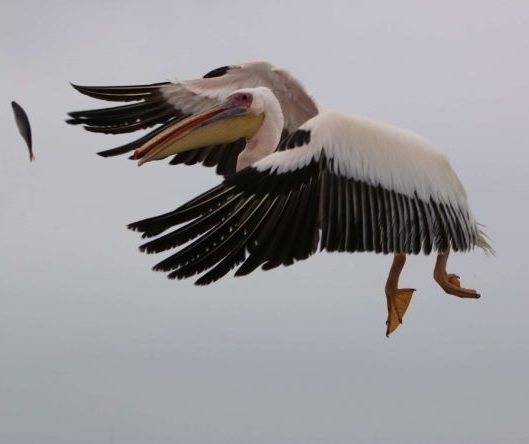 Adventure in Swakopmund
Swakopmund has a variety of activities on offer. There are gentle options such as catamaran trips for oysters and champagne, a desert visit to see the Welwitschia plants, or a flight over the skeleton coast to see sand dunes swallowed up by the sea. Alternatively, there are adrenalin activities such as sand boarding, sea kayaking amongst dolphins and seals and sky diving over the Skeleton Coast.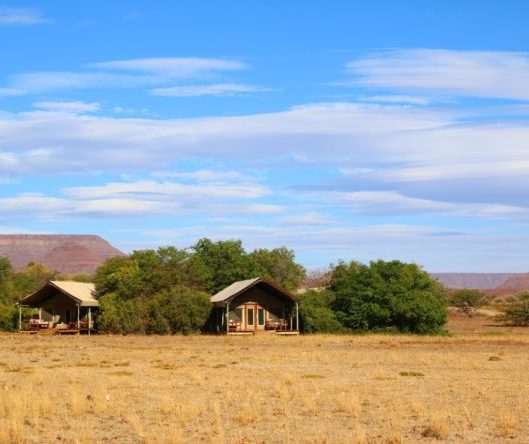 Tracking desert rhino in Damaraland
Damaraland is marked with simple beauty, arid-adapted wildlife and the largest free-roaming black rhino population in Africa. Support rhino conservation and experience it first-hand. Rhino tracking on foot and by vehicle with dedicated conservationists is a unique and exclusive wilderness experience. Whilst doing this you are also contributing to the sustainability of the area and its inhabitants by supporting the Save the Rhino Trust.
Capital: Windhoek
Area: 824,292 km²
Languages: German, English & Oshiwambo
Where to visit: Chobe, Okavango, Kalahari.
Wildlife to spot: elephant, leopard, wild dog & pels fishing owl.
The famous sights of Namibia are remarkable: the oldest desert in the world, the highest sand dunes in the world, one of the world's most ancient plants, and one of the world's largest game reserves.
Immerse yourself into unspoilt landscapes and wide horizons with clear, unpolluted skies.
The striking scenery is a superb backdrop for Namibia's diverse wildlife ranging from the smallest busiest desert beetle to the largest imposing elephant, it is a photographers utopia.
Namibia is an excellent self-drive destination, ideal for those looking for a sense of freedom and adventure and where the environmentally aware lodges blend into the landscape creating a natural and tranquil ambience. The perfect destination for bespoke and compassionate holidays.
Namibia is a paradise for those who want to experience the natural surroundings, agoraphobics are advised to stay away!
Contact Us
Looking for a safari to Namibia? We would be delighted help. Give us your ideas and together we can create your holiday.
January
Bird watching in the Caprivi strip is at its best. It is the time for newborn animals but they maybe hard to see. Thunderstorms are common in the afternoons, making for spectacular photos.
February
Green landscapes due to the high rainfall. Occasional flooding can result in some unique and unusual photography in Namibia's arid environment.
March
There is a freshness in the air which is often dust free. See young animals taking their first few steps in the wild in Etosha National Park. Wildlife is harder to find as the vegetation is denser.
April
Still not a prime time for game viewing, but the mix of wildlife, birds, and stunning landscapes makes it a great time to visit. Emerald green patches with bright flowers contrast with the arid desert.
May
Wildlife begin to gather around waterholes as alternative water sources dry up. It is not a popular month so there are fewer visitors.
June
Namibia is starting to dry out and vegetation is thinning giving excellent wildlife sightings. The first half of the month is relatively quiet. Avoid the crowds and hot weather.
July
Large herds of wildlife around waterholes seeking to hydrate. Bring warm clothing as it gets cold in the desert, especially if you want to sit out under the clear and starry skies.
August
The driest month of the year so mixed herds of animals congregating around waterholes. Temperatures are lower so game more active during the day.
September
Game viewing is brilliant as wildlife concentrates around waterholes. Little or no rain and it is hotting up.
October
Dust is kicked up by wildlife creating atmospheric scenes. Sunsets intensified.
November
See a flamboyance of flamingos which begin to gather in Swakopmund. A variable month as clouds gather and threaten to rain.
December
First rains arrive and the landscape changes from barren to vibrant. Animals disperse from around waterholes.
Itineraries Featuring Namibia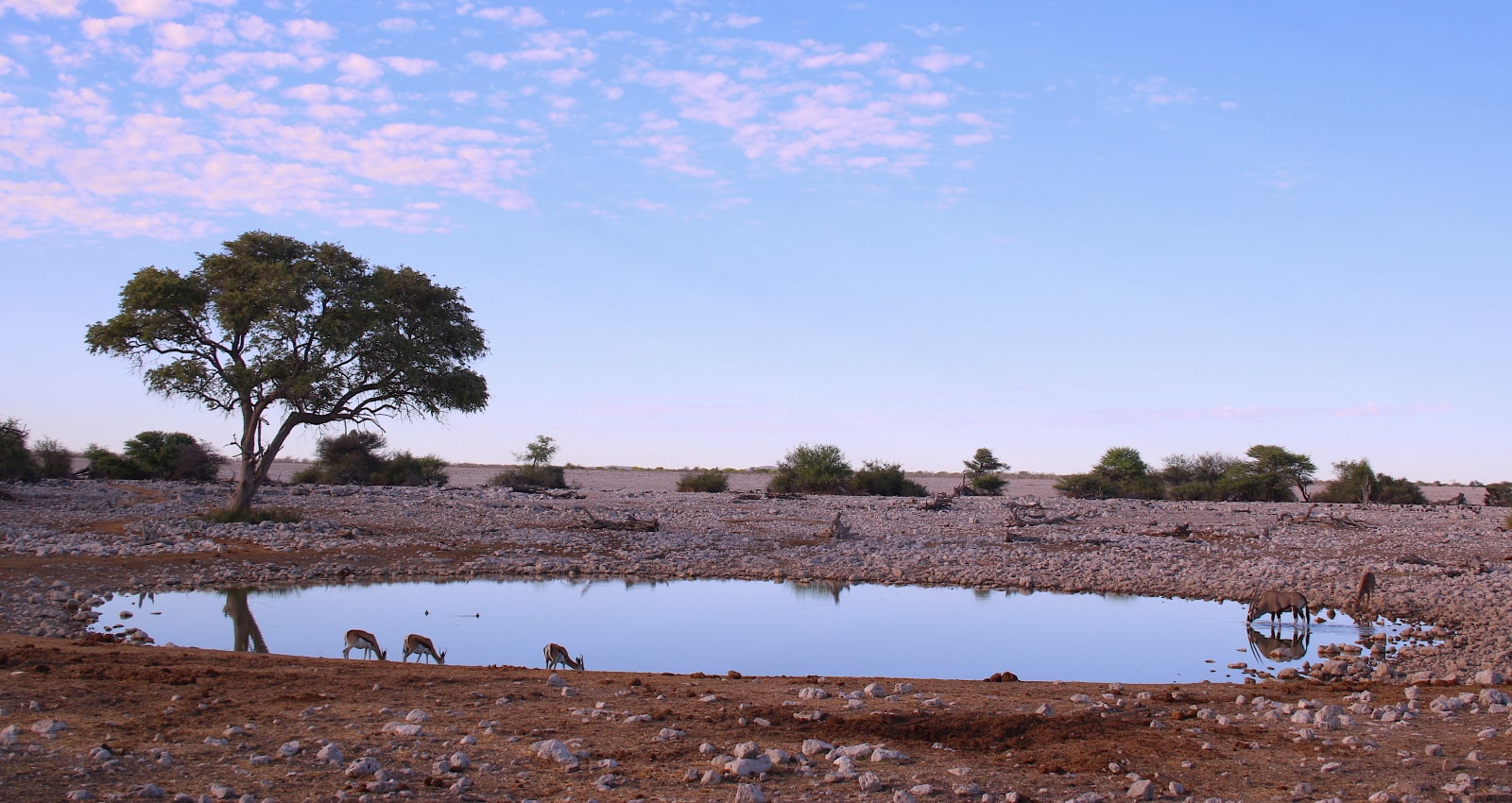 13 Nights
8 Lodgings
From £5,275
Namibia Extravaganza - May 2023
Explore the highlights of Namibia; the wide open spaces, dunes, incredible wildlife and the ever changing, stunning, inspiring scenery.
Read more
14 Nights
8 Lodgings
From £4,350
Adventure in Namibia
Explore Namibia at your own pace, fast or slow, wildlife, wilderness, ocean and desert, and have an unforgettable exciting experience.
Read more